The Government's Department of Health and Social Care has launched a public consultation on proposals to restrict in-store promotions of unhealthy food, as part of its Childhood Obesity Plan. The Children's Food Campaign has launched a new 5 minute survey to ensure parents' views are heard loud and clear.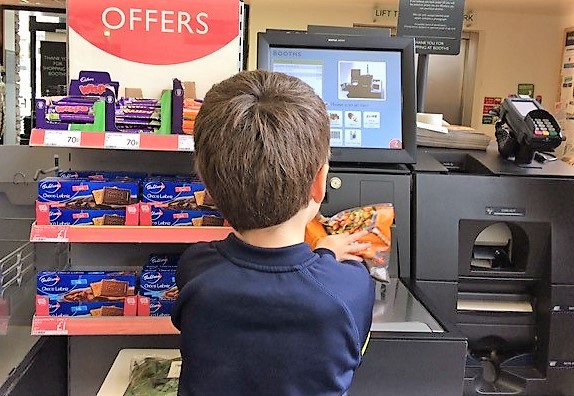 Copyright: Sustain/Carrie
Think about the last few times you went food shopping and the products you found on display with 'special offers'. How many of the deals, displays and offers were promoting healthy products like fruit, veg or rice? And how many were tempting you to buy crisps, sweets, biscuits or cakes?
If you're a parent, what about the last time you had kids with you, did they beg you to buy something they'd seen?

The government is consulting on proposals to restrict some types of promotions for less healthy products – including price deals aimed at getting us to buy bigger volumes (like 3 for £1, or buy 4 for the price of 3), and displays of junk food at checkouts, store entrances and aisle ends.
The Children's Food Campaign has now launched a new survey to find out the experiences of parents on these promotions, and to see what they have to say about the specific proposals the Government is now making.
The survey takes just 5-7 minutes to complete, and is open until Friday 15 March for any any parent of a child aged 2-18 to take part. The findings from the survey will be included in the formal response the Children's Food Campaign will be making to the Government.
Take the survey on unhealthy food promotions now.
Not a parent? The government consultation is open to any organisation or member of the public, so please do consider responding directly via the official consultation portal. Please do share the Children's Food Campaign survey with any parents you know using the sharing buttons below. Thanks!
Support our campaign
Your donation will help us champion children's rights, parent power and government action to improve the food environment children grow up in.