The Children's Food Campaign welcomes the start of Government consultations to restrict in-store price and checkout promotions for unhealthy foods.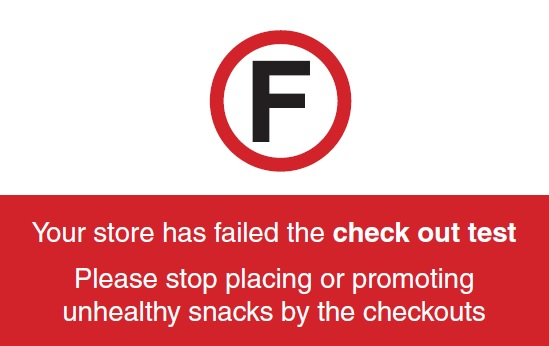 Barbara Crowther, Co-ordinator of the Children's Food Campaign says,
"We've been campaigning to remove sweets and other junk foods from supermarket checkouts for decades, in fact it's over twenty years since supermarkets first made voluntary pledges to stop this practice. Yet a typical shop today involves navigating whole chicanes of confectionery and snack promotions in shop entrances, at the ends of aisles, and still around many till areas. Families doing their shopping are also constantly bombarded with price deals encouraging us upgrade to family size packs and multi-buys for £1 or buying two or three packs at a time. As a result, we're eating way too many of these products, and what used to be an occasional treat becomes a daily habit. With child obesity on the rise, and more and more sugary and snack foods being consumed, it's clear voluntary measures are no longer good enough. Government action to tighten the regulations on how these products are sold is long overdue. No-one is asking shops to stop selling them, and we should be free to look for and choose them if we wish, but it would be much healthier if we weren't relentlessly bombarded with screaming price deals and multipacks everywhere we look whilst shopping, and these products were sold in their own sections."
The Children's Food Campaign has campaigned to end junk food at checkouts for many years, including getting members of the public to express their opinions directly in-store by leaving calling cards. Research in 2013 by the British Dietetic Association showed that 78% of the public found junk food at checkouts 'annoying'. In November 2018, the Obesity Health Alliance published results of in-store surveys showing 43% of all foods displayed in store entrances, ends of aisles and checkouts were for sugary foods and drinks. Asda was the worst, with 73% of products at checkouts being sugary foods.
The Government Consultation on junk food price and place promotions were first announced as part of Chapter Two of the Childhood Obesity Plan. The Children's Food Campaign will be submitting evidence and canvassing the views of parents on the government proposals as part of its response to the consultation, which is open until 6 April.
Members of the public are also invited to respond directly, all the details can be found here.
Support our campaign
Your donation will help us champion children's rights, parent power and government action to improve the food environment children grow up in.