SUGAR SMART Cambridge launches to fruity fanfare at Cambridge United game
SUGAR SMART Cambridge launched with a sugar swap challenge competition and a big free fruit giveaway at the Cambridge United v Grimsby football match. Cambridge's fans cheered their team toward a victory and tweeted their sugar swap pledges.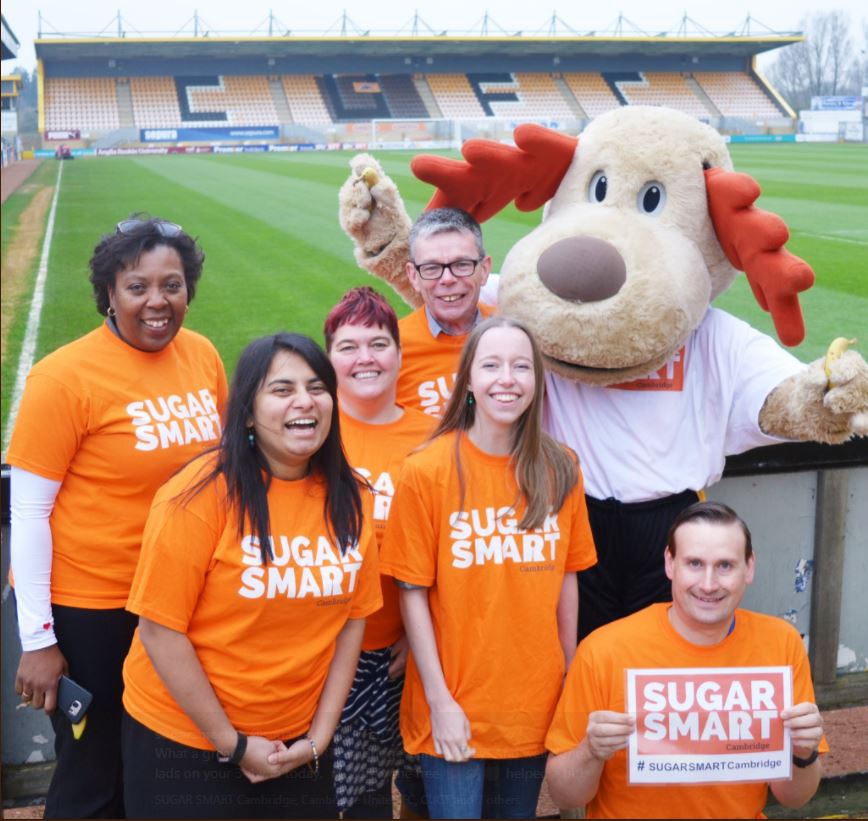 The SUGAR SMART Cambridge campaign is led by Cambridge Sustainable Food, who are working with Everybody Health, Cambridge Health at Work and others to reduce sugar overconsumption and improve the health of the city's residents.
Nearly half of adults in Cambridge are either overweight or obese, according to a campaign which has pledged to cut the city's sugar intake. Figures gathered by Cambridge City Council show 46.7 per cent of adults in the city fall into the overweight or obese bracket, 28.2 per cent of 19-year-olds and a quarter of 10-year-olds.
The launch included halftime entertainment featuring a banana squaring up against a sugar cube to see who can kick the most goals, and a call to get Cambridge United's fans taking up sugar smart challenges, including swap the pop, sugar-free breakfasts, and cooking from scratch.
The team's mascot Marvin the Moose (who has personally pledged to swap the pop for water) was on-hand to help distribute hundreds of bananas and apples, helping fans toward their 5-a-day.
SUGAR SMART Cambridge is working with a number of local partners to support residents to make healthier choices and improve the food on offer across settings. Everybody Health is promting sugar reduction through their community education programmes, while Cambridge Health at Work is recruiting workplaces to join the campaign. Cambridge United Football Club and the CU Community Trust have also joined the campaign, as well as Addenbrooke's Hospital, Darwin College Cambridge and Cambridgeshire County Council.
SUGAR SMART is a campaign of Sustain and Jamie Oliver. It is currently the feature campaign of the Sustainable Food Cities network.
---
21/02/2018
Sugar Smart UK
SHARE
---
Sugar Smart UK: Want your local area to become Sugar Smart?