Calderdale rugby players and students pledge to reduce sugar
SUGAR SMART Calderdale launched on the 8 February in Halifax, hitting the ground running with 39 businesses, organisations and schools already pledging to take action on reducing sugar within their settings. Players from the Halifax Rugby League FC and students from local schools took on challenges such as giving up energy drinks and choosing no-sugar breakfasts.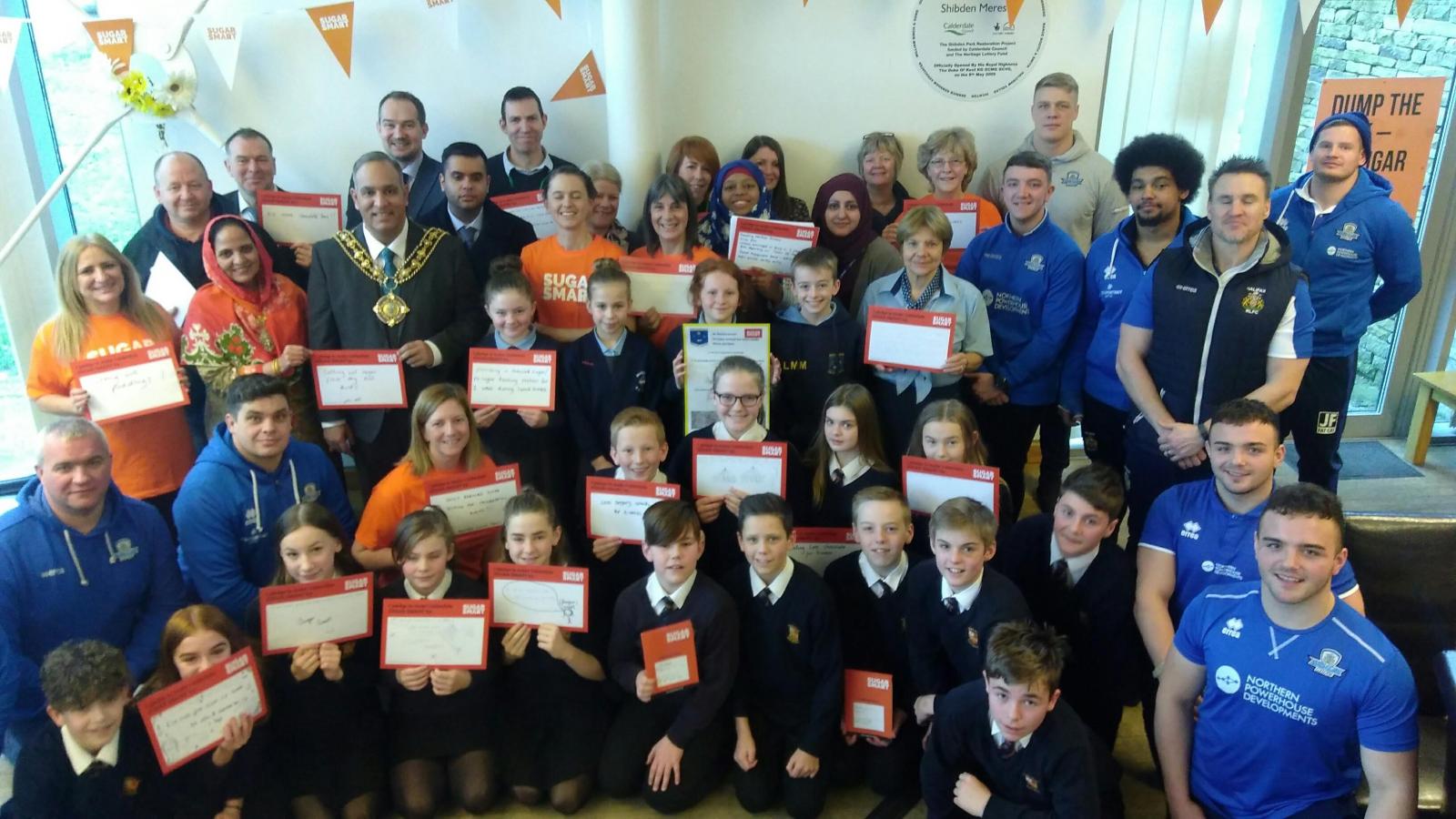 The launch featured a healthy breakfast "bake off" between local chefs and tasters of healthy snacks to inspire attendees to take on sugar reduction challenges. Director of Public Health Paul Butcher and Calderdale Mayor Councillor Ferman Ali offered their support of the campaign and personally pledged to reduce their sugar consumption as well.
29.3% of children aged 5 in Calderdale experience tooth decay, compared to the England average of 24.7%. Paul Butcher said,
Calderdale sees 300 hospital admissions per year for under 10 year olds for tooth extraction. Effective delivery of SUGAR SMART Calderdale is a key public health priority for 2017/18 and will form part our renewed efforts to improve health across the area.
The SUGAR SMART Calderdale campaign, led by Calderdale Council, Food for Life Calderdale, Locala Public Health Early Years' Service and the Better Living Service, has recruited nearly 40 organisations to take action on sugar reduction, including schools, children's centres, food businesses and many others, including the council as a major employer.
Halifax Rugby League Football Club is leading the way with players committing to taking on SUGAR SMART challenges for three weeks, which coach Richard Marshall says is key to staying at peak performance. They will also be promoting SUGAR SMART messages as an organisation throughout the community to show that physical activity and a sugar smart diet go hand-in-hand.
Among other actions planned, Ryburn Valley High School student leaders will run SUGAR SMART assemblies and the canteen will reduce sugar across their menu. Calderdale's Health & Wellbeing Board and council office teams will cease serving sugary snacks and refreshments; Northowram Primary School will run a SUGAR SMART assembly for their 450 pupils; and Calderdale Royal Hospital will be supporting staff to make healthier choices.
SUGAR SMART is a campaign of Sustain and Jamie Oliver. It is currently the feature campaign of the Sustainable Food Cities network.
---
21/02/2018
Sugar Smart UK
SHARE
---
Sugar Smart UK: Want your local area to become Sugar Smart?