McDonald's reduction in antibiotics won't solve 'systematic problems'
The alliance to Save Our Antibiotics welcomes McDonald's commitment to reduce the use of antibiotics across the beef chain but won't address the systemic problem of mass medication.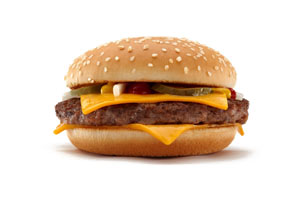 Quarter Pounder. Photo credit: McDonalds
International fast food chain McDonalds recently unveiled a new policy to reduce the use of antibiotics in its global food chain. They are committing to reduce the use of antibiotics by:
not permitting their use for growth promotion,
not using them routinely as a preventative medicine and
medicines which are critically important for human health cannot be used on food producing animals.
However although the policy won't allow routine preventative antibiotic use, it says it will allow preventative group treatments when the disease risk is high - which doesn't meet the standards of the EU legislation that has recently been voted through the European Parliament.

Cóilín Nulan from Save Our Antibiotics (which was co-founded by Sustain) believes that McDonald's aren't going far enough:
"Our calculations show that US antibiotic use in cattle is currently 8 to 9 times higher per animal than it is in the UK. The main reason for this huge level of overuse is the intensive, unhealthy and stressful conditions of US feedlots. McDonald's new antibiotic policy is a welcome step forward but won't address systemic problems. The policy still allows preventative mass medication when there is a high risk of disease, and in intensive feedlots animals are always going to be at a higher risk of disease.
What we're fighting for 2023
Support our charity
Donate to enhance the health and welfare of people, animals and the planet.