Are you a Real Bread hero?
The search for superstars is now on!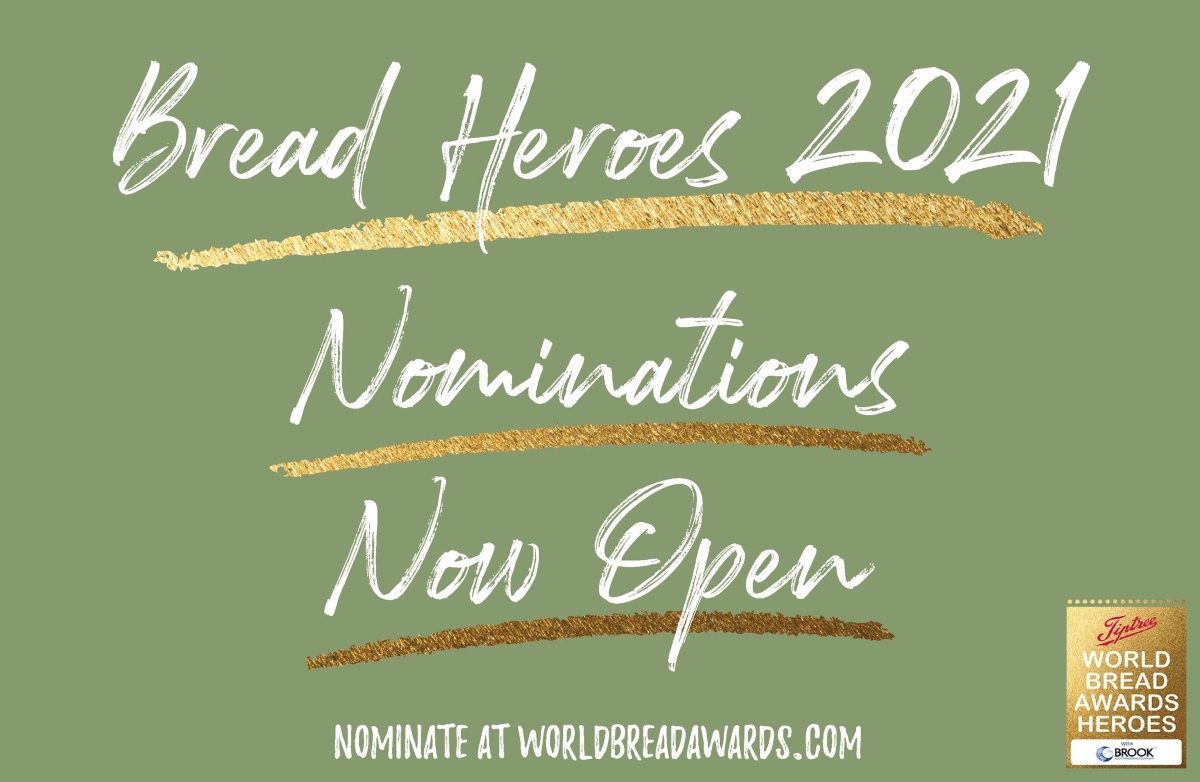 Image © The Food Awards Company
Entries are open in this year's
Real Bread Heroes
Special awards drawn from regional winners this year's Tiptree World Bread Awards with Brook Food Heroes will include Real Bread Hero, the winner of which will receive a £500 cash prize from Shipton Mill.
The Real Bread Hero award will celebrate a person, business or organisation in a seed to sandwich web anywhere in the UK who embodies the values of the Real Bread Campaign. It is open to farmers, millers, bakers, educators, activists and others working to make bread* better for us, better for our communities and better for the planet - see below.
Nominations / entries end on Sunday 5 September 2021.
Enter yourself or nominate another
#BreadHeroes21 #RealBread
*By which we simply mean made without additives – unleavened, raised by a sourdough starter or baker's yeast; cereal-based or gluten free. Bao, bagel, bialy, injera, wrap, kisra, khobez, baguette, chleb, naan, chapatti, roti, stottie cake, lavash, ruisleipä, ciabatta, bara brith, Staffordshire oatcake, sandwich tin loaf, tortilla, paratha, porotta, pita, pida… the list goes on.
What to include in your nomination / entry
The judges will be looking for a clear demonstration of commitment to doing things better in one or more areas, such as:
Creating opportunities and benefits for a community of people (eg who share a location, interests, difficulties/challenges, or characteristics), perhaps through operating as a worker-owned cooperative, social enterprise, CIC, Community Supported Bakery etc.
Being, or taking steps towards becoming, a certified organic business.
Other production/sourcing/supply chain policy and practice to reduce the negative, and increase the positive, environmental and/or social/community impact.
Paying the equivalent of, or more than, The Living Wage.
Supporting the mental wellbeing of staff members and/or volunteers.
Diversity (in all senses) equality and inclusion in their business or organisation, such as empowering and inspiring Black bakers and other people of Colour.
Involvement in a participatory plant breeding / local grain network.
Healthy food – eg producing or using only or mostly flours that have greater micronutrient profiles; plain bread with salt content of no more than 1% of baked weight.
Making bread mostly, or only, using a genuine, long-fermented sourdough method.
Minimising food surplus and preventing food waste.
Running a small, independent mill to keep bakers supplied with the main building block of delicious, nutritious bread.
Passing on Real Bread skills and knowledge to future generations.
Campaigning / activism around bread.
…and there are others. Just think: better for us, better for our communities and better for the planet.
The Real Bread Campaign defines bread as made without chemical leavening, so-called processing aids or other additives. In the case of the nominee/entrant being a baker or bakery, please confirm that everything named or marketed as bread meets this criterion.
The Scottish Bread Championships
The Royal Highland Show in association with Scotland The Bread and Scottish Food Guide once again invite Real Bread makers in Scotland to showcase their passion and skills.
The categories are:
1. Classic sourdough bread – made using only flour, water and salt.
2. Enriched sourdough bread – sweet or savoury, with additions of seeds, fruit etc.
3. Bread from Scottish-grown grain, milled in Scotland
4. Breads reflecting Scotland's food culture e.g. made with historic grains. It can also reflect international
influences and traditions e.g. Italian/Ukrainian, fermented flatbreads/crispbreads...
5. A bread demonstrably excelling in nutritional quality.
6. Bread using fully-certified organic ingredients
7. Lockdown loaf – for home breadmakers who have embraced Real Bread making during lockdown.
All entries must conform to the the Real Bread Campaign's croiterion of being made without chemical leavening, so-called processing aids or other additives.
Read rules and entry guidelines in full
Entries close 7 May 2021. Extended to 12 May 2021.
Britain's Best Loaf
Judges in this annual event for professional bakers include Campaign ambassadors Clare Barton and Peter Cook, and Campaign supporters Dan Nemeth and Lee Smith.
Entries close 3 May 2021. Extended to 17 May 2021
See also
Support our charity
Your donation will help support the spread of baking skills and access to real bread.