UK pig farmers support lifting ban on feeding pigs leftovers
New research has shown that over 75% of pig farmers and agricultural professionals support overturning the current ban on feeding leftovers to pigs.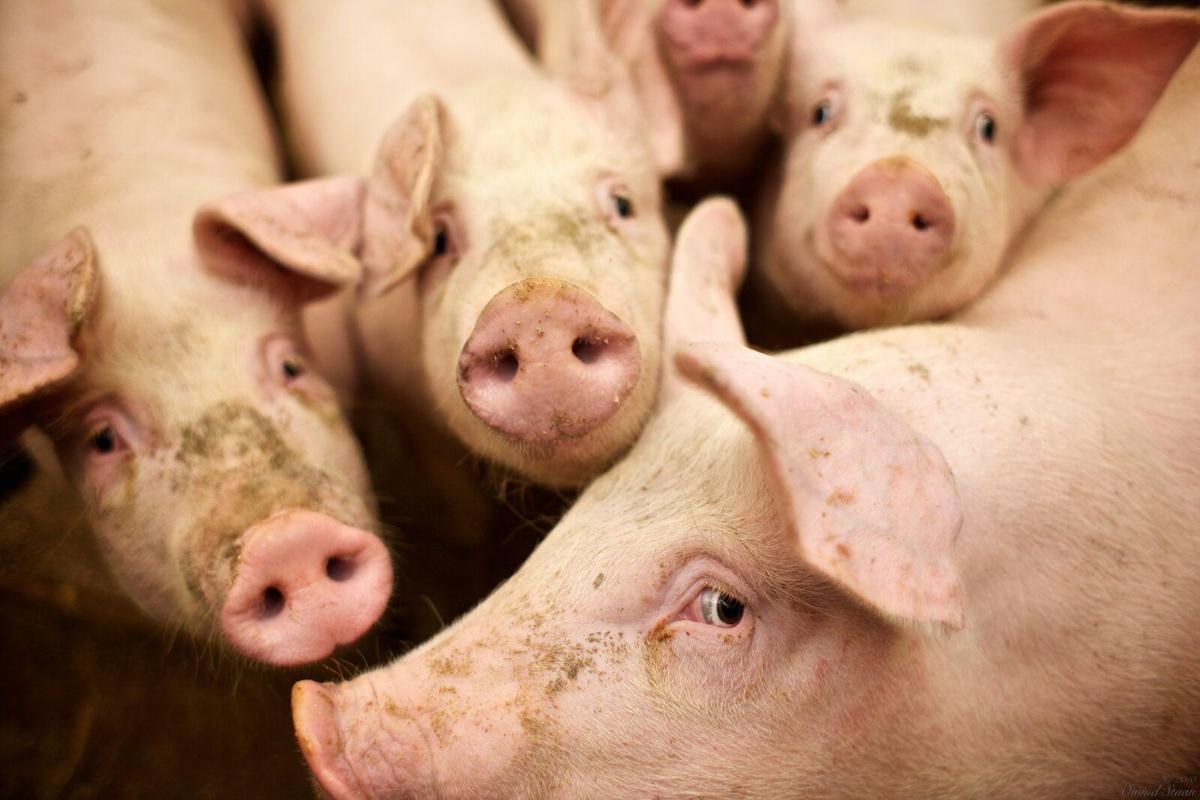 A survey conducted by Cambridge University [i] at the British Pig and Poultry Fair in 2016 found that respondents who were in favour of using leftovers that are no longer fit for human consumption believe it will reduce costs, increase profitability and has environmental benefits.
The 9,000 year-old practice of using swill to feed pigs was banned in the EU following the Food and Mouth outbreak in 2001, which was caused by a farmer feeding non-heat treated food waste to his pigs. A recent expert panel convened by the REFRESH food waste programme, examined safety concerns similar to those expressed by farmers in the survey. UK and EU academic and government experts concluded that from a technical point of view feeding surplus food to pigs is safe for both livestock and humans, provided certain safety measures such as heat treatment are enforced.
Feed costs present a significant challenge to pig farmers [ii], In October 2017, feed costs in the UK made up 62% of total pork production costs, up from 59% in 2016 [iii]. In Japan, however, industrial food-to-feed recycling plants deliver safe food surplus-based feed at half of the cost of conventional feed [iv].
Overturning the ban would also have many environmental benefits, including reducing demand for unsustainable sources of feed such as soya and fish meal and on crops that could feed humans directly, such as wheat. Feeding pigs on treated food surplus at similar rates to Japan could reduce the land used to grow feed crops for European pigs by over 20% and "reduce demand for up to 268,000 hectares of soybean production" [v].
The survey captured views within the mainstream pig industry, with support for overturning the ban among both small-scale and large-scale producers. 73% of the pig farmers surveyed had farms with more than 1,000 pigs.
Karen Luyckx, Feedback's animal feed specialist, said:
"The study shows that pig farmers across the UK are ready to bring the traditional practice of feeding surplus food to pigs into the 21st century. In 2010 we used an area the size of Yorkshire to produce the soy to feed our livestock – that is unsustainable. Pig farmers recognise the cost efficiencies and strong environmental benefits of feeding leftovers that have been processed to ensure they are safe. We urgently need to change how we feed pigs in the UK so we hope the government also recognises the value of this practice and takes forward these findings to ensure the current ban can be replaced with legislation that guarantees safety.
"Feedback is now further researching the economic viability and practicalities of adapting the Japanese heat-treatment and biosecurity model to the UK context. For example, only licenced, well-regulated processing plants should be allowed to produce feed from leftovers."
Contact: Jessica Sinclair Taylor – jessica@feedbackglobal.org - 07787 826709
Background information
REFRESH is an EU research project taking action against food waste. 26 partners from 12 European countries and China work towards the project's goal to contribute towards Sustainable Development Goal 12.3 of halving per capita food waste at the retail and consumer level and reducing food losses along production and supply chains, reducing waste management costs and maximising the value from unavoidable food waste.
Feedback is an environmental charity working to create a food system that nourishes the planet.
36% of world crops are fed to livestock but animal-based foods (meat and dairy) only deliver 12% of the world's food calories [vi]. The production of global feed requires 2.5 billion hectares of land (including 2 billion hectares of grassland), which equates to about half of the global agricultural area [vii]. This model is unsustainable - if global demand grows as expected, we would need to increase feed production by 80% [viii].
In Japan food waste is treated and turned into feed at central processing facilities which are carefully managed and easier to regulate compared to on-farm heat-treatment as used to be the practice prior to legislative change in the EU.
Feed costs in 7 EU pig producing countries made up between 56% and 67% of total production costs [ix]. In Japan and South-Korea, however, industrial food-to-feed recycling plants deliver safe waste-based feed at 40-60% of the cost of conventional feed [x]. The pork is sold as eco-pork at a premium.
Using food waste as animal feed scores better on 12 out of 14 environmental (e.g. eutrophication and eco-toxicity) and health (e.g. carcinogens) indicators than anaerobic digestion or composting [xi]. The calculations in the study were based on the current UK energy mix for the energy needed to render the food waste safe. If renewable energy was used, feed could potentially beat biogas and compost on all indicators.
REFRESH is funded by the Horizon 2020 Framework Programme of the European Union under Grant Agreement no. 641933. The contents of this document are the sole responsibility of Feedback and can in no way be taken to reflect the views of the European Union or the other REFRESH partners.
---
References
See also JOINT STATEMENT OF THE MINISTERS OF AGRICULTURE OF THE CZECH REPUBLIC, POLAND, HUNGARY, SLOVAKIA, AUSTRIA, BULGARIA, ROMANIA AND SLOVENIA ON THE SITUATION ON COMMODITY MARKETS. Prague, 29th April 2016
[v] zu Ermgassen, E.K., Phalan, B., Green, R.E. and Balmford, A. (2016), Reducing the land use of EU pork production: where there's swill, there's a way. Food Policy, 58, pp.35-48: https://www.wwf.org.uk/sites/default/files/2017-10/WWF_AppetiteForDestruction_Summary_Report_SignOff.pdf
[vii] Mottet, A. et al. (2017). Livestock: On our plates or eating at our table? A new analysis of the feed/food debate. Global Food Security 14, 1-8.
[viii] https://www.wwf.org.uk/sites/default/files/2017-10/WWF_AppetiteForDestruction_Summary_Report_SignOff.pdf
[ix] http://pork.ahdb.org.uk/prices-stats/costings-herd-performance/eu-cost-of-production/
[x] Zu Ermgassen (2016). Data provided by Japan Food Ecology Centre. http://www.japan-fec.co.jp/english/index.html
[xi] Salemdeeb, Ramy, et al. (2016) "Environmental and health impacts of using food waste as animal feed: a comparative analysis of food waste management options." Journal of Cleaner Production.
---
27/04/2018
Food and Farming Policy
SHARE
---
Food and Farming Policy: Sustain encourages integration of sustainable food and farming into local, regional and national government policies.