Glasgow is protecting land for food growing with their newly implemented strategy
In 2015, Scotland's Community Empowerment Act legislated that all local authorities had to produce and publish a food growing strategy to protect, support and deliver more opportunities for food growing. We spoke to Abi Mordin from Glasgow to understand how it's helped to support food growing in the city.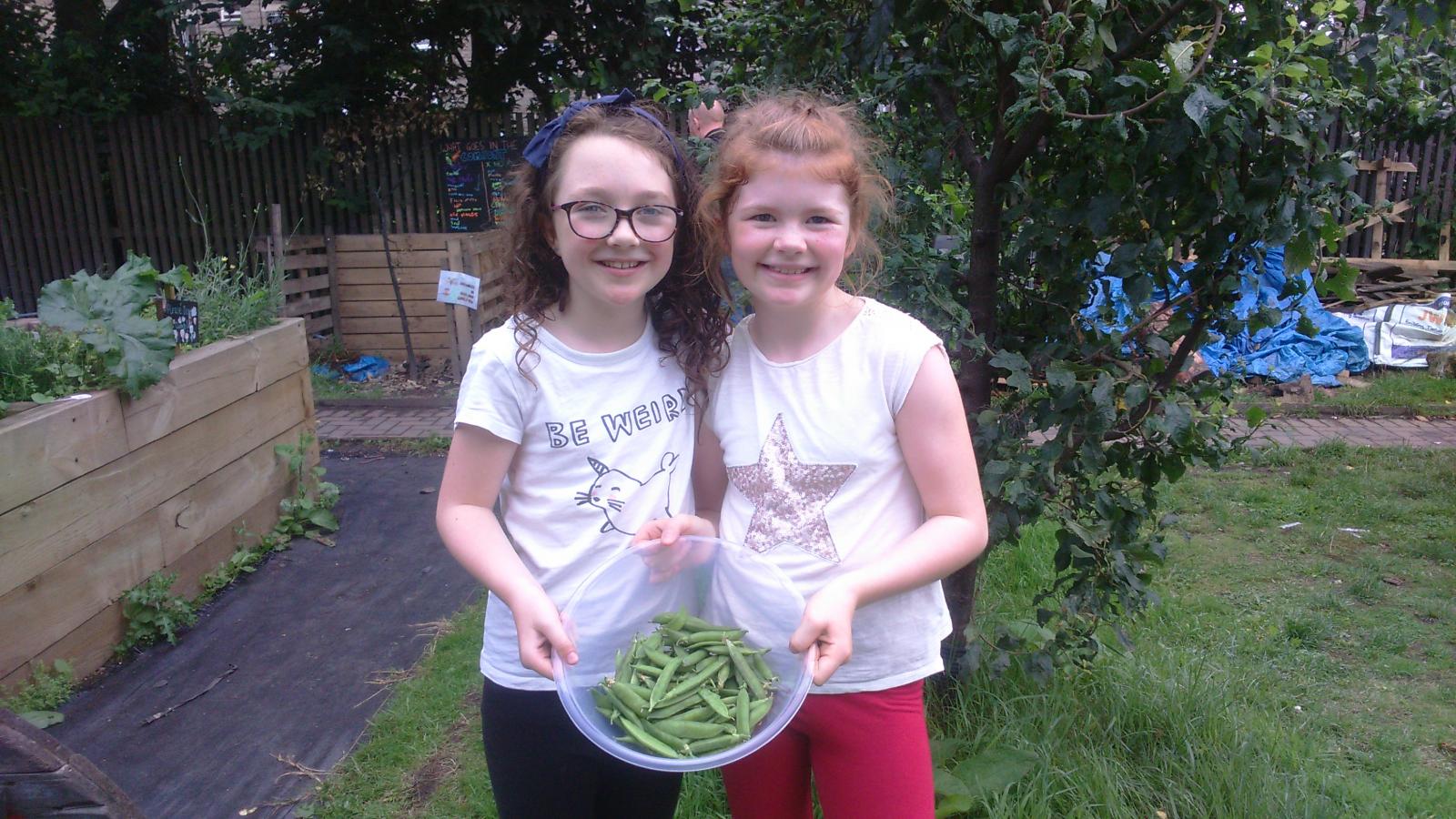 Two Glasgow residents enjoying locally grown veg. Credit: Glasgow Community Food Network
The Glasgow Food Growing Strategy is the official city policy which protects existing food growing spaces, both allotments and community spaces, and lays out mechanisms to ensure vacant spaces go through a filtration process to ensure they are considered as new spaces for food growing in the city. The five-year strategy was developed across 2019 and published in late 2020.
Protecting and increasing land for agroecological food growing is key for tackling the climate and nature emergency as it reduces the carbon footprint (especially compared to say, golf courses or new developments), increases biodiversity and wildlife and supports communities to connect with their food, leading to more conscious purchasing choices.
In an urban area like Glasgow, an increase in production destined for the local food service shortens supply chains, leading to additional carbon savings linked to the transport of food.
Developing a Food Strategy
In Glasgow, the food partnership, Glasgow Community Food Network (GCFN), worked alongside the City Council to co-create a strategy with the city's growing groups, community members and other local stakeholders including social enterprises and health and wellbeing organisations. The existing strength of the community food movement in Glasgow was a precursor for mandating this strategy across the nation so there was already an appetite for engagement across the city in its development stages.
The strategy was led by the City Council's Neighbourhood and Sustainability services with some input from Planning. The Food Growing Strategy was also a part of the wider Glasgow City Food plan, which had buy-in from departments across the council services to ensure food, and specifically food growing, was not siloed into one department.
How was the strategy created?
Green Space Scotland in partnership with GCFN and the City Council, co-facilitated public consultations in all 23 wards across a few months. They hosted the sessions in spaces the communities were familiar with, including town halls, schools and community centres. Each session was catered for by local good food enterprises, serving up soups and snacks, which was funded through the Scottish Government Funds for the facilitation. As a result, the turnout was great, with around 30 attendees across each session.
During the sessions, the facilitators laid out a physical map of the area and asked community members to point out underused areas of their locality that might be good areas for food growing. The in-person workshops were designed to be interactive and collaborative – something we can only dream about in a covid world – and the City Council were left with many newly identified areas to work with.
Following the sessions, the council officers went away to identify whether the spaces were feasible; i.e. owned by the council, not too contaminated, and not already earmarked for development, and an interactive map of these green-lighted spaces across the city will soon sit on an interactive map on the council's website.
What does it mean in practice?
The strategy helps to support and reinforce the need for food growing and helps policy-makers understand the intended (and unintended) benefits of food growing, one of which is making the food system more sustainable and climate and nature friendly. It normalises the need for food growing and has made it easier for the council to approach developers to release or include land for food growing in their plans. Since the publication of the strategy, there are already two new allotment sites and some high-profile community projects being developed, including GrowChapel, a new 6000m2 growing site in Drumchapel.
The implementation of the strategy means members of allotments and community food growing spaces can be sure that they will not be forced off the land without good reason. The City Council has had to move two allotment spaces but have provided them with equal, or larger, plots with like for like resources, including water sources and greenhouses.
It also helps to protect biodiversity as there is a clause within the strategy which requires some spaces to stay wild. On sites, the council also monitor 'waste', encouraging composting, wormeries and the recycling of rainwater.
Abi Mordin, Glasgow Community Food Network
"Glasgow's Food Growing Strategy is one of the most forward thinking in Scotland. The Council Team behind it are truly committed to working with community growers and allotment holders to implement it, which is so refreshing and makes our work as community food activists much easier!"
Unlocking and protecting land for agroecological food growing is a key way to take local action to support the climate and nature crisis through protecting and growing localised food systems. It is also a brilliant way to connect urban communities with where their food comes from, creates sustainable good food jobs and promotes biodiversity.
Would you like to see a food growing strategy or plan in your area? Sign up to the new Food for the Planet campaign.
Published 20 Sep 2021
Food for the Planet: Food for the Planet is helping local authorities, businesses and organisations take simple actions to tackle the climate and nature emergency through food.
Ren is the Sustainable Food Places Local Action Coordinator (on maternity cover) and leads the Programme's Good Food Movement work, Good Food Economy and coordinates the Sugar Smart campaign. She previously coordinated Feedback's Gleaning Network and is a Registered Associate Public Health Nutritionist.
Ren Piercey
Campaign Coordinator
Sustainable Food Places
Support our charity
Donate to enhance the health and welfare of people, animals and the planet.