Brighton & Hove's Composting Network builds community alongside rich resource
Brighton & Hove's Community Composting Network offers residents without gardens a way of recycling their food waste sustainably, creating community connections, supporting urban food growing and keeping this rich soil resource within the local area.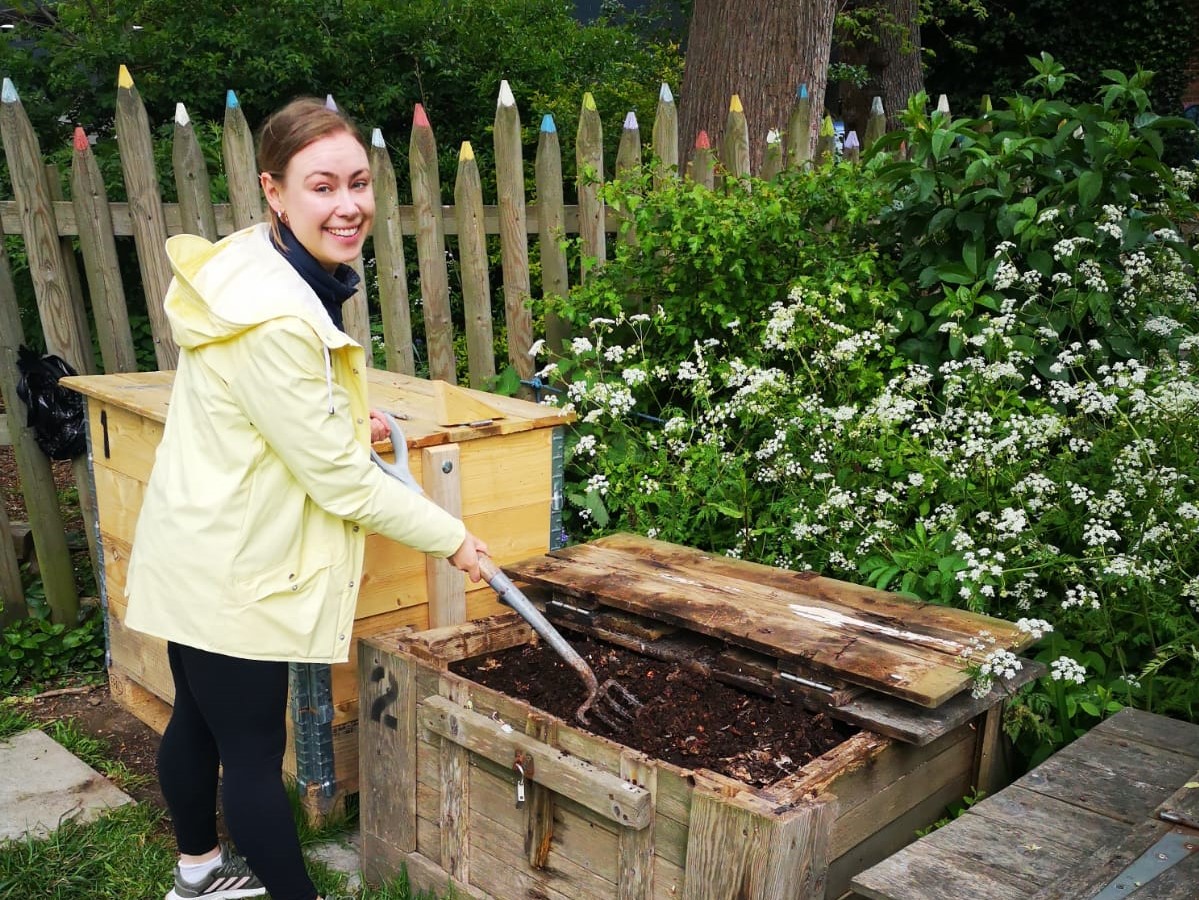 Volunteer Cornelia turning compost at a community compost site, image credit Brighton & Hove Food Partnership
Brighton & Hove Food Partnership is part of the Sustainabile Food Places Network and is the first in the UK to receive the programme's Gold Award, reflecting their excellence around key issues, including healthy food access, community involvement, procurement, local food economy and tackling the climate and nature emergency.
Community Composting Network
One of the city's flagship projects around the circular economy and reducing the climate and nature impact of food waste is the Community Compost Network. The scheme was established in 2012 to provide a food waste composting solution for residents without gardens. Working with the council, the partnership supports 40 community compost schemes with over 1,300 households taking part. Compost produced from these schemes has been used in parks, community gardens and food growing projects in local schools.
Addressing the impact of food on climate and nature
The community compost scheme provides an environmentally sustainable solution to household food waste in a city that does not have a household food waste collection. Households that do not have a garden are able to compost their kitchen waste within walking distance. The result is a nutritious, free compost that can be used for local food growing. The ecological benefits of community composting are the development of a rich resource that is kept and utilised locally, not only saving local growing projects money on compost, but also creating a product that is rich in micro and macro-organism, benefitting the soil. Local composting also has a lower carbon footprint and loss of resource than conventional anaerobic digestion systems.
Who makes it possible?
Stakeholders include Brighton & Hove City Council who fund the scheme, the 'compost monitors' (resident volunteers supported by the Food Partnership to take care of the bins and keep an eye on them), scheme members who are able to compost their food waste locally and local food growers who are able to access good quality compost for free.
Who benefits?
The key beneficiaries are the scheme members themselves, who are able to compost their food waste locally, and local food growers and community groups who are able to access good quality compost for free. But the Council and the city as a whole benefit - even those who don't partake directly in the scheme.
The impact on the city's emissions is significant, considering the relatively small scope of the scheme and number of households involved. In the last year alone, the community compost scheme has composted 115 tonnes of food waste, which would otherwise be mixed in with the general waste and sent outside of the city to be incinerated. This is equivalent to 9 double-decker buses in volume.
The Council calculated that based on the RCV truck journeys to the incinerator alone, the community compost scheme saved around 115 kg of CO2e. This is likely to be much higher when factoring in the CO2e produced from incinerating 115 tonnes of food waste and the environmental impact of alternative peat-based composts.
Some of the compost monitors have been volunteering for years and have shared with the coordinators that they find it incredibly satisfying. Communities have come together, residents have met their neighbors that they wouldn't have otherwise, and it gives members an opportunity to take action to reduce their carbon footprint and give back to nature. This is incredibly important for members, and if they move house into an area of the city where composting is fully subscribed, they are often distressed and upset by the lack of facilities. One scheme volunteer said:
I decided to volunteer as a compost monitor after moving to Brighton and not knowing where to put my food waste. I felt awful throwing it away! I've been a compost monitor at St Peter's Church for just over a year now and never thought I would love composting as much as I do. It is so satisfying seeing the change of food waste turn into compost goodness.
What assets are involved?
The Council funds the scheme, including compost caddies, compost boxes, signage and ongoing maintenance and repairs. The wooden compost bins are hand-made to a specification by a local contractor. The Food Partnership provides staff time for support of the scheme, as well as training and provision of caddies and guidance materials.
You can check out where the schemes are on the Brighton & Hove Food Partnership's community map, which enables residents to identify their nearest scheme and sign up, or join a waiting list.
There is also a list of FAQs about the scheme and tips for anyone wanting to start home composting themselves. There is also guidance for people wanting to set up a new scheme.
The coordinators use the Airtable workspace platform to help manage the scheme – e.g. identifying each scheme and its volunteers and members, record progress on new schemes, log compost bin repairs.
Challenges along the way
One of the key challenges has been meeting the level of demand for community composting within the city. New schemes fill up very quickly and many applicants need to be put onto waiting lists. There is a 6-month waiting list for opening new schemes and some popular existing schemes have waiting lists of over 2 years. This proves a huge demand for the facilities. As the schemes grows, so does awareness and demand. Coupled with households increasingly looking to make choices to benefit the environment, demand will continue to increase.
It can take a long time to get a new scheme approved and set up. Each site has to be checked and approved by the Council. A waste exemption is needed from the Environmental Agency and a consultation has to be carried out to take into account any objections from local residents or businesses.
Some new sites have to address concerns with residents who are resistant to composting. Concerns include the appearance of their neighborhood - some feel that the compost bins are 'unsightly' - and misinformation about compost bins and strong associations with rodents. Sometimes it can take significant time and effort to educate people about the composting scheme and get them on board.
The community compost schemes are reliant on recruiting volunteer compost monitors to turn the compost regularly, report repairs, and to collect and distribute food caddies to the members. Sometimes these volunteers step down and the food partnership has to recruit and train replacements.
The community composting scheme takes a lot of time and resources to administer. The food partnership responds to public enquiries, support and training the volunteer compost monitors, log all the data, set up the new schemes and liaise with their handyman. This is complicated by the fact that each scheme is slightly different, reflecting the variety of spaces they are situated in and people that look after them. Therefore, an in-depth knowledge is needed for staff to oversee all 40+ schemes.
Would you like to see community composting in your area? Why not sign up to the new Food for the Planet campaign?
Published 20 Sep 2021
Food for the Planet: Food for the Planet is helping local authorities, businesses and organisations take simple actions to tackle the climate and nature emergency through food.
Vera (currently on maternity leave) is the Sustainable Food Places Local Action Coordinator, having joined the Sustain team in 2017. She leads on the programme's Good Food Movement work, and coordinates the Sugar Smart campaign, as well as supporting the Food for the Planet Campaign.
Vera Zakharov
Campaign Coordinator Sustainable Food Places
Action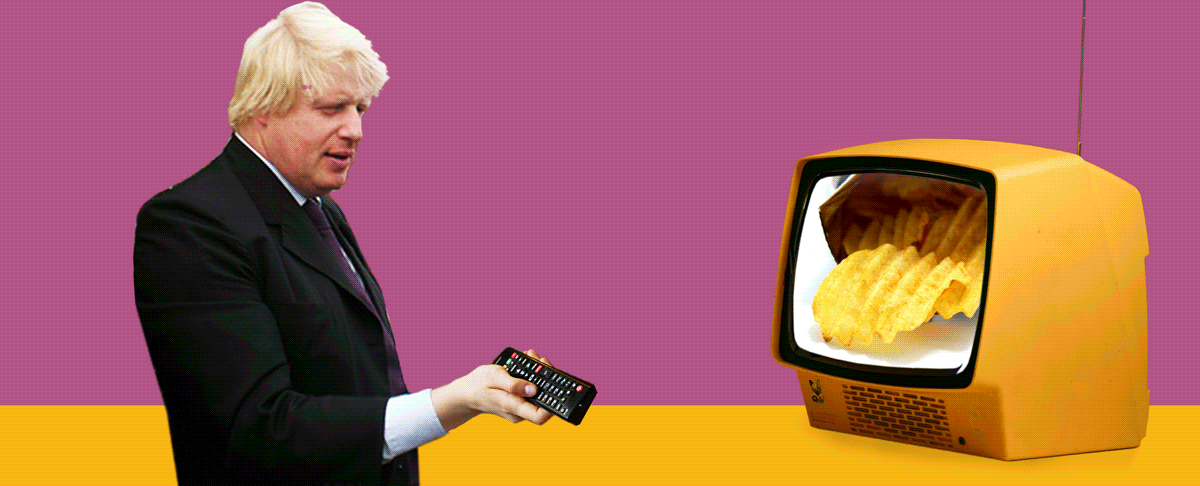 Tell Boris no #ChildHealthUTurn
Support our charity
Donate to enhance the health and welfare of people, animals and the planet.