What tools are needed to build resilient food poverty alliances?
The Food Power Festival was a four-day online festival for food poverty alliances, food partnerships, local authorities and other allies working to tackle the root causes of food poverty. In this blog, Food Power's Cecily Spelling, summarises lessons from day one where sessions explored the tools needed to build resilient food poverty alliances.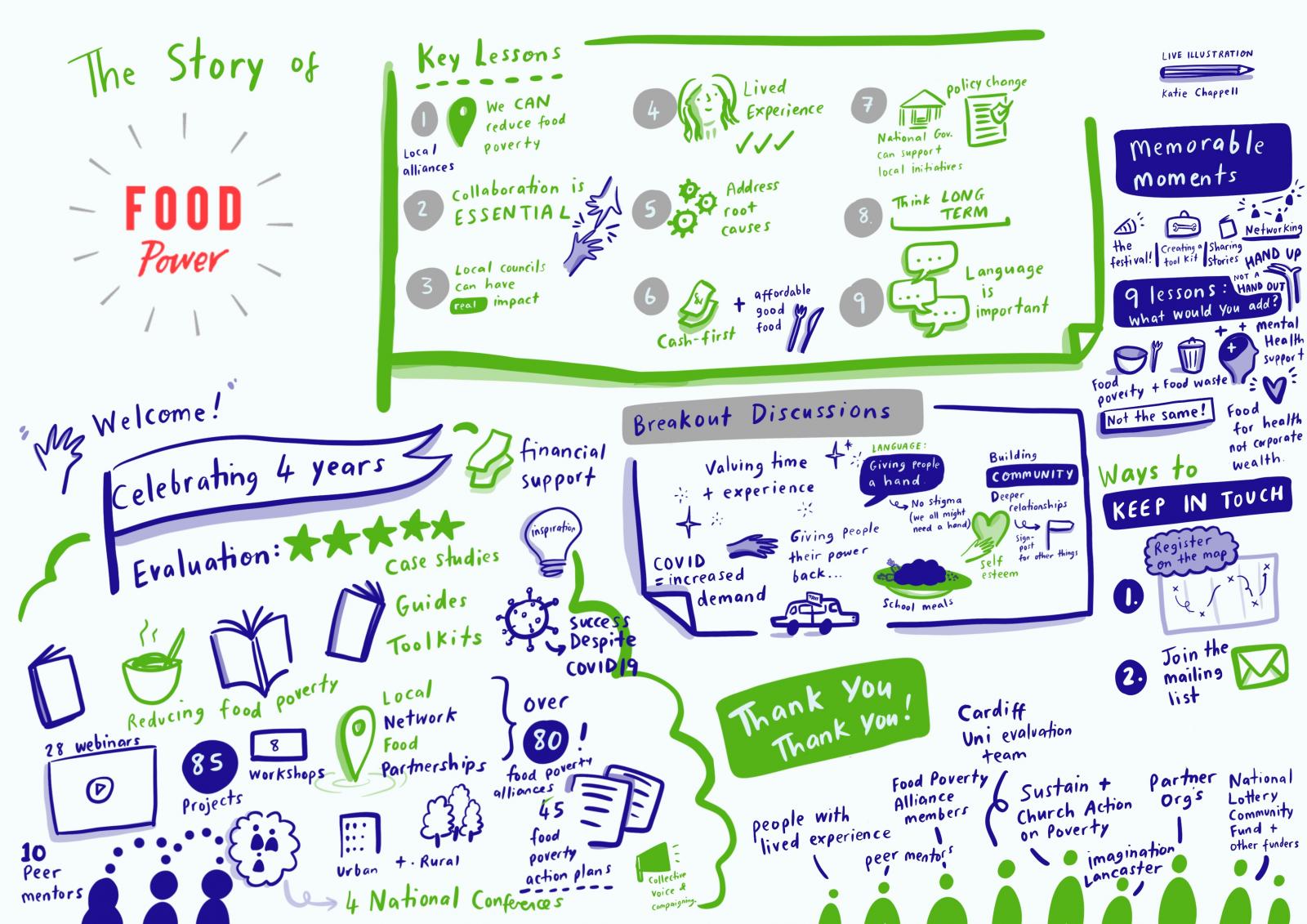 Here's a summary for you from Katie Chappell, who live scribed the Food Power session
Food Power supports the establishment of food poverty alliances as a means of collaboratively tackling the root causes of food poverty. But what tools are needed to build resilient food poverty alliances? To mark four years of the Food Power programme, the Festival seemed a fitting opportunity to explore that question, so day one included four sessions on that topic and came up with the following answers.
The story of Food Power
Simon Shaw, Food Power Programme Manager, shared the story of Food Power, reflecting on what has been achieved over the past four years of the programme and the lessons that have been learnt as a result. Open Katie Chappell's live scribe of the Food Power session (pictured above).
And to top it off, evaluation of the programme shows Food Power has played a key role in helping tackle local barriers to food poverty, impacted on the way food poverty is addressed locally and raised the profile of food poverty through creating a collective voice for local organisations. There are lots of other lessons from the programme that will be shared over the summer months too so watch out for those.
We couldn't explore what makes a resilient food poverty alliance without hearing from alliances themselves so we were pleased to be joined by both Lancaster and Shropshire food poverty alliances who shared their journeys and how they had come to develop their food poverty action plans.
Both organisations used the Food Power guide on how to develop food poverty action plans to start their work alongside mapping food poverty in their area to understand the local poverty profile and existing service provision.
Both organisations also worked with experts by experience to ensure their plan successfully tackled the issues people were facing on the ground.
This work and the resulting action plans enabled alliances to develop a whole systems approach and come together around a common goal, with good relationships, clear priorities and strength in numbers.
Experiences from Lancaster and Shropshire were clear that this work doesn't come without its challenges. Not every local organisation can engage due to their own needs, capacity or funding which can leave gaps in the network. Every member has their own organisational priorities, so alliances aren't without their tensions and expectations need to be managed.
Overall though, with leadership, understanding of the local poverty profile, collaboration and a clear food poverty action plan, resilient alliances can be developed and achieve real change in their area.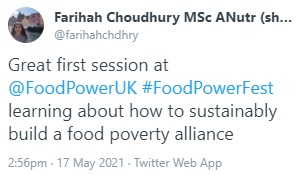 Understanding the impact our work is having is vital to ensure resilient food poverty alliances because without this we cannot be sure that our work is having the desired impact. This session explored what data is already available on food insecurity, what work was being done to measure the impact of food poverty alliances around the country and what alliances had done themselves.
Nicola Corrigan from the Yorkshire and Humber public health team highlighted that food insecurity is now firmly on the agenda of public health teams around the UK. To start this work in Yorkshire and Humber, the team has set up a Healthy and Resilient Food Systems work stream. With collaboration being key to food poverty alliances, Nicola recommended reaching out to local public health teams to understand their work and identify ways to collaborate further.
Hannah Pitt, from the team at University of Cardiff evaluating Food Power, introduced the Food Power Collective Impact Tracker as a tool to understand the impact of an alliance and where to target actions and resources. For example, this tool was used in Middlesbrough both before and during the emergency food response to track their alliance's activities and impact, which you can hear more about in this webinar.
Brighton and Hove Food Partnership also used the Collective Impact Tracker in addition to additional surveys of food bank users and with the city council. Emily O'Brien, from the food partnership flagged that data is useful but it needs to be used to tell a story, to engage new people in the alliance, raise the profile of food insecurity in the area and ultimately be used to support the changes alliances are trying to achieve.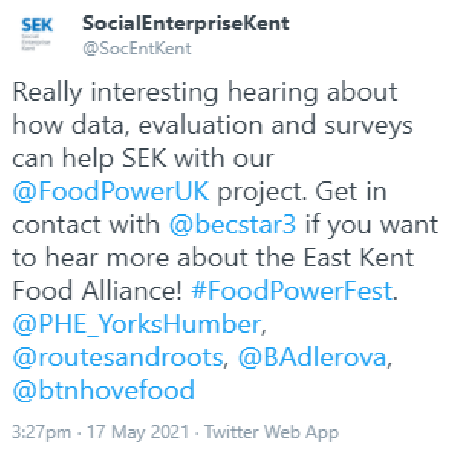 So, to answer the question - what tools are needed to build resilient food poverty alliances?
Food Power support has helped, but (so we're not blowing the trumper too hard) is by no means vital as lots of resources are available online
A food poverty alliance and action plan can enable collaboration, strong relationships and clear plans
The involvement of experts by experience can ensure action delivers impact in areas of real need
Clear data and evaluation methods should be set from the start and disseminated in various formats to raise the profile of food poverty, build alliances further and deliver action
We'll be sharing more learning form the Festival across the month of June and you can catch up on session recordings in full on the Food Power website.
Sheep farmer. Credit: Cottonbro | Pexels
Published 10 Jun 2021
Food Power: Food Power is an exciting new programme working with local communities across the UK to strengthen their ability to reduce food poverty.
Cecily joined Sustain in September 2020 as the Communications and Network Coordinator for the Food Power project and the Food Learning Forum (on maternity cover).
Cecily Spelling
Communications and Events Coordinator Food Power
Support our work
Your donation will help communities identify ways to alleviate food poverty.