£208 million of taxpayers' money spent on Covid-19 government food boxes could have been much better spent, investing in community food services delivering much more than a meal, says Morven Oliver-Larkin of Sustain's Older People's Food Campaign.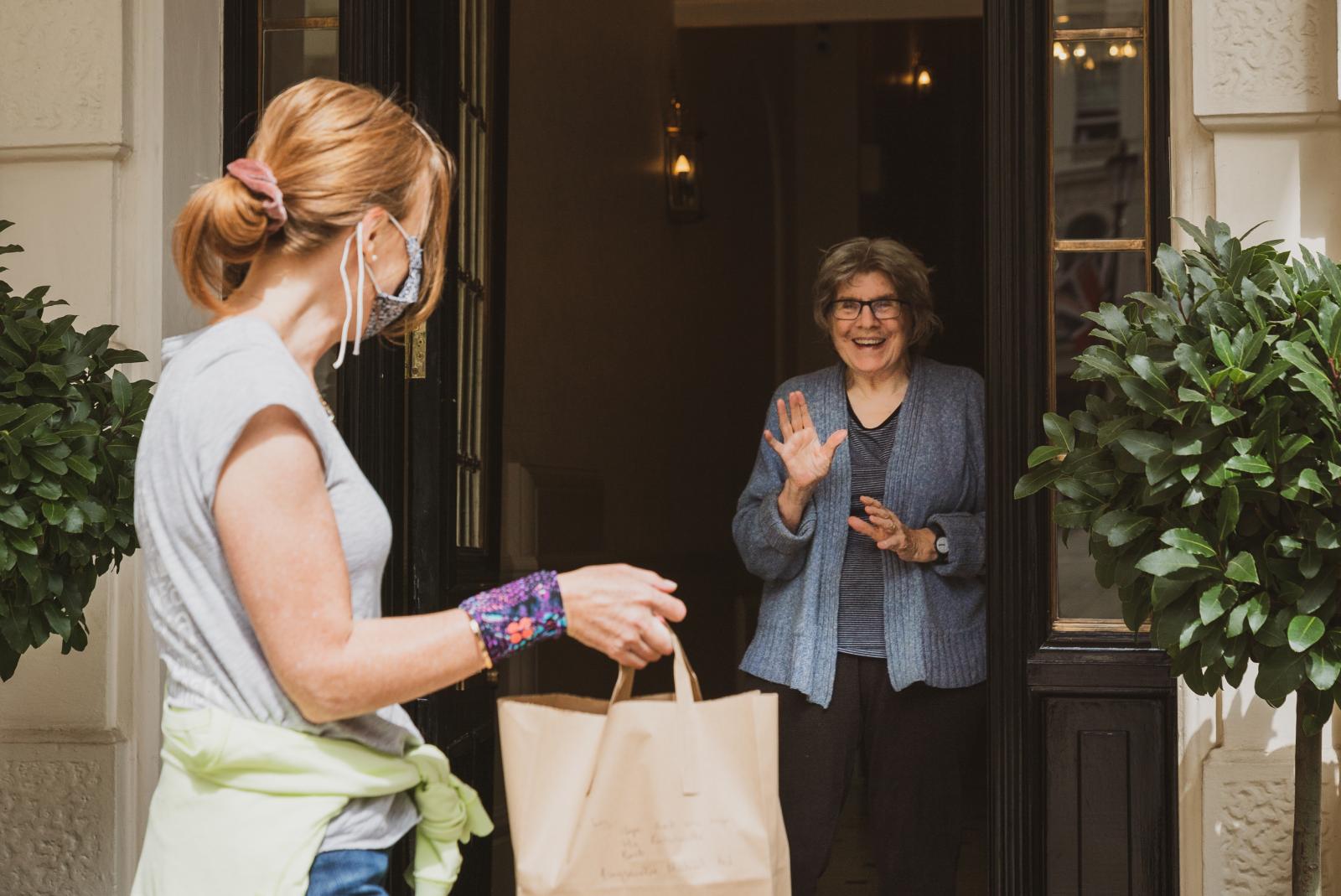 A meal is delivered to a Westminster resident during lockdown. Photo credit: Chris Skarratt.
During the first lockdown in 2020, the Government awarded £208 million to the food wholesale companies Bidfood and Brakes to deliver food boxes for those who were shielding in England due to being clinically extremely vulnerable to Covid-19. These turned out to be expensive – reportedly costing £44 per box - despite a similar selection of contents from a supermarket costing only £26, including home delivery.
Whilst the contents improved over time, government food boxes were initially barely fit for purpose – with reports of bizarrely combined ingredients impossible to construct a meal with, no choice for people with special nutritional needs (presumably a substantial subset of those needing to shield), and inadequate provision of healthy fruit and vegetables, with some reportedly rotting on arrival. Crucially, this contract didn't deliver the add-ons of welfare checks and support for older and disabled people, which established local services deliver as standard, even during the pandemic.
This money could have been much better spent, not only to deliver high-quality nutritious food to the same number of people, but also to build locally embedded services that would serve communities and help keep older people healthy and well beyond this pandemic. By going with what already works, trusting communities and investing in longer-term solutions, the Government and local authorities could have created multiplying gains instead of diminishing returns.
The money could have been spent on hot or frozen daily meals, delivered to people's homes, together with welfare checks and a regular conversation with someone committed to supporting the overall physical and mental welfare of the clinically vulnerable resident. This investment would have supported good jobs in local communities, including in the beleaguered catering, restaurant and hospitality sectors, as well as better health outcomes for older people and others who were shielding, and could have been a factor that helped to keep non-Covid hospital admissions of older and disabled people to a minimum.
Lessons from existing meal providers
Many existing meals on wheels services can deliver a daily hot, nutritious meal for roughly £6.50; these also include welfare checks and regular social interaction. By waiving VAT, cost per meal could be brought down to roughly £5.40, leaving room for investment in permanent meal delivery services. We know that where established community meal providers who have skill and experience in catering for older people were commissioned to provide food during the pandemic, these delivered far more value than the government food boxes.
Not only did these cost less, they also provided decent amounts of food, carefully met nutritional guidelines, ensured that food included was appropriate for the demographic served, and distributed meal planning leaflets. Alongside this they integrated rigorous welfare checks linked in with local statutory care services and employed local people at a time of economic downturn.
Resilience in practice
This is what resilience looks like in practice – an integrated and inclusive approach investing in community skills, assets, jobs, supply chains and services that can be responsive and resilient to economic, health or climate shocks. 'Resilience' has become a bit of a buzzword when talking about the response to the pandemic, and about how to overcome household food insecurity in particular. Numerous reports and projects – like our own on local authority action in London, or Oxford's on defining food system resilience – have started to document the factors that can contribute to resilience.
Over the past year, we've seen plenty of examples of what resilience doesn't look like – for many families, asylum seekers, and older people who have received scandalously inadequate food boxes and meals. Half a carrot here, a portion of plain rice with some hot sauce there. These are deeply insulting and inadequate for those receiving them, whilst also providing terrible value for money for the taxpayer and zero longer-term resilience for communities.
What needs to happen next
During the latest wave in Covid-19 infections, consideration of food provision for those needing to shield or self-isolate has been conspicuously absent at a national level, whilst some – but not all – local authorities have worked with the community sector to meet the food needs of older and disabled people. In preparation for future shocks and crises, government must enable local authorities and care providers with appropriate duties and adequate funding to invest in the health and wellbeing of older and disabled people living in the community who struggle to access food. We know this is possible, and it should be picked up as part of the Government's intention to reform health and social care services and advance a prevention-first agenda.
The food needs of older and disabled people must be foregrounded in any such reforms, and in planning for recovery and resilience. Knowledge, skills and expertise in how best to do so are ready and waiting. Government just neds to tap into this and invest in what already works.
Morven coordinates Sustain's London Food Poverty Campaign which highlights and encourages sustainable responses to food poverty, particularly where they address the root causes of food poverty.
Morven Oliver
Campaign Coordinator
Food Poverty
Support our charity
Donate to enhance the health and welfare of people, animals and the planet.