Meals on wheels for the 21st century
A report exploring meals on wheels services in London before, during and after Covid-19.
This report looks at how services that ensure older adults can access meals in their homes are run across London, before the Covid-19 pandemic and during it. In the capital, adequate provision of meals on wheels services where not in place prior to lockdown. Where these exist, many face the possibility of being cut, annually. New, innovative services were being established in a few locations even before Covid-19, demonstrating that viable, affordable and effective solutions exist that could improve lives for thousands of older and disabled adults. During the lockdown, many innovative community solutions arose, which show great promise for the future if they are supported and funded.
This report draws on qualitative research to present the many enterprising solutions that have arisen during Covid-19, and argues for support and funding to sustain them, quickly. It makes detailed recommendations to policy-makers at the local, city wide and national level, and calls on government at all levels to support the impressive action within communities that will ensure older adults and others who struggle to access meals in their homes can access at least one good meal every day.
Connect and take action on meals on wheels
For more information support and resources on meals on wheels visit our campaign age here. We also have an email forum for anyone involved in meals on wheels service delivery, campaigning, or community work.
Join this forum to ask questions, share resources and get support from others who are running, developing or expanding meals on wheels services across the UK. Email meals-on-wheels-subscribe@lists.riseup.net to join. Once subscribed you can then send a message to everyone in the group by emailing meals-on-wheels@lists.riseup.net.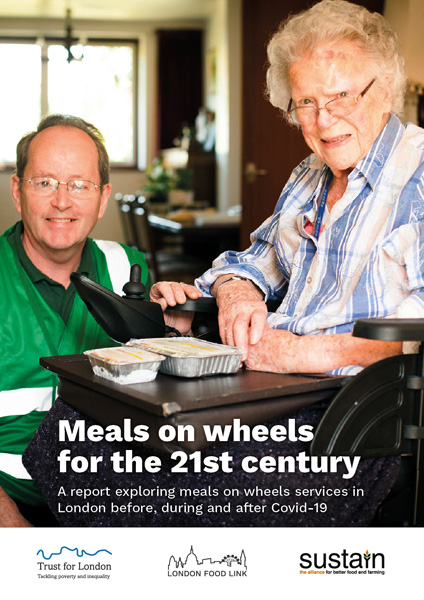 Meals on wheels for the 21st century
33pp - 2020 | 3386Kb
Published 15 Jul 2020
Sustain: Sustain The alliance for better food and farming advocates food and agriculture policies and practices that enhance the health and welfare of people and animals, improve the working and living environment, enrich society and culture and promote equity.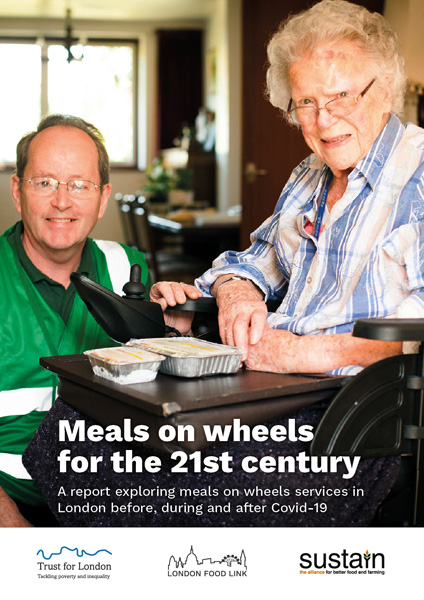 33pp - 2020
3386Kb
What we're fighting for 2023
Support our charity
Donate to enhance the health and welfare of people, animals and the planet.