We have seen a surge in demand for ethical, local and sustainable foods during the pandemic, but  what about what we're drinking? Amy Luck  takes a look  at the London-based drinks brands working for people and planet.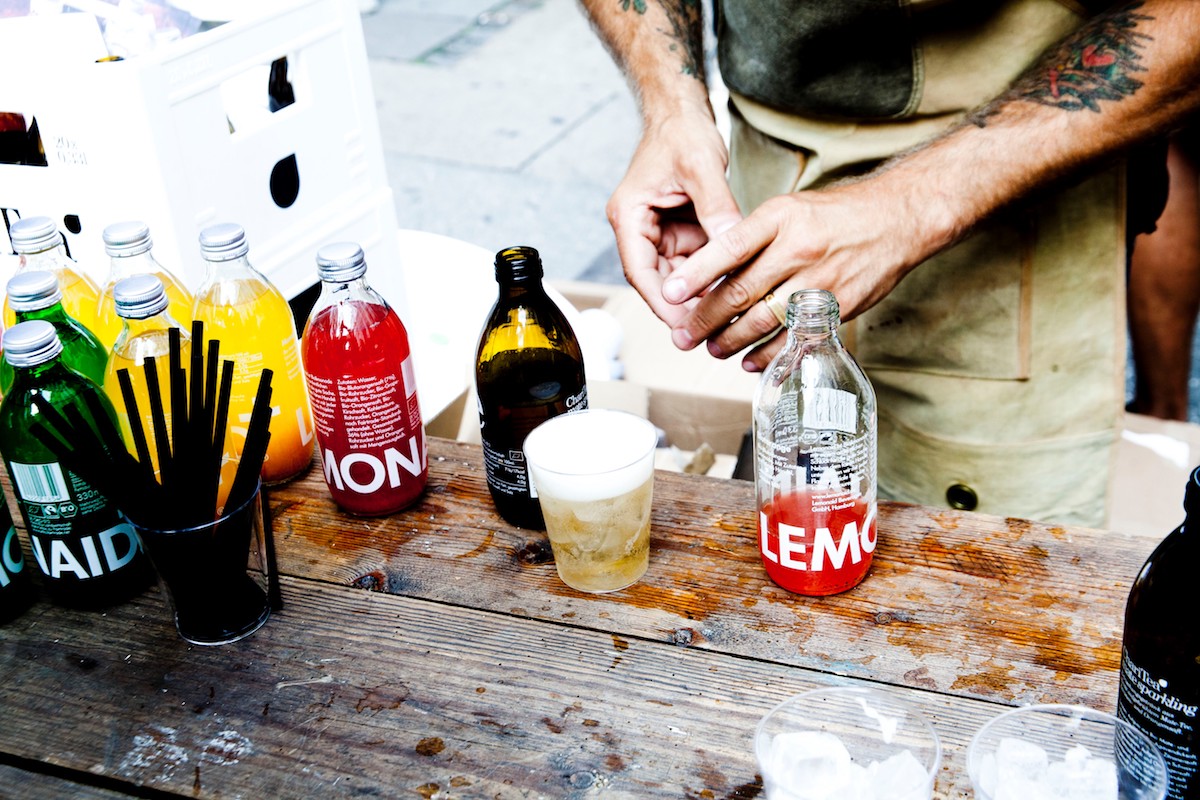 LemonAid
So, what do we look for when it comes to drinks? What makes a drink ethical?  Here are a dozen ethical drinks and why we love them. 
The Educators
Toast Ale use surplus bread to replace virgin barley, using less land, water, energy and avoid carbon emissions. They give all their profits to different charities, funding systemic change to fix the food system and use their platforms to engage people in conversation about the planet. Plus, the beer is delicious, an 'Eel favourite is the chocolate stout. Cheers.
All about people and planet over profit, The Green Vic is aiming to be the world's most ethical pub by donating a portion of their profits to charities, supporting the homeless community to get jobs with them and stocking everything they serve from non-profits or social enterprises. The pub launch has been put on pause for now but they are planning an exciting online alternative to go live in a few months' time... Watch this space!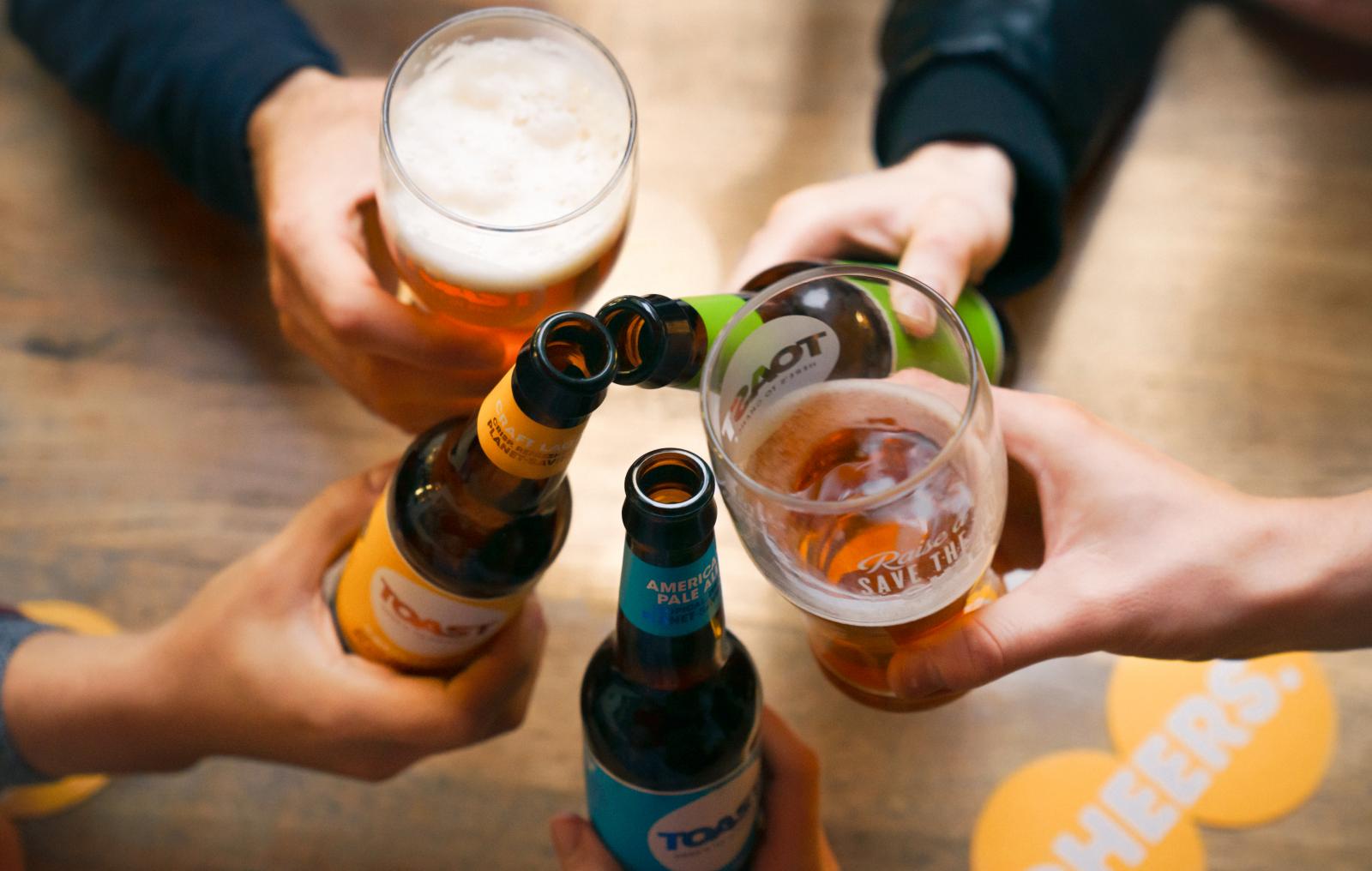 Credit: Toast Ale
Keeping it local
The Urban Wine Company (UWC) bring together people across London and the Home Counties that grow grapes in their gardens and allotments. They are currently selling their Tooting White Fizz.
This year's annual harvest takes place at All Saints Church, Brudenell Rd, Tooting, SW17 8DQ on the 25th September between 8am until 1pm. Members can then get their own wine made from their own grapes and this includes a Rose still and a Rose fizz. Email urbanwineuk@gmail.com for more info and to sign up.
New health craze here to stay, kefir specialists Ki Kefir make small batch drinks using traditional methods. Sourcing milk from grass fed cows and organic and regenerative pastures in East Sussex and selling into London.
Climate Warriors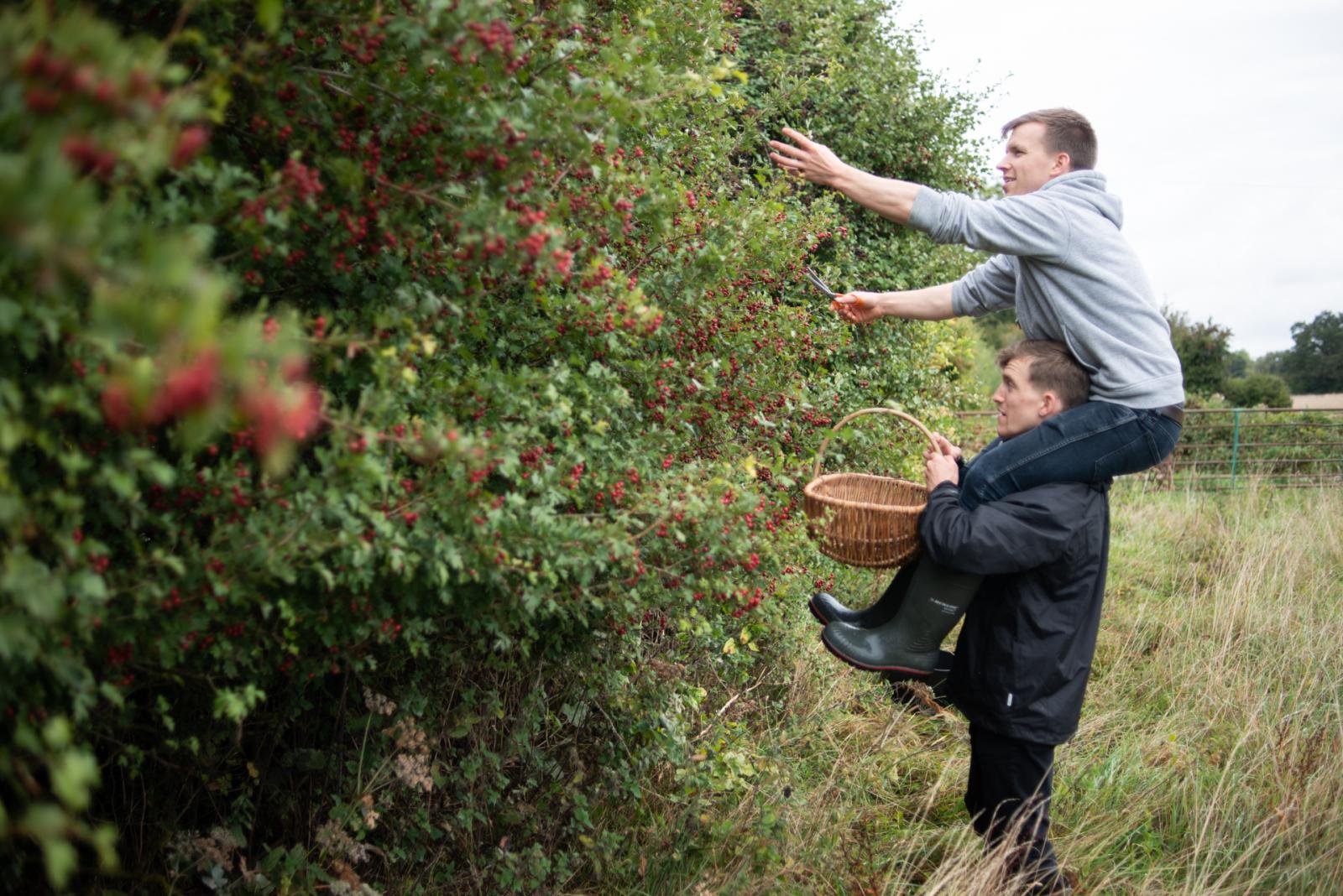 Credit: Earth Ale foraging for ingredients, taken by Chris King
By name by nature, Earth Ale brews beer from natural ingredients and foraged from wild ingredients in England, infused in a natural brewing process to create seasonal batch recipes. Brewed in North London, they also have a bus taproom serving their beers which can vary from flavours such as dandelion root and pine sap to plants as weird and wonderful as lemon verbena and hogweed.
London's first microbrewery to produce all Vegetarian Society accredited products, Clarkshaws processes are designed to be vegan and vegetarian friendly. All the ingredients in their beers are sourced in the UK, supporting local producers and reducing the 'beer miles' of all of their products. They also make deliveries in their electric vehicle and reuse wastewater in local growing projects! Which is why they won a London Food Link Urban Food Award 2019.
Based in Bermondsey, Hiver beers bring bees and beers together by buying independent British beekeepers honey and using this as an integral part of their brewing process. Founder Hannah Rhodes first tasted urban honey at London Food Links Urban Food Fortnight!
Drinking for good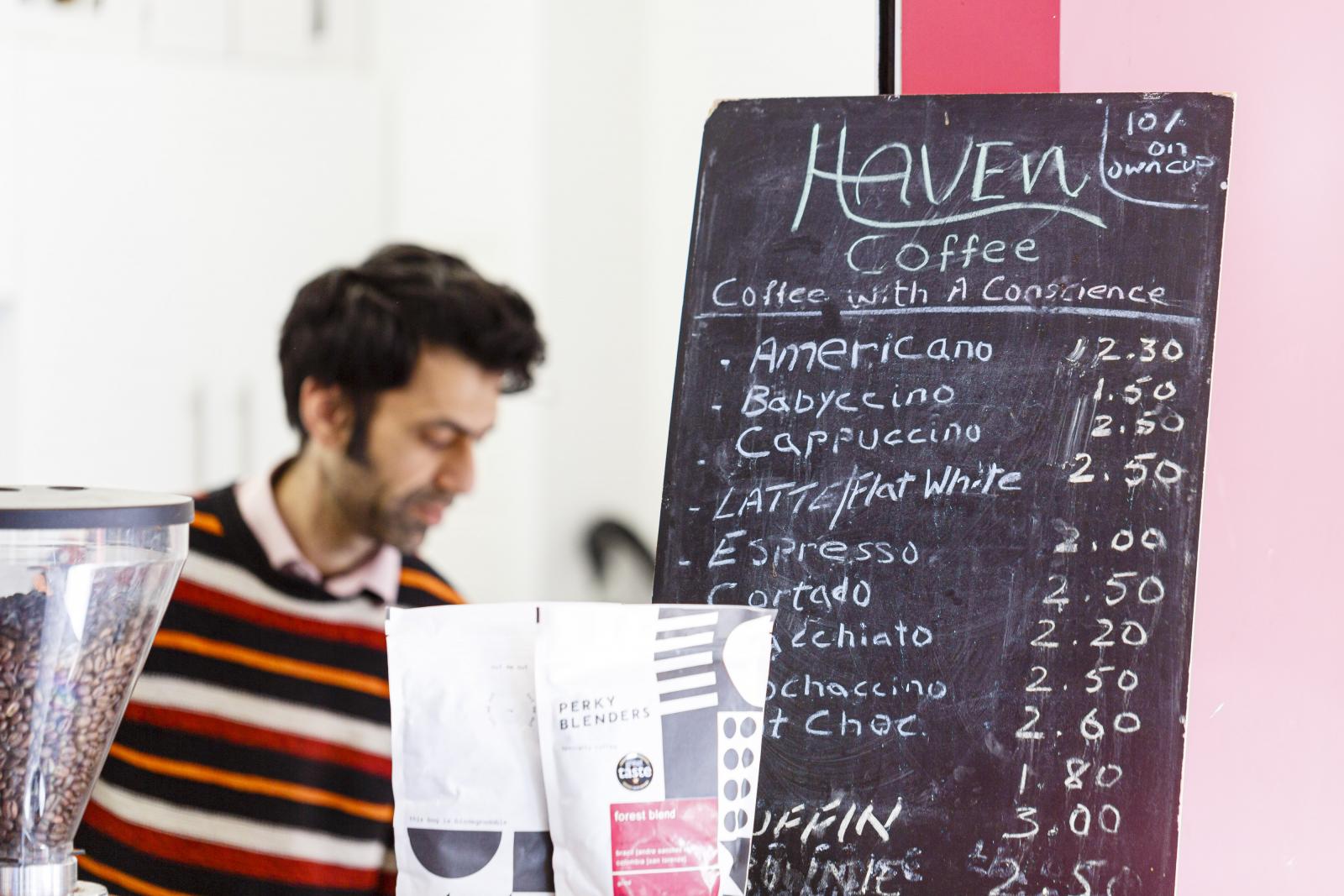 Photo: Usman Khalid by Miles Wills
Founded in 2019 by Usman Khalid, and one of our 2020 Urban Food Award winners, HAVEN Coffee runs pop-up coffee shops for workspaces and events across London. Each cup is not only fairly traded and organic but helps support refugee communities, by promoting refugee artists, organising events and providing barista training to refugees. And with a new home in St Mary's Road, Walthamstow, we can't wait to pop in for a 'coffee with a conscience'.
ChariTea iced teas are made from organic and Fairtrade ingredients that are ethically sourced from cooperatives and plantations around the world. Every bottle sold donates to the Lemonaid and ChariTea Foundation which fund social projects in the growing regions that their products are sourced from. Give back while you drink!
A London-based tea company who provide employment to refugees as well as ensuring all their teabags are Organic, Fairtrade, Rainforest Alliance certified and plastic-free. We know where the next 'Eel tea break will be sourced from.
Skipping the sugar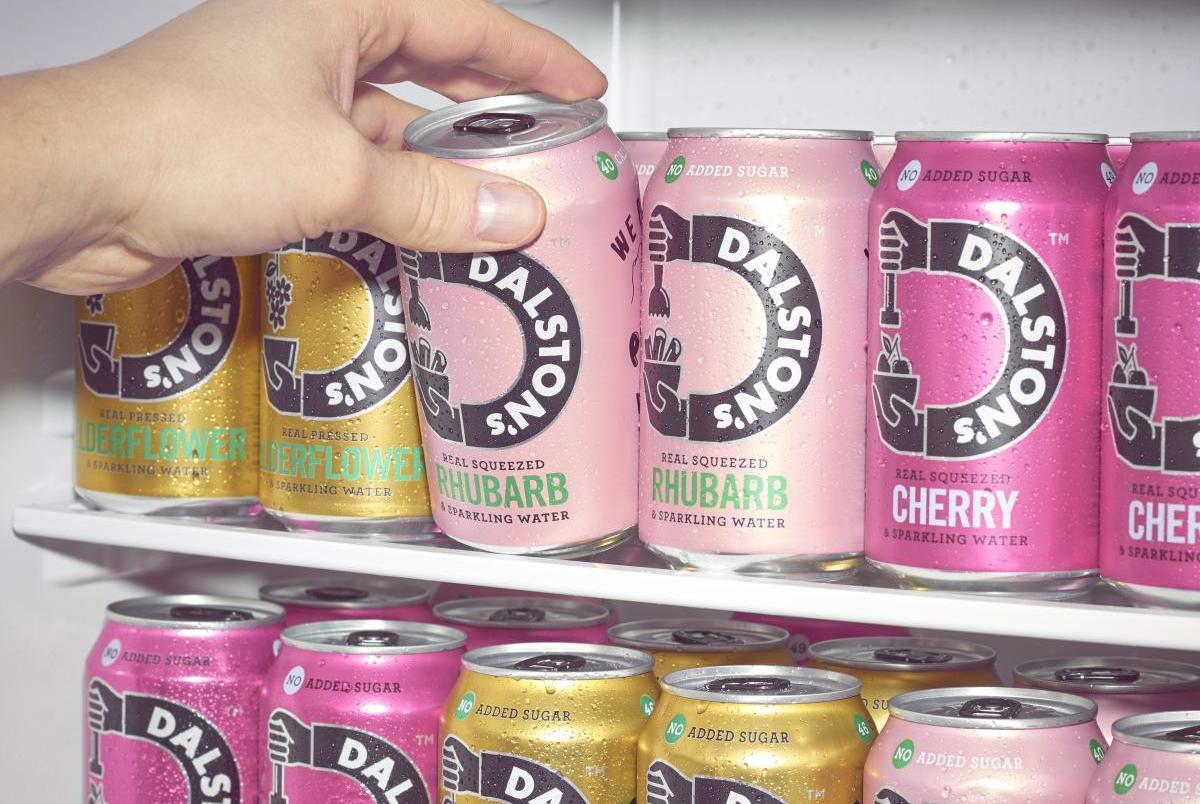 Credit: Dalston's
11.  Dalstons  @DrinkDalstons
London born soda brand Dalston's are going back to basics and putting real fruit at the heart of their drinks while avoiding refined sugar and artificial sweeteners. You can have your fizz and drink it! See our Roots to Work with co-founder Duncan.
The hibiscus plant, or Sorrel in the Caribbean, has been drunk for generations as a natural alternative. Treats Hibiscus Drinks use natural organic ingredients including hibiscus, ginger, clove and cinnamon. Tried it yet?
Check out our recent Around Town Home edition featuring drinks and Jellied Eel goes to the pub
Published 11 Aug 2021
London Food Link: London Food Link brings together community food enterprises and projects that are working to make good food accessible to everyone in London to help create a healthy, sustainable and ethical food system for all.
Support our work
Your donation will help support community food initiatives and enterprises to thrive as part of a more sustainable food system.