Meet The Londoners Hungry For Good
This year's Urban Food Awards were announced virtually, but the issues battled by its Food for Good winners are very real. Kirsten Foster checks in with a few of these inspirational champions.
The annual Urban Food Awards, organised by London Food Link and the Mayor of London, celebrates people putting good food on the capital's plates. This year's Food for Good award honours those using food to bring communities together and to celebrate diversity.
EATING THE RAINBOW
The sight of a yellow pepper delights Clair Battaglino in a normal year. So you can imagine how she feels in 2020. "They're so gorgeous! I don't want to pick them." Italian-American Clair is co-coordinator of LGBTQI+-led community gardening project Rainbow Grow. Their Dalston garden brings not just colour to the inner city, but also fresh food, new skills, a sense of community and, as lockdown eases, a much-needed distraction from the Covid crisis.
The project has been a unique source of support for this community, giving people of all generations and backgrounds an alternative place to socialise. This includes providing LGBTQI+ youth group, Project Indigo, with a meeting space and intergenerational supported gardening. "Some of the young people were really excited to be able to cook and eat something they'd grown," Clair continues. Sadly, lockdown has put this on hold. But ever hopeful, Clair is looking forward – particularly to Rainbow Grow's first mushroom, due this season. "I'm throwing the biggest party when we finally get a shiitake!"
LOOKING FOR A HOME
Usman Khalid of Walthamstow social enterprise HAVEN Coffee is also looking ahead – to next spring, when hopefully he'll have a permanent space in Walthamstow's revamped mall. Then he can feel settled, something that, as a refugee, is important to him – and to the many other refugees and migrants he helps with his coffee business. Founded in 2019, HAVEN Coffee runs pop-up coffee shops for workspaces and events across London. Each cup helps support refugee communities by promoting refugee artists, organising events and providing barista training to refugees.
During lockdown, Usman focused on online sales of his Fairtrade, organic, single-origin Honduran and Sumatran coffees, promoting refugee artists' work on the packaging. But as things open up again, he's looking for wholesale customers and a temporary home for HAVEN. Once that's found, he can start planning events, like his 'Laffucino' comedy night, headlined by Nish Kumar, helping more marginalised people feel at home in our city.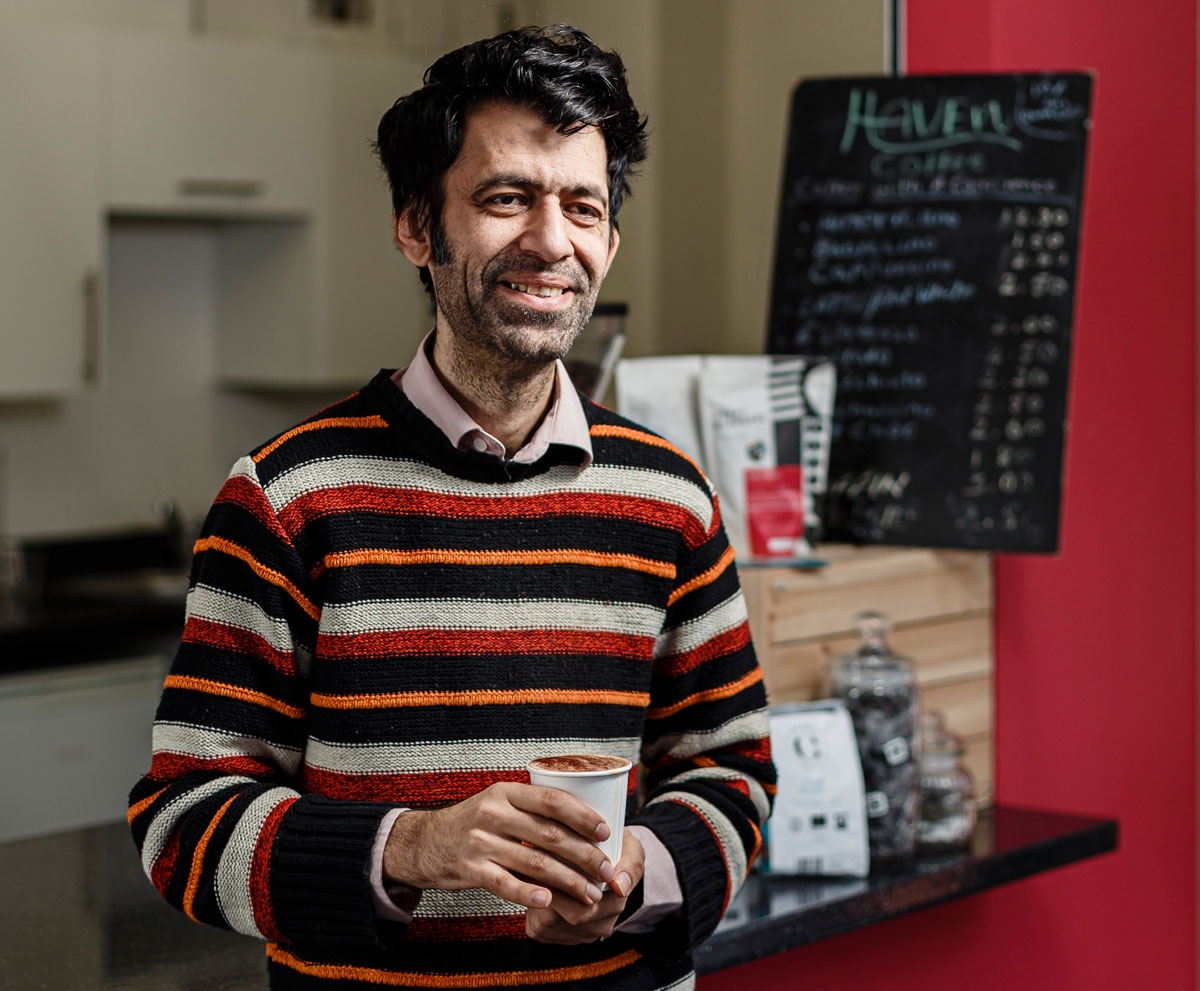 Usman Khalid, photo by Miles Willis
DINNERS NOT BINNERS
"I hope everyone gets up in the morning and does something about something they see is not okay." This challenge is laid down by possibly one of the busiest people in lockdown (and Jellied Eel cover star) Hadas Hagos, founder of Battersea-based waste-food rescue organisation Waste Not Want Not Battersea (WNWNB).
Hadas was described in her nomination as 'an amazing community activist who despite challenges works tirelessly to make Waste Not Want Not Battersea the success it is.' WNWNB has been diverting 'unwanted' food from local markets to people's plates since 2017, through weekly events and workshops at community centres. Until Covid struck. Hadas reflects: "When lockdown began, I was going to sit down but there was too much to do." From doing a couple of shifts a week, the group were suddenly picking up produce five days a week from New Covent Garden, turning it into food aid for a massively expanded clientele, including those isolating as well as those who had always been in need. But, Hadas adds, one silver lining is that the crisis has led to stronger bonds with market traders, who have gained a deeper understanding of why the group exists – and why, in an ideal world, it wouldn't.
RESPECT, LOVE AND CARE
Many of us have used lockdown to learn new things, but if you haven't upskilled yourself silly yet, Migrateful has a lot to teach you. Founded in 2017 by Jess Thompson, Migrateful helps refugees and migrants to lead cooking classes (currently online), teaching their home cuisine. In return they make connections, build confidence and exchange skills. So far 8,000 participants have taken part in almost 800 classes by 45 chef-teachers – one of whom, Noor from Pakistan, explains the difference the project makes: "Coming to this group we are not called a refugee or asylum seeker. We are called a person which means we get respect, love and care."
This year it's more important than ever to show 'respect, love and care' and what better way than how we grow, buy, sell, make and share our food.
---
Full list of winners at:
www.urbanfoodawards.org
@RainbowGrow
@haven_coffee
@wastenotproject
@migratefulUK
For more of London's inspirational food pioneers, meet the women changing lives through food.
RELATED ARTICLES
NEWS