Growing Health Case Study: Harvest
The Brighton & Hove Food Partnership is a not-for-profit organisation that works on all aspects of food. They run a range of community-based projects that cover cooking, healthy eating, weight management, food growing and reducing food waste, whilst also taking a citywide strategic and lobbying role.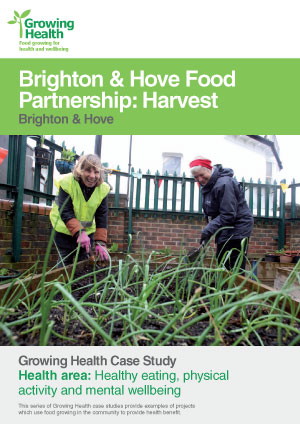 Growing Health Case Study: Harvest
2015 - 5pp | 947Kb
Published 1 Dec 2015
Growing Health: Growing Health is a national project run by Garden Organic and Sustain, which is funded by the Tudor Trust, to see how community food growing can be routinely used by the health and social care services as a way of promoting health and wellbeing for a range of individuals and population groups.