Two thirds of Council climate action plans miss out food, despite food and farming contributing between 20-30 per cent of global greenhouse gas emissions.
Only 13 out of 92 climate emergency plans released by UK councils include policies to tackle food emissions at a scale needed
Two thirds (67%) of climate action plans contain no new or substantial proposals to tackle food-related emissions at all, even though the food and farming sector constitutes 20-30% emissions globally
National Government must do more - via the National Food Strategy and other policies - or the UK risks missing national and international commitments to tackling greenhouse gas emissions
The top councils for tackling food emissions were Bristol City, Camden, Cornwall County, County Durham, East Lothian, Enfield, Hounslow, Lewisham, Middlesbrough, Stockport, Stroud District, Somerset West & Taunton, and Southwark.
Government must do more to give Local Authorities the resources and power they need to improve food and diets to tackle climate change, according to new analysis from Sustain: The Alliance for Better Food and Farming.
November 16 marks what would have been the International Conference of the Parties in Glasgow (COP26), which has been postponed for 12 months following the Covid-19 pandemic. Without significant action to address our food system, the UK cannot meet its commitments to achieve net zero emissions.
Ruth Westcott, climate change campaign coordinator at Sustain, said
'The vast majority of the public want to see more action on climate at change - at all levels of government - but at the moment, food is being missed out. Local councils understand how changes can be made to benefit and empower communities, whether that's planting new orchards in flood-risk areas, making space available for urban fringe farming, allotments, serving local, seasonal and sustainable food in their local services and/or supporting markets and food enterprises. But this action needs to become widespread and commonplace.

National Government must embrace the potential of food to meet climate targets, part of which lies in the power of local authorities to change the food system for the better. We hope that the new National Food Strategy will consider both the local and national role of food in the climate emergency, and that Government will adopt these recommendations in order to achieve our national and international commitments."
Farming and fishing, transport, food processing and waste is responsible for 20-30% of greenhouse gas emissions globally. As a major risk factor for future zoonotic diseases, as well as a leading driver of habitat loss and antibiotic resistance, our diets and farming practices combined are probably the greatest overall threat to the health of our planet.
74% of councils in the UK (300) have declared a climate and nature emergency; acknowledging an urgent crisis and committing to taking steps to address it. 92 councils appear to have published a strategy to set out how to do this. All 92 publicly available action plans were analysed for how comprehensively they include plans to tackle food-related greenhouse gas emissions. Of those analysed, only 13 include significant actions across a breadth of issues to address food-related emissions, meaning that the vast majority of councils - even though most have declared a climate and nature emergency - are not tackling food in a way needed to achieve net zero, or indeed restore biodiversity, halt deforestation and prevent antimicrobial resistance.
Councils have a role in procuring food for schools and other services, many manage waste and composting, have a role in local land use, farming and growing planning, and they therefore have a significant role in shaping the diets of citizens and the food available locally.
The new report from Sustain makes the following recommendations:
13 councils have shown that they can take significant action on food and the climate and nature emergency in a way that meets local needs, empowers citizens, and creates nature-rich green spaces. But more work is needed to make this the norm:
Good diets in the public sector must be normalised at a national level. At the moment it is the exception, making it more difficult to implement change. Mandatory standards for serving meals high in fruit and vegetables, low in ultra-processed food and low in meat across the public sector are needed. In addition, it needs to be easier (and the norm) to serve better meat and dairy - including organic, pasture-fed and free-range - and locally-sourced produce from smaller enterprises.
Councils should be given more resources and support to find local solutions to design-out food waste, plant trees, install drinking fountains, and a host of other actions to cut the UK's climate impact
Planning policy must allow local areas to protect and increase land available for growing sustainable food
Sustain's work on the climate and nature emergency is kindly supported by Thirty Percy, Esmee Fairbairn and the Samworth Foundation. Sustain is a co-founder of the Sustainable Food Places network, run in conjunction with Food Matters and the Soil Association, supporting over 60 food partnerships across the UK.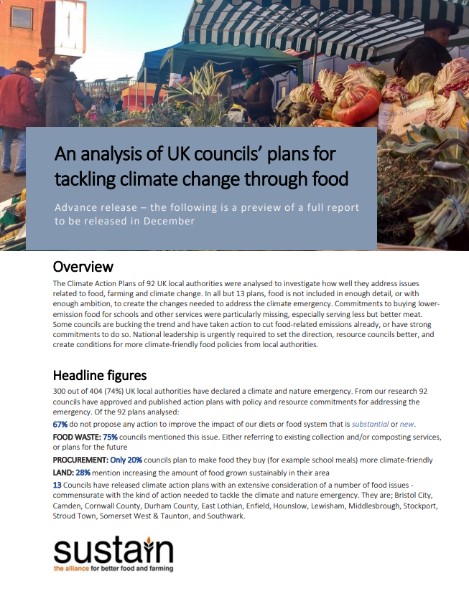 An analysis of UK Local Authority plans to tackle climate change through food
2020 | 427Kb
Published 19 Feb 2021
Climate change and nature: Sustain has taken a keen interest in the rapidly accumulating evidence about the effect of food and farming on climate change and nature, as scientific evidence emerges that our food system is a very significant contributor to greenhouse gas emissions and biodiversity loss.