The Intergovernmental Panel on Climate Change (IPCC) has released its sixth report, saying that 'multiple, feasible and effective options to reduce greenhouse gas emissions and adapt to human-caused climate change' are available now and need to be actioned.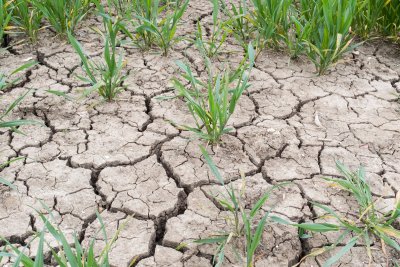 Drought on a UK farm with dry cracked earth. Copyright: Paul Maguire | shutterstock
The Climate Change 2023 Synthesis Report, summarises the findings of six previous reports and represents a consensus among the world's scientists about climate change and the action needed to mitigate it.
The report concludes that 'there are multiple, feasible and effective options to
reduce greenhouse gas emissions and adapt to human-caused climate change, and they are available now'.
In the agricultural sector, it pointed to a number of effective adaptation options including, 'agroforestry, community-based adaptation, farm and landscape level diversification in agriculture, sustainable land management approaches, use of agroecological principles and practices and other approaches that work with natural processes.'
Introducing the report in a video message, UN Secretary General Antonio Guterres said that wealthy countries aiming for carbon neutrality in 2050 or beyond should speed up their goal to as close as possible to 2040 in order to "defuse the climate time bomb" and that the report was like a "a survival guide for humanity."
Launching the report, the IPCC Chair Hoesung Lee said:
"Mainstreaming effective and equitable climate action will not only reduce losses and damages for nature and people, it will also provide wider benefits."

He continued: "This Synthesis Report underscores the urgency of taking more ambitious action and shows that, if we act now, we can still secure a liveable sustainable future for all."
The last IPCC report was published in 2018 and highlighted the huge challenge required to keep global warming to 1.5 degrees. This sixth report warns that continued increases in greenhouse gas emissions has made the challenge even greater. The researchers pointed to more frequent and intense weather events that have caused increasingly dangerous impacts on nature and people. They also highlighted unequal and unsustainable energy use.
One of the report authors, Aditi Mukherji, said:
"Climate justice is crucial because those who have contributed least to climate change are being disproportionately affected. Almost half of the world's population lives in regions that are highly vulnerable to climate change. In the last decade, deaths from floods, droughts and storms were 15 times higher in highly vulnerable
regions."
Vicki Hird, head of farming at Sustain said:
"It is great to see the IPCC point to agroecological farming as a key climate measure. We know that transitioning to agroecology is possible in the UK, so now it is time for Government to get fully behind this. What is clear from the IPCC's report, is that we must heed these warnings and do what is needed to get the UK's food system aligned with planetary health."
You can read the report and the associated documents here, and the press notice is here.
Support our charity
Donate to enhance the health and welfare of people, animals and the planet.