The Government's net zero 'tsar' Chris Skidmore MP has published his Independent Review and urged the government to act 'sooner rather than later'. He has made 25 recommendations which he believes can be delivered by 2025.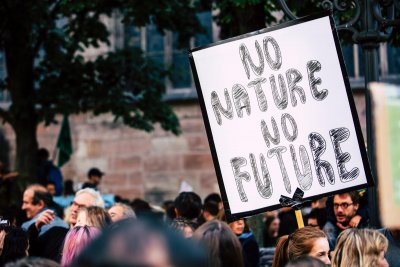 Climate demonstration . Credit: Markus Spiske | Pexels
Of the 25 immediate recommendations, only one relates to food, agriculture and nature – a call for the publication of a land use framework 'as soon as possible, and by mid-2023'.
In its conclusions, the review also mentioned the need to improve the sustainability of farming practices and help to sequester carbon by improving the soil management and biodiversity of farmland. It also recognised that diets are changing in the UK and that there is a decline in consumption of carbon intensive foods such as red meats.
The review also concluded that land use is key, with the need to plant trees and halt and reverse deforestation in order to absorb carbon. It also recognised the need for sustainable and deforestation-free supply chains.
In his introduction Chris Skidmore MP said:
"Central to delivering net zero will be making the right decisions at the right time to ensure that we achieve net zero in the most efficient manner possible. Crucial to taking decisions, however, is recognising that to delay making them creates new consequences, the costs of which can be greater than previously anticipated."
Vicki Hird, head of sustainable farming at Sustain responded:
"There is no time to waste when it comes to climate and food. We share Mr Skidmore's call for the government to introduce a land use framework as soon as possible, for better measurement of emissions and deliver strategic support, regulation, and investment so our agricultural and land use sector can reduce their emissions and build adaption into land use.

"We welcome his call for nature and habitat restoration, but would call for more emphasis on a transition to agroecological farming, which would strengthen the resilience of our whole food system, help tackle the climate and nature emergency and set us on the path to reaching net zero.

The risk of climate change to UK food security is clear too. The UK imports 32% of its fruit and vegetables mainly from climate-vulnerable countries, so building more sustainable forms of feeding ourselves is key, which must include ending food waste and crops for biofuels.

"We also share the review's finding that the detail of the Environmental Land Management schemes should be published as soon as possible. After five years of development, the transition to a 'public money for public goods' approach needs to be delivered fast and gain the confidence of farmers, as well as the Treasury."
The review makes more recommendations for government, for each sector
and industry, and seeks to 'enhance the role of local authorities, communities and individuals to deliver on net zero'.
The Net Zero Independent Review apparently received over 1800 responses to the Call for Evidence, and held more than 50 roundtables.
You can read it in full here
Published 13 Jan 2023
Climate change and nature: Sustain has taken a keen interest in the rapidly accumulating evidence about the effect of food and farming on climate change and nature, as scientific evidence emerges that our food system is a very significant contributor to greenhouse gas emissions and biodiversity loss.
Support our charity
Donate to enhance the health and welfare of people, animals and the planet.