A fruity take on a classic enriched bread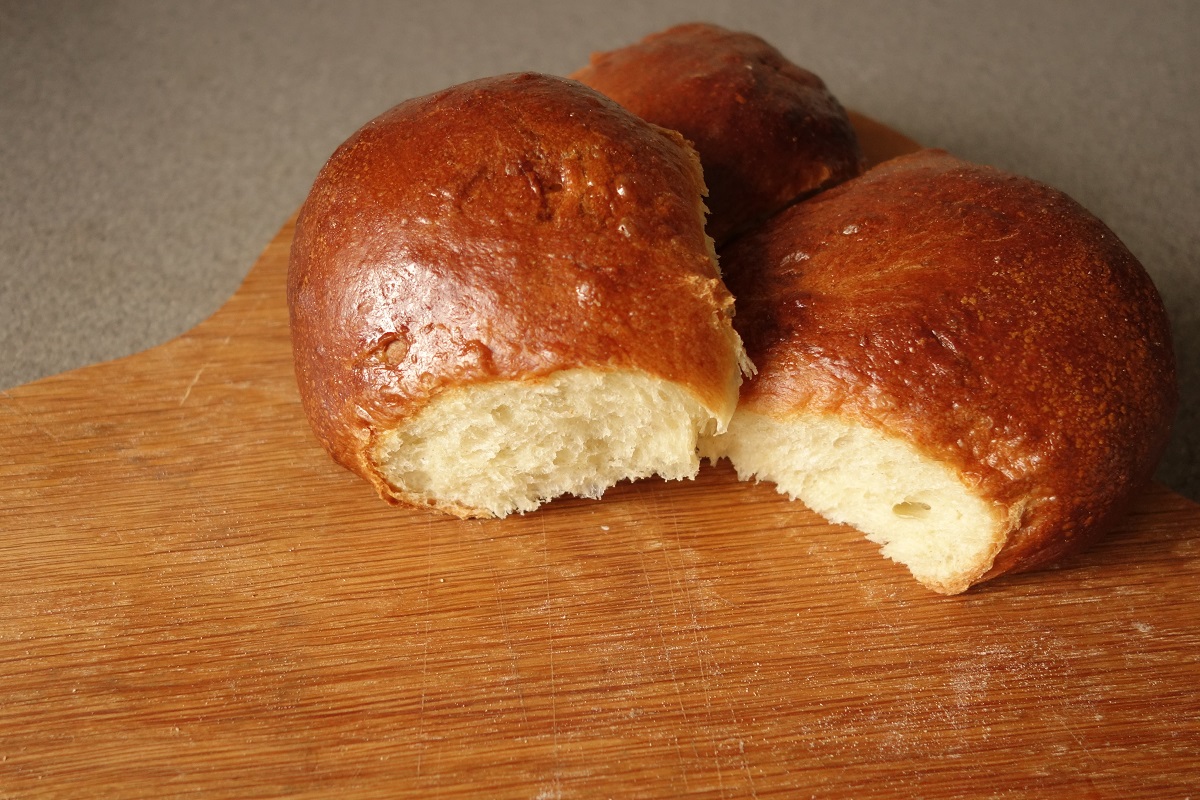 Photo: Chris Young / realbreadcampaign.org CC-BY-SA 4.0
In April 2020, the world (well, some of 'em) took to making banana bread, though most of the recipes circulating were actually for cake. My starting point was brioche and then I threw in an almost black-skinned banana to stop it going to waste, which allowed me to reduce the eggs, butter and added sugar a bit.
There will be people who hate the idea of putting fruit in this, or even say it's not brioche, which is fair enough.
This recipe was published in May 2020 as part of the Real Bread Campaign's #LockdownLoafers initiative.
Ingredients
Makes one small loaf, or six to eight buns
120g Very ripe banana
120g Egg (about two large ones)
10g Caster sugar
10g Fresh (or 3g / rounded ½ tsp fast acting*) yeast
5g Salt (about 1tsp)
300g White strong/bread flour (or half stong and half plain)
100g Salted butter, cut into approx. 1cm cubes
1 Egg, beaten
*Read the label and avoid those that contain any additives.
Method
Blitz the first five ingredients to a liquid using a stick or jug blender or a food processor.
Mix in the flour. There's no need to knead – you can stop once you have a sticky, shaggy dough but there's no dry flour left.
Cover the bowl (eg with a carrier bag that you can reuse again and again) and leave to rest for half an hour or so.
Scoop the dough out of the bowl with a wetted dough scraper, or your hand, stretch it and fold it in half, then repeat this action once or twice more. You can find videos demonstrating how online. Place the dough back in the bowl and cover again. Don't worry that the dough really, really sticky – it's meant to be and will get less so as the gluten develops.
Leave the dough at room temperature to prove/rise. Depending on what temperature your room is (mine was about 20-21°C when I created this recipe) this might be four to six hours. During this time, repeat the stretch and fold action every now and then. You could do it hourly or every other hour, but doesn't have to be that often. Towards the end of this time, take the butter out of the fridge for about an hour to soften slightly.
Lightly dust a work surface with flour, scoop the dough out of the bowl and flatten out to about 1cm thick. Scatter about half of the butter cubes on the dough and then fold it over itself. Press the dough flat again, scatter the rest of the butter, fold over itself and flatten again. Fold, squish, knead or otherwise work the dough until the butter is incorporated evenly. This might seem impossible at first, with the dough tearing and smears of butter slipping through, but eventually it'll become smooth and glossy.
Shape the dough however you like eg for an oiled tin or as free-standing buns on an oiled baking tray. Again, the internet is full of how-to videos on shaping. Cover and leave the dough for two or three hours until it's fully risen.
Heat the oven to 190°C.
Brush the top of the dough with the beaten egg and bake: About 15 minutes for buns and about 20-30 minutes for a small loaf. Check about half way through as sweet dough can burn really easily, if it's very brown already, turn the oven down but about 10°C.
Turn out onto a wire rack and leave to cool before slicing – bread can be gummy and lose a lot of moisture if you cut when hot.
Substitutions
In answer any 'can I…' questions about swapping or adding ingredients, adjusting times, weights and temperature, the answer is yes, you can. Every tweak you make leads to different results. Seek out those different recipes or experiment for yourself and, if you come up with a bread you love, please share it and your tips on social media!
---
Recipe © Chris Young / www.realbreadcampaign.org
Reproduction prohibited without written permission of the copyright holder.
---
Social sharing
If you make this, please share your photo(s) with the world on social media using #RealBread and other relevant hashtags, linking back to this recipe. Better still if we can see you in the photo, too: #WeAreRealBread!
Please don't forget to tag us, and the recipe's author. You can find us on:
Published 6 May 2020
Real Bread Campaign: The Real Bread Campaign finds and shares ways to make bread better for us, better for our communities and better for the planet. Whether your interest is local food, community-focussed small enterprises, honest labelling, therapeutic baking, or simply tasty toast, everyone is invited to become a Campaign supporter.
Support our charity
Your donation will help support the spread of baking skills and access to real bread.