Cacao's nuttiness is a perfect foil for the meatiness of the olives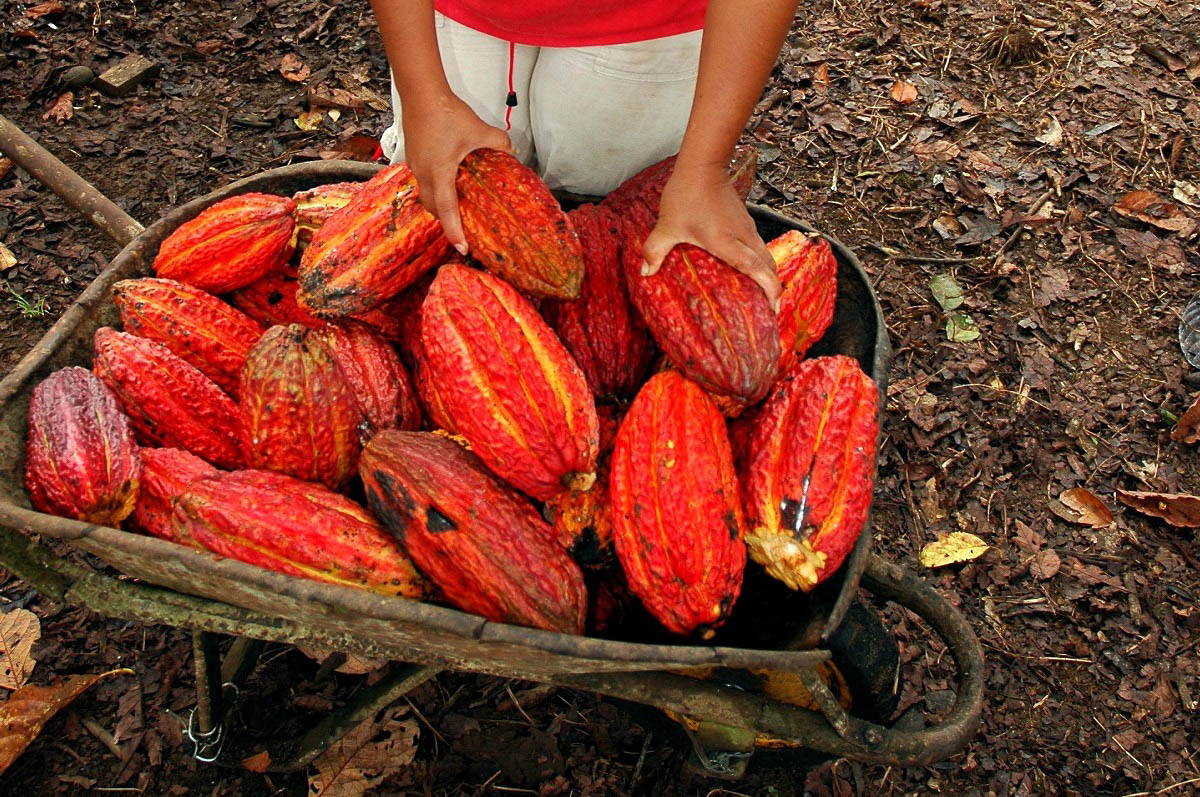 Cacao harvest. Public domain
As I have always baked my own bread, it seemed only natural to mix cacao into a loaf. Here the cacao's nuttiness is a perfect foil for the meatiness of the olives. Try toasting this bread too, as it brings out the roasted flavours of the cacao even more.
Ingredients
Makes 1 large loaf or 10 rolls
300g plain white flour
100g strong wholemeal flour
1 tsp salt
11⁄2 tsp easy-blend yeast*
150ml full-fat milk
150ml water
75g Venezuelan Carenero Superior 100% cacao, chopped or grated
75ml extra virgin olive oil
200g green olives, pitted and chopped
1 egg yolk, beaten, or 1 tbsp milk
1 tbsp fennel seeds
* Campaign note - keep an eye out for additives in instant yeast. Most brands seem to contain them.
Method
Sift the flours and salt into a large mixing bowl and stir in the yeast. Warm the milk and water in a saucepan. Add the cacao and stir until it has melted. Pour in the olive oil and mix well. Tip this warm liquid into the bowl of dry ingredients and mix thoroughly to form a soft, but not sticky, dough. Add more flour or warm water if necessary to achieve the right consistency.
Turn out onto a lightly floured surface and knead for 10 minutes, until smooth and elastic. You can also make the dough in a food processor or an electric mixer with a dough-hook attachment. Simply place the flour, salt and yeast in the mixer or processor bowl, then add the warm liquid and process for about 5 minutes.
Sprinkle the chopped olives over the dough and knead a little more to mix in. Place in a lightly greased bowl. Cover with a clean tea towel, or place another large bowl upturned on top. Leave in a warm place for at least 2 hours to allow the dough to rise, doubling in size.
Tip the risen dough onto a floured surface and knock it back to its original size. Press into a large, oiled bread tin or divide into ten pieces and shape each into a small roll. Place the rolls on an oiled baking tray. Lightly brush the top of the loaf or the rolls with either a little egg yolk or milk, then sprinkle over the fennel seeds. Leave in a warm place for about 1 hour, or until well risen (almost doubled in size)
Preheat the oven to 190°C and bake the bread: 45 minutes for the loaf, or 15 minutes for the rolls. To test if the bread is done, tap it sharply on the underside – it should sound hollow. If not, return to the oven for a further 3–5 minutes and test again. When fully cooked, turn the loaf out of the tin, or remove the rolls from the tray, and leave to cool on a wire rack.
---
Taken from Willie's Chocolate Bible by Willie Harcourt-Cooze, published by Hodder & Stoughton and shortlisted for Best Cookery Book of the year 2011 by The Guild of Food Writers.
Reproduction prohibited without written agreement of the copyright holder.
---
Social sharing
If you make this, please share your photo(s) with the world on social media using #RealBread and other relevant hashtags, linking back to this recipe. Better still if we can see you in the photo, too: #WeAreRealBread!
Please don't forget to tag us, and the recipe's author. You can find us on:
Published 26 Jun 2014
Real Bread Campaign: The Real Bread Campaign finds and shares ways to make bread better for us, better for our communities and better for the planet. Whether your interest is local food, community-focussed small enterprises, honest labelling, therapeutic baking, or simply tasty toast, everyone is invited to become a Campaign supporter.
Support our charity
Your donation will help support the spread of baking skills and access to real bread.