By Elissa O'Donoghue.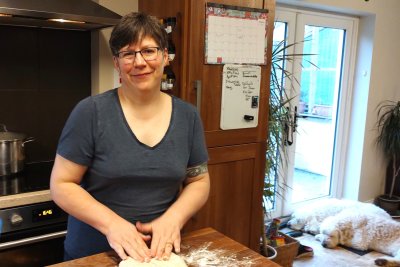 Selfie. Credit: Elissa O'Donoghue
I can't remember exactly when my stepdad started baking sourdough bread, but he was the first in my family to do so. Inspired by the first Tartine Bread book, and employing one of his many vintage Dutch ovens, he turned out beautiful loaves whenever anyone came to visit. His bread inspired both my sister and I to start our own sourdough adventures. A portion of his starter and one of his Dutch ovens travelled with me in a suitcase when I moved to Ireland and breathed life into my first loaves. A tub of its offspring also moved to North Carolina in a U-Haul van with my sister to fuel her weekly sourdough endeavours.
Now, years later, we are a family of bread makers and nearly every phone call between us includes baking updates. On a recent family holiday, over a breakfast of sourdough toast, we spoke about how we don't buy bread anymore, to which my stepdad responded: "why would you, when you can make bread like this?"
Considering cultural heritage
When I read that the Real Bread Campaign were inviting people to submit entries for their A to Z of Real Bread, I started thinking about what I could add. The idea is to add something from your cultural heritage, or otherwise helps to reflect your identity. After pondering it for a while, I realised that all of my favourite bakes, the breads that are constants in my home, are adopted from other cultures. They are not based on recipes that I learned from my mother or grandmothers. In some cases, they're breads I'd not even eaten before I attempted making them. My versions of naan, roti, tortilla, focaccia and pizza are staples in my home as much as my sourdough is but, as a kid growing up in 1970s Michigan, they do not come from my cultural background.
The bread of my childhood
My family's cultural baking heritage had been all but lost by the time I came along. My Dutch grandmother did not enjoy kitchen work and welcomed convenience foods wholeheartedly, so there was certainly no bread making there. My German grandmother made wonderful pies and cakes but though she baked favourites like stollen and lebkuchen, they had become Americanised over time. Even my mother, who was an excellent, self-taught cook (with the help of the legendary TV cook Julia Child), would sometimes devote hours to culinary projects but bread was never one of them. This is not a criticism of these women, just my observations.
So what bread did I grow up on? Thankfully not industrial white loaves, though I wouldn't have said that so happily when I was eight years old! My school lunch sandwiches were on nubby, fairly hard and slightly dry, decidedly-not-white bread. I'm not sure exactly where my mom purchased these healthy wholewheat loaves. It was most likely from the food coop with the machine that magically turned groundnuts into fresh peanut butter. It contained no emulsifiers, so if it had stood for a while the oil rose to the top and had to be stirred back in before spreading on said bread to make sandwiches.
In my recent search for the source of that bread, I came to the realisation that it was a big part of the hippie counter-culture that my parents embraced as young adults. My mother actively rejected the industrialised foods that were so prevalent in the stereotypical American kitchen. The foods that we now know contribute to so many of the non-communicable diseases that plague all cultures that have embraced what is known as the Western Diet. Even before this was fully understood, mom actively sourced, grew and cooked organic foods in order to raise healthy kids.
Convenience and compromise
As the years passed, my mother's vigilance in rejecting grocery store conveniences weakened, as it did for many working parents. There was no longer enough time to devote to food shopping and cooking. At the same time, large manufacturers had found ways to capitalise on the hippie bread movement by producing soft squishy imitations, made using at least some wholegrain flour but also the same additives and processes as their white loaves. These new products were the compromise my mom and many others made, still apparently wholegrain but easier to source.
Hippie bread heritage
Many of us now believe that these additives and processes might be as much of a health concern as the white flour the hippies were avoiding. They have become so prevalent that unless you have the good fortune to live near a Real Bread bakery that bakes naturally, you can't avoid them. Sadly, I do not, so I make my own.
It's not just health concerns that makes me reject these industrial loaves, it's also flavour - you can taste the difference.
So what is my bread heritage? This whole exercise has brought me to understand that I do often make bread that I can trace back to my childhood and my parents' culture. It is mostly wholegrain, seedy, and sometimes turns out a little hard and dry and often reminds me of the hippie bread of my youth. And I still think it makes the best peanut butter and jam sandwich!
---
Originally published in True Loaf magazine issue 54, April 2023.
My Real Bread
We want to help you shine a light on and celebrate Real Bread that reflects your heritage and identity. If you'd like to submit an article, a recipe of your own, or an entry for our A to Z of Real Bread, you can find out how here.
Published 20 Nov 2023
Real Bread Campaign: The Real Bread Campaign finds and shares ways to make bread better for us, better for our communities and better for the planet. Whether your interest is local food, community-focussed small enterprises, honest labelling, therapeutic baking, or simply tasty toast, everyone is invited to become a Campaign supporter.
Support our charity
Your donation will help support the spread of baking skills and access to real bread.