Some Bread Heroes are just starting on their journeys, whilst others are well established in their field. Then, as Chris Young found, there are legends.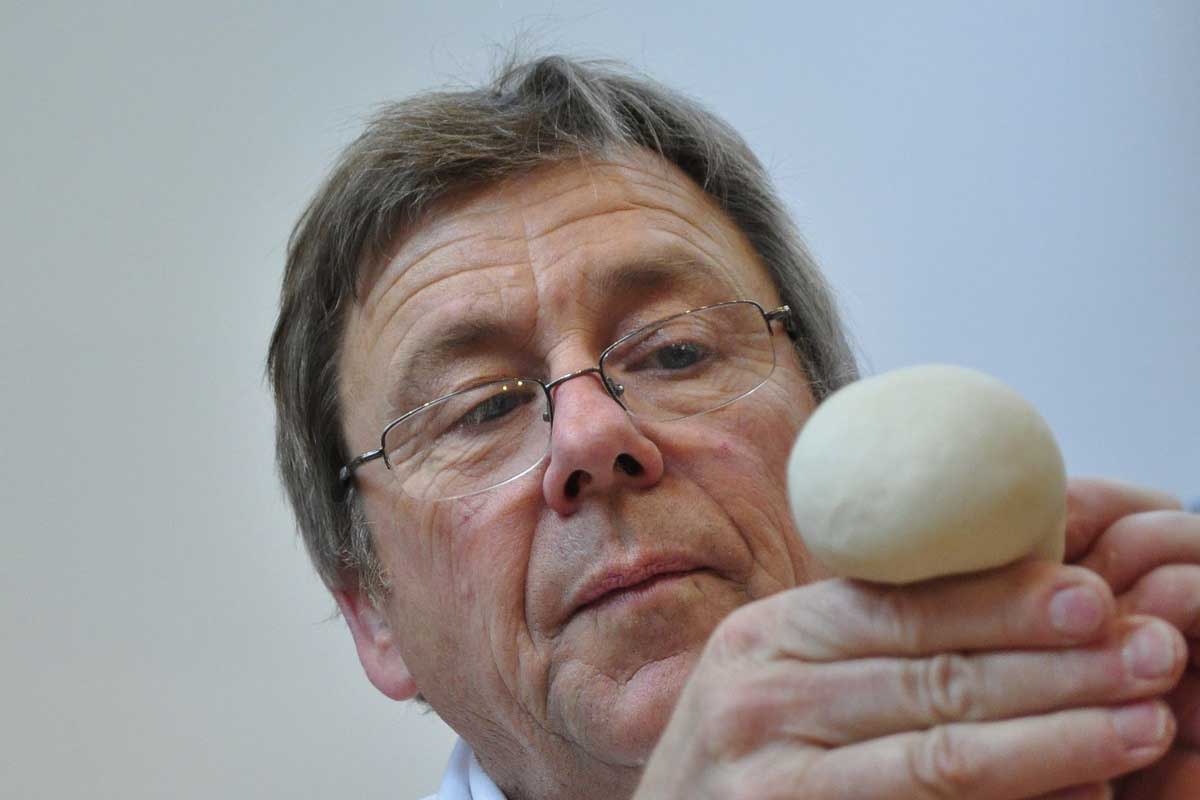 Clive Mellum by Chris Young / realbreadcampaign.org CC-BY-SA 4.0
I'm guessing that anyone who's met Clive Mellum will tell you that he'd shy away from such an epithet as Bread Hero, let alone legend. Indeed, on the day back in 2010 I spent learning from him, whenever I raised my camera to snap the self-effacing bakers' angel, he points to the nearest loaf and said: 'here, take one of the bread, not me. I'm not here.'
I'm visiting Clive at Shipton Mill's outpost in the pretty Gloucestershire village of Frampton-on-Severn. My main purpose here is to see the start of the Campaign's latest scheme to help put Real Bread on the Menu of food access projects. For this pilot session, Clive has agreed to give places in one of his occasional classes in the mill's test bakery to Ellie Rowles and Angela Moodie of The Family Kitchen. This Islington-based organisation works with children from poor or disrupted family backgrounds, inviting them and their parents to learn to cook healthy food together. Importantly, they then sit down around a table as a family to eat the meal – a brand new experience for some.
Skipping school
Both Clive's grandfather and great-grandfather were bakers, and such was his desire to learn their craft, that he began skipping school to work alongside an Austrian baker in his home town of Blindly Heath in Surrey. In keeping with the nature of many traditional apprenticeships, Clive's path to expertise began nowhere near the dough, but instead by loading faggots of wood into the bakery's oven. There followed a four year course on day release to Brighton technical college, after which Clive went on to open his own craft bakery in the village of Hazelbury Bryan in Dorset. This he ran for nine years until 1979, when he was forced to close because 'people just wanted white sliced.'
Farinaceous Mr. Fix-it
The class in Shipton's bijou bakery begins with Clive passing round a tub of off-white powder, labelled 'conventional bread improver'. Though I sniff the suspect substance with caution, its acidic, plasticky vapour is eye-watering. 'They had a reason; they had a purpose,' says Clive, putting the lid back on pan-d'awful's box. 'We had to feed ourselves after the war.' For a moment I take him as a surprising apologist for industrial baking's chemical crutches, but then he adds: 'We needed it, but now we've got through it.' Phew.
Following the closure of his own bakery, Clive's knowledge of, and vocation for, baking saw him taking on the role of troubleshooter to the bakers of Britain. It was from this time, working as technical advisor for Priday, Metford and Company's mill in Gloucester, that the beginnings of his reputation as the farinaceous Mr. Fix-it date. For around the next decade and a half, Clive travelled the length and breadth of the land to the mill's customers, driving for perhaps eight hours to spend just an hour or two with a baker, and then driving all the way back home.
Then, in the mid-1990's, the mill was bought and shut down by one of the behemoths of the business. Though Clive stayed on with his new paymasters for a while after the acquisition, his heart wasn't in working for a corporate conglomerate. Fortunately, Clive's desire to move out of the industrial giant's shadow coincided with John Lister looking for a test baker for the derelict stone mill he was busy resurrecting. Though around half of the grain Shipton now mills is from 'conventional' farming, at the beginning its output was 100% organic. Given the development of flour 'improvers' and other additives now permitted by organic standards, Clive believes that 'organic baking was more skilled,' than it might be for certain bakers now.
On the way back up
Informed by more than three decades of daily contact with the nation's kneaders, Clive's perspective on the state of bread in Britain is perhaps unparalleled. I ask his opinion on the current situation, to which he replies: 'we hit rock bottom but we're on the way back up again.' Conversely he says that 'Europe is on its way down,' contradicting the perhaps rose-tinted 'real bakers, baking Real Bread on every street corner,' view I often hear expressed. His belief, however, is again informed by experience. When meeting producers in France, for example, he's felt he's had more in common with small winemakers, who 'understand the art and the needs of the product,' than with bakers. On a related note, in Britain 'second generation craft bakers only succeed if they understand the need for change.'
And as for home bakers, Clive says: 'You can make a loaf to suit your lifestyle. Leave it in the corner, take your kids to school, do what you have to do and then come back to bake. "I don't have time" is not an excuse. You can do ten minutes work in the evening and then twenty in the morning and you have bread.'
Dough doctor
Clive continues to visit bakeries to pass on his knowledge, and up until 2010, he averaged around 80,000 miles on the road annually. Though his schedule is now slightly less hectic, rumours of his retirement I heard in 2010 were evidently premature and the redoubtable dough doctor shows no signs of hanging up his apron just yet.
Shipton Mill holds occasional classes for domestic and professional bakers. For details visit www.shiptonmill.com
---
What Campaign supporters have said
'Clive is a bakery legend and an inspiration to many, many bakers around the country. He is a real hero to people like me who have relied on his advice and enormous experience.'
Peter Cook of SC Price & Sons in Ludlow*
'Clive is the most enthusiastic, dedicated and charming person. His passion for and knowledge about Real Bread shines through and touches everyone he teaches.'
Alison Swan Parente, The Welbeck Bakehouse
'On the baker's journey, one meets many a craftsman. Clive's has to be the one name that comes up time and time again. A true artisan. Utmost respect.'
Aidan Chapman, The Phoenix Bakery*
'Clive Mellum is a true food hero having taught so many his craft including myself. He goes largely unrecognised other than by those he has helped.'
David Pedrette, Target Catering Equipment
'The man's a walking encyclopaedia of bread.'
David Jones, Manna from Devon
'Clive is the most knowledgeable and generous person I have met in the industry.'
Laura Hart, Hart's Bakery
*Since moved on to Peter Cooks Bread and bun for hire, respectively.
---
Bread Hero was an infrequent series of articles we ran. We still celebrate people doing great things, just under different titles.
Originally published in True Loaf magazine issue 7, Spring 2011
Published 3 Feb 2020
Real Bread Campaign: The Real Bread Campaign finds and shares ways to make bread better for us, better for our communities and better for the planet. Whether your interest is local food, community-focussed small enterprises, honest labelling, therapeutic baking, or simply tasty toast, everyone is invited to become a Campaign supporter.
Support our charity
Your donation will help support the spread of baking skills and access to real bread.