Together We Rise can gain inspiration and knowledge from other baking. Here's Joey Callender-Wood of the brilliant brownie and biscuiteers at Rise Bakery.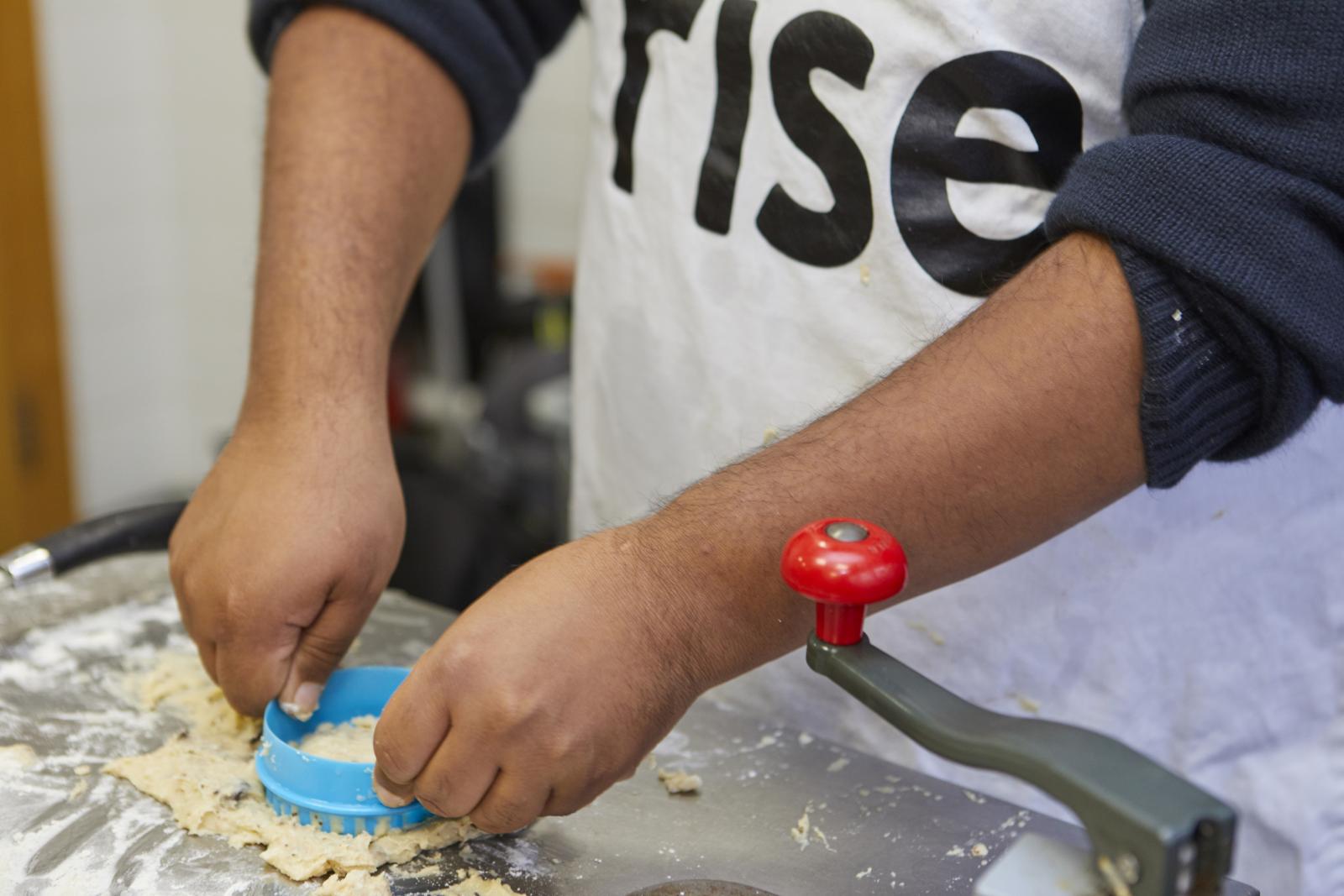 Photo © Providence Row / Rise Bakery
Run by east London homelessness charity Providence Row, Rise Bakery in Whitechapel is a social enterprise that runs a training scheme for people affected by homelessness. The scheme helps to build trainees' baking skills and confidence, providing them with work-experience while supporting them back into education, further training or employment.
Bake to work
Trainees learn how to bake brownies and other products in Providence Row's professional kitchen in sessions run by Joey, Rise Bakery's lead baker. Trainees can also access IT sessions and an employability programme. At the end of the scheme the trainees complete their food hygiene certificate and work with employability coordinators, Annette and Asia, to brush up their CVs and start making job applications.
Some trainees may be closer to work than others, but Providence Row's training is not limited, so trainees can stay on the scheme for as long as it takes. All trainees are closely supervised and supported with initial assessments taking place before training commences and mid-scheme, with evaluations and an outcome survey once training has been completed. In this way, Providence Row is able to track progression and flag up areas where trainees can receive further support.
Support
Rise Bakery's trainees may be affected by homelessness, substance misuse and/or mental health issues and may be at the beginning of their journey back in to work. To ensure they get the support they need, Providence Row's schemes (including the Rise Bakery baking trainee scheme) are personalised and take into consideration the trauma people might have been through in the past.
Similar trainee schemes are offered on the provision that trainees are abstinent for a long period of time before joining. Due to its specialist staff on site and rigorous risk assessments, however, Rise Bakery can work with anybody. This puts Providence Row's trainee schemes amongst a limited number in London available to people currently sleeping rough or affected by substance misuse and/or mental health issues.
Forensic hospitals refer patients to Providence Row on day release, which the organisation says 'is because the trainee schemes are personalised, trauma-informed and co-produced.'
Results
One trainee, Andy, said: "I hadn't done any baking before, and now I'm even baking at home. The bakery course has really increased my confidence."
Since Rise Bakery was launched in April 2016:
71 people registered to the bakery trainee scheme, of which nearly 60% completed the scheme
33 have trainees gained their Level 2 Food Hygiene Certificate
21 trainees also gained other qualifications, including E3 Progression, City & Guilds
21 trainees went onto volunteering or became a peer mentor
16 trainees went onto further education or training
8 trainees moved into employment
In 2018, Homeless Link named Rise Bakery its Social Enterprise of the Year.
Challenges
The main challenge Rise Bakery has met is balancing the business operation and new sales opportunities with the training and support work they offer. The trainees always come first, but the bakery also needs to consider business operational issues and ensure that customers are happy.
This challenge has been overcome by carefully considering new sales opportunities to ensure they offer a good learning experience for the trainees and do not interfere with any training. By seeking long-term contracted orders from local companies, Rise ensures that staff can focus on training and plan production time in advance.
Support
Rise Bakery was launched with the help of several expert volunteers and agencies. Unreal UK, a London-based advertising agency, created the brand, which was awarded second place at the Third Sector Awards for best rebrand. A volunteer web developer created Rise Bakery's website. The bakery also received pro bono support from a food designer when they produced their new products in 2017. The bakery training scheme is financed by a combination of sales and charitable fundraising.
Things learned
Providing a quality service to both customers and trainees is essential to Rise Bakery. The key is to not lose sight of the social mission over the money. It needs to be a careful balance. Pro bono and expert volunteers have also been fundamental in supporting the development of Rise Bakery.
We've also found that when there is a social value to a business, people are often happy to help, offering time and expertise. By harnessing the goodwill of professional and expert volunteers, a social enterprise can not only save money, but can also add value to their business.
Next steps
We have learned a huge amount as a charity about how to run a successful business, whilst balancing the often complicated social issues their trainees face. The next step is to build a larger kitchen and training space in order to be able to fulfil larger orders as well as work with more trainees.
I'll leave the last word to Bella: "I realise I love baking because it's very therapeutic. It makes everything slow down, and has given me confidence in myself. I have just loved it!"
You can find out more, including how to support Rise Bakery (and buy their baked goodies) at: www.risebakery.london
---
Published in Real Bread Week 2020 as part of the Real Bread Campaign's Together We Rise initiative.
Please support the Campaign's work helping people to bake a better future, one loaf at a time:
Published 27 Feb 2020
Real Bread Campaign: The Real Bread Campaign finds and shares ways to make bread better for us, better for our communities and better for the planet. Whether your interest is local food, community-focussed small enterprises, honest labelling, therapeutic baking, or simply tasty toast, everyone is invited to become a Campaign supporter.
Support our charity
Your donation will help support the spread of baking skills and access to real bread.