The Lantern Bakery provides an opportunity for adults with learning disabilities to experience the process of baking bread every day, writes Emma Borbely.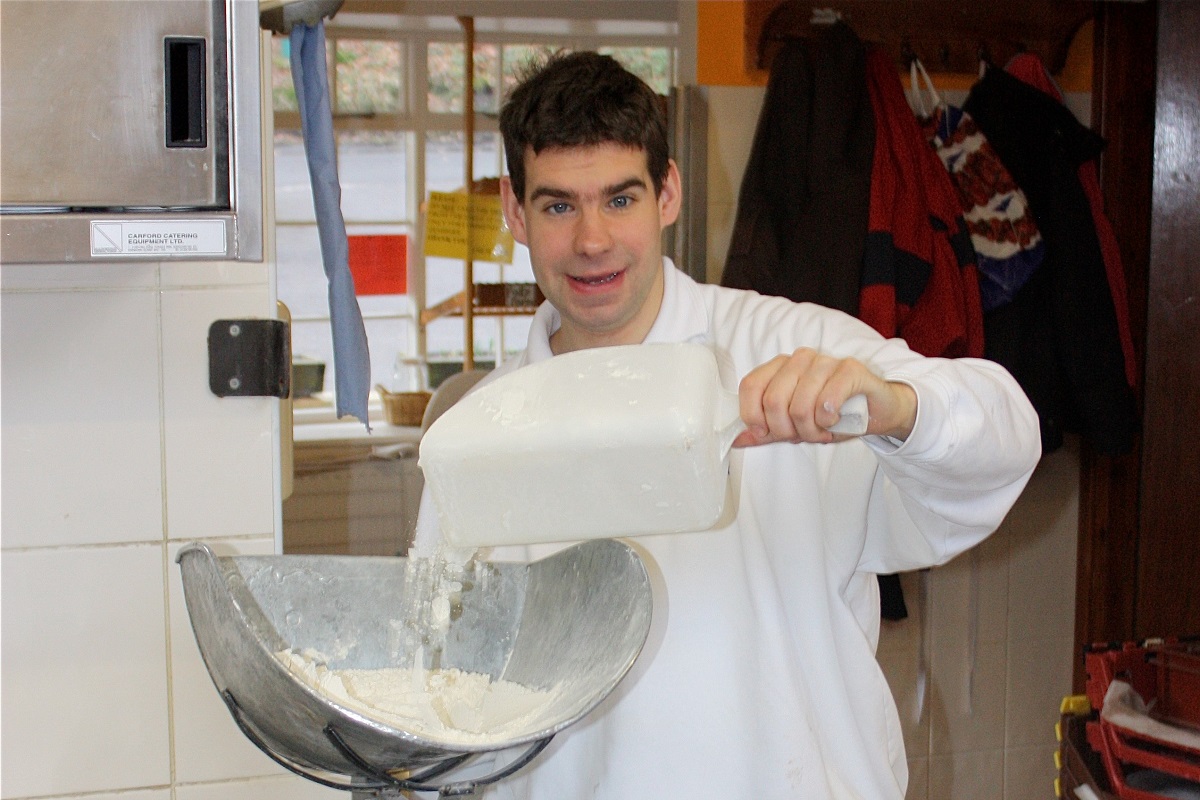 Photo © The Lantern Community
The bakery has been running since the 1980s and is just one of the many activities available at The Lantern Community near Ringwood, Hampshire. The community is home to 53 residents, who live alongside international volunteers, all supported by non-resident staff. We aim to provide a home life, fulfilling work, friendship, social interaction, opportunities for personal growth, adult education and cultural and spiritual inspiration.
Meaningful work opportunities
The Lantern Community is part of the international Camphill Movement, a community that benefits and develops from mutual support. It provides a home and meaningful work opportunities for adults with diverse learning abilities.
Our bakery provides an opportunity for residents, and people from the local area on day placements, to experience the process of creating our daily bread from start to finish. There's a positive atmosphere in the bakery, in which everyone knows their role and is proud to be a part of the team. The hard work involved helps foster a good work ethic amongst the participants and the whole team takes great pride in their work.
The bakers' week
Each morning from Monday to Friday, the bakery team produces a variety of organic bread, pastries cakes and biscuits breads and rolls, all baked with love for customers. They are sold in the on-site shop, with sales supported by the nearby Steiner school and local people who come to buy the bread.
The bakery also provides bread for more than one hundred people living onsite in the community. There is a special wheat-free and dairy-free dietary range available on certain days, as well as pastries and biscuits.
The bakery team is led by head baker, Ashley Black, and a full time assistant. They begin at 8.45am, setting up the space ready for the arrival of the team at 9am. There are usually six other budding bakers in the morning session, which runs until 12.30pm, and another half dozen in the afternoon session from 2.30 to 5pm. Every member of the team has a part to play in the process, and Ashley focuses on each person's skills to bring out the best in each of them.
Ambition
Around twenty five adults with a learning difficulties get involved in the bakery team each week. Some have been baking for many years, while others are very new to the process, all building on their skills and knowledge every shift.
Gareth has been a baker for over twenty years. He says, "my job is to prepare the cheese buns with pumpkinseed topping, I like doing this." These buns are one of the bakery's top selling products.
Sarah, a newer resident, attends the bakery workshop three mornings and two afternoons per week. She has learnt quickly seeing the bread making process through all its stages and has great skills in the bakery. "I love weighing out the ingredients on the scales, and following the recipe." Her ambition now is to do an apprenticeship in baking.
Purpose and achievement
Ashley has introduced a bronze, silver, gold award type system which each person can work towards as their skills develop. Some of the team are involved in taking bread and cakes and displaying them in the shop, whilst others focus on the baking process. The experience of being there each day and contributing in a positive way with such a meaningful and worthwhile outcome helps build confidence and a sense of purpose and achievement.
Challenges
Meeting the needs of a very varied group can have its challenges. Everyone working in the bakery has individual needs and the social dynamic has to be managed carefully so as not to upset anyone. People have different skill levels and different areas of interest, which also have to be taken into account. All of this needs to happen whilst producing many different recipes and loaves, under a time constraint and to a high standard!
Preparation, structure and rhythm
There are three things that can help to support these challenges: preparation, structure and rhythm. This includes careful preparation by the staff, such as setting up scales, bowls and ingredients ready for the start of the session. Each session has a clear structure, including what is baked when, and who has which job. A rhythm to the day is important, so we always make sure to have a tea break at the same times each day. On the wall at each workshop is an easy-to-read working agreement, a supportive document that outlines how the team members will work together and what each member can expect from one another.
We have found that continuity is crucial, as the more regularly a person attends, the more they can build up their skills. Whilst we have a few residents who come up to five times a week, others just come for one or two sessions, and encouraging them to attend more regularly is an ongoing challenge.
Next steps
As we have grown in numbers, we have realised that we need more space. The work currently all takes place around a central table, but we would really benefit from having two work areas so that we could prepare bread and cakes at the same time.
We have recently had more space given to us in the shop, so we are trialling new lines each week, a range with no added sugar is being developed, different breads are baked and we are looking at our packaging and branding. We are now bagging up the flour we use and selling it alongside our bread. We are also selling to a local Co-op store and hope this may develop to another store; we hope we can keep up with demand!
Feeding more than just the body
This is not an ordinary bakery. It involves much more than simply baking a loaf of bread. It provides meaningful work which makes a difference in many people's lives. Through work, individuals gain dignity and a sense of self-worth. There is an unspoken reverence and respect for the daily bread that is baked in the Lantern Bakery. There is a recognition that a good loaf, baked with so much love and care, feeds much more than just the body.
You can find out more about The Lantern Community, its bakery and café, and how to support the organisation at: www.lanterncommunity.org.uk
---
Published in Real Bread Week 2020 as part of the Real Bread Campaign's Together We Rise initiative.
Please support the Campaign's work helping people to bake a better future, one loaf at a time:
Published 24 Feb 2020
Real Bread Campaign: The Real Bread Campaign finds and shares ways to make bread better for us, better for our communities and better for the planet. Whether your interest is local food, community-focussed small enterprises, honest labelling, therapeutic baking, or simply tasty toast, everyone is invited to become a Campaign supporter.
Support our charity
Your donation will help support the spread of baking skills and access to real bread.