Derwen College teacher Paula Hampson reveals how young people with learning difficulties and disabilities are benefiting from Real Bread making training as part of their employment skills.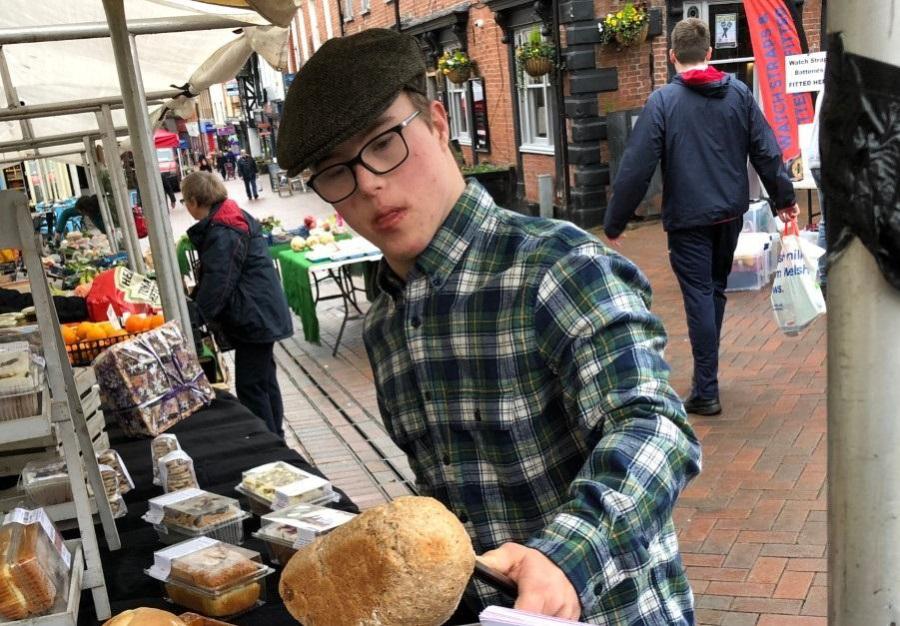 Retail student Sam Innes © Derwen College
We're based in Shropshire, supporting young people with learning difficulties and disabilities. We provide them with learning, development and care to help them achieve their aspirations. Our hospitality and housekeeping programme provides employment skills and is designed to encourage students towards greater independence.
Bringing learning to life
One of the core skills programme for our hospitality and housekeeping students is bread making and the story of Derwen Bread is a perfect example of how we bring learning to life. We make fresh bread every morning to be sold in our shop and during the term, our students get the opportunity to help with this. Students also have the chance to make cakes, sandwiches, jams and chutneys, and to learn catering skills in all areas.
The bread and other things we make are sold by our retail students at the college's on-site garden centre and our weekly market stall in the nearby town of Oswestry. It's a great example of real work experience, which we hope will lead to employment after college. Retail student Sam Innes said: "I like working on the market every Wednesday, talking to customers and handing out samples of our home-made bread, jams and chutneys. As well improving my customer service skills, I help with the produce display, handle money, and encourage customers to come to our stall."
It is a pleasure to see not just the students' progress, but also to link their learning to the retail industry. They can take pride in their produce being sold to customers in our shop or at the local market.
Developing skills
Students develop many skills through their baking, including food preparation, food hygiene, understanding flavours and maths skills with weighing and measuring. We adapt the bread-making process for a range of students with different abilities and needs. Sometimes we have to think outside the box if a student doesn't have the physical dexterity to use certain tools or techniques. We can always find a way around an obstacle so that every student can be involved in progressing at a level that's right for them.
In the first term, students learn about yeast and fermentation, as well as the processes and skills of proving, kneading and shaping dough. In the second term, students think about the wider uses of bread, and they learn about wholemeal, seeded and speciality breads. We also encourage them to think about bread in other recipes, such as pizza; and discussing what foods they can create to link with bread, such as soup. Last year, my student group created a bread Welsh dragon, which combined themes for Real Bread Week, Maths Week and St David's Day.
By the third term, students are looking towards working to industry standards, creating loaves of bread and rolls to sell in the college shop and at our weekly market stall. Hospitality student Carys Williams said: "I really enjoy bread baking, especially the kneading, you have to put a lot of effort into it. I like the shaping as well, as you can be creative. Today is the first time I have tried to make a plaited loaf, and it's turned out quite well."
Baking for independence or industry
For some students bread making is part of working towards greater independence, for others it's working up to industry standard.
Of the 23 hospitality and housekeeping students who graduated from Derwen in 2018, 19 (82%) have gone on to employment, voluntary work or further study. Ten (43%) have gone into paid employment. This is far higher than the figure published by NHS Digital in 2018 of just 6% of adults with a learning disability in England, who are known to their local authority and to be in paid work.
It is so rewarding to see the progression from when students start with us to the time they leave. To begin with, many don't know how to hold a knife or knead dough. I am always very proud to watch their skills and understanding grow, so that they can demonstrate what they've learnt at work placements. Derwen College is delighted to be part of Real Bread Week, celebrating our favourite food that's also a big part of our story. Together we rise!
You can find out more, including how to support Derwen College (and buy their baked goodies) at: www.derwen.ac.uk
---
Published in Real Bread Week 2020 as part of the Real Bread Campaign's Together We Rise initiative.
Please support the Campaign's work helping people to bake a better future, one loaf at a time:
Published 28 Feb 2020
Real Bread Campaign: The Real Bread Campaign finds and shares ways to make bread better for us, better for our communities and better for the planet. Whether your interest is local food, community-focussed small enterprises, honest labelling, therapeutic baking, or simply tasty toast, everyone is invited to become a Campaign supporter.
Support our charity
Your donation will help support the spread of baking skills and access to real bread.