In 2010, food anthropologist, writer and cook Signe Johansen went in search of Scandi comfort food in Gloucestershire.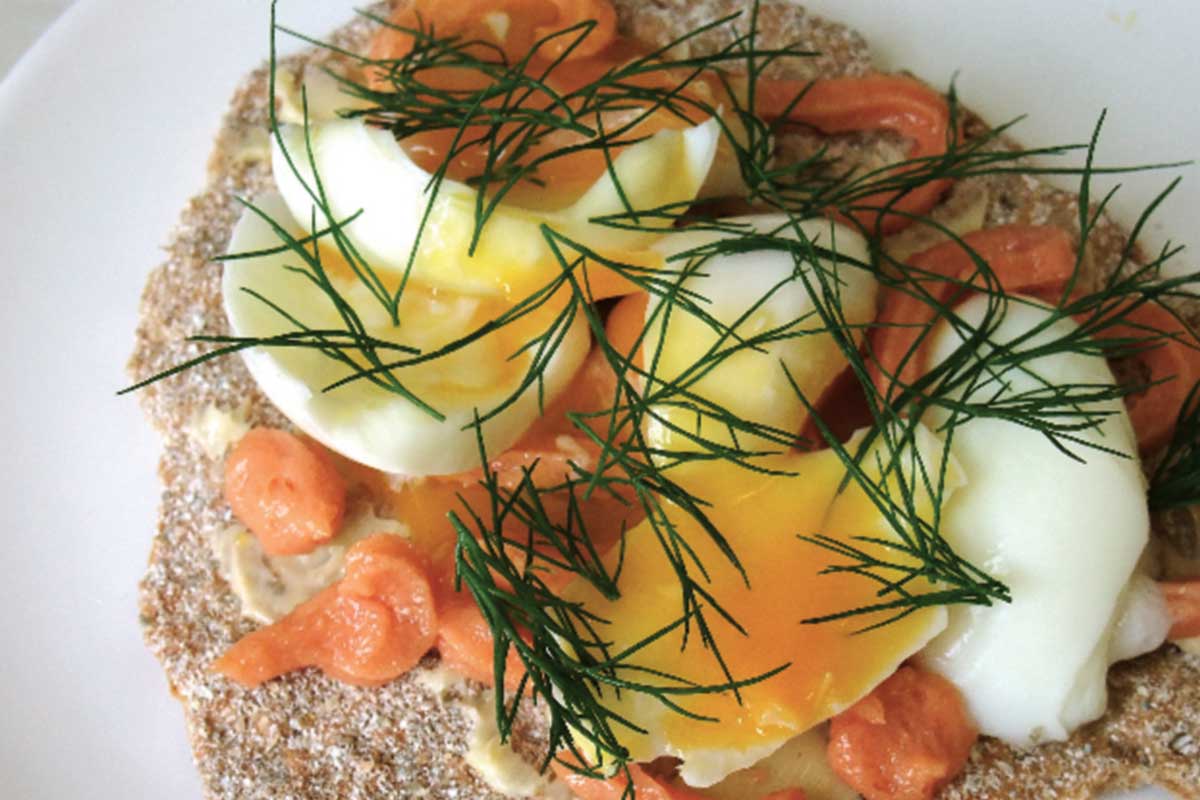 Photo © Signe Johansen
There aren't many things that will get me out of bed at an ungodly hour of a bleak January morning. Good sourdough, however, will. Catching the 7:48am train from Paddington to Stroud in the heart of the Cotswolds, I was discombobulated by the lack of caffeine in my veins, but was nonetheless excited. The reason? I was going to see Shipton Mill in action with my favourite sourdough crispbread makers. What more can a breadgeek of Norwegian heritage ask for!
Denmark's Delia
I first met Ian Tencor, co-owner of nascent crispbread business Peter's Yard of Edinburgh, in early 2009 at a Scandinavian dinner hosted by "Denmark's Delia" Trine Hahnemann. Having sampled a smoked salmon canapé made with Peter's Yard crispbread it struck me that this was the first time I'd tasted decent crispbread since moving to the UK many moons ago. Good crispbread, and indeed good bread, is practically a birthright in Scandinavia. You won't find carbophobia in Nordic countries.
It was at the Real Food Festival later that year that I first met Ian's business partner Wendy Wilson-Bett and since then I've been a faithful, some might say, ardent advocate of Peter's Yard. In a hard-boiled industry such as the food business, it's not often you come across two likeable and passionate enthusiasts of artisan crispbread, so I was thrilled to be invited along to their two-day innovation session at Shipton Mill earlier this year.
By royal appointment
The plan was to test new crispbread recipes while Swedish Master Baker Jan Hedh was in town. Having published several books on artisan baking and being the architect of many successful artisan bakeries and patisseries in Sweden,Hedh also bakes for the Swedish royal family. He helped Peter's Yard develop their first crispbread which is now stocked in delis, food halls and top restaurants such Selfridges, Forman & Field and La Fromagerie. We were also joined by Peter's Yard's Danish baker, Troels Bendix from TheCeltic Bakers and Shipton Mill's own Clive Mellum.
I couldn't wait to see how their crispbread was made. The objective, as Wendy told me, was to develop one or two new crispbread recipes (including a wheat-free one if possible) and to pick Jan Hedh's brains on how they could ensure the quality of the crispbread remained of a consistently high standard. Whilst Wendy, Ian and I nursed our first cups of much-needed tea and coffee that first day of the innovation session, Jan, Troels and Clive were already measuring their flour, milk and sourdough starters to experiment with different recipes. The test kitchen was a hive of activity for the better part of two days and Clive kindly took the time to teach me a trick or two in making sourdough bread.
The three bakers' seeming insouciance about conjuring up new ratios of flour to sourdough or musings on how much butter and honey to use made it all look so easy to us civilians sitting around the test kitchen table. After all crispbread is merely a mix of milk, rye and wheat flours, honey, sourdough, salt and yeast. How complicated can it be to develop a new recipe?
Secret recipe
The secret of course lies in Peter's Yard's crispbread method. Wendy and Ian made me promise not to reveal the exact recipes but suffice to say there are no compromises – each crispbread is handmade and the addition of sourdough means it takes time and skill to properly develop the flavour and texture of each delicious crispbread. Not only do you get a pure wholemeal taste, but a subtle sweetness from the honey and a deeper, more complex flavour from the sourdough. Peter's Yard's integrity stems from this attention to detail and craftsmanship, and unlike many rival crispbreads, they have a distinctive product that is both healthy and tastes fantastic. No mean feat, but after observing the skill and genius of these three bakers I suspect we'll be seeing a new range of equally delicious Peter's Yard crispbread varieties before too long.
Scandilicious, Signe's first book on Scandinavian food, will be published by Saltyard Books in spring 2011 and you can read more of her writing at www.signejohansen.com
---
Originally published in True Loaf magazine issue 4, September 2010
Published 10 Aug 2020
Real Bread Campaign: The Real Bread Campaign finds and shares ways to make bread better for us, better for our communities and better for the planet. Whether your interest is local food, community-focussed small enterprises, honest labelling, therapeutic baking, or simply tasty toast, everyone is invited to become a Campaign supporter.
Support our charity
Your donation will help support the spread of baking skills and access to real bread.