Dust to Crust
Tony Bartholemew follows the grain chain from seed to sandwich in Yorkshire.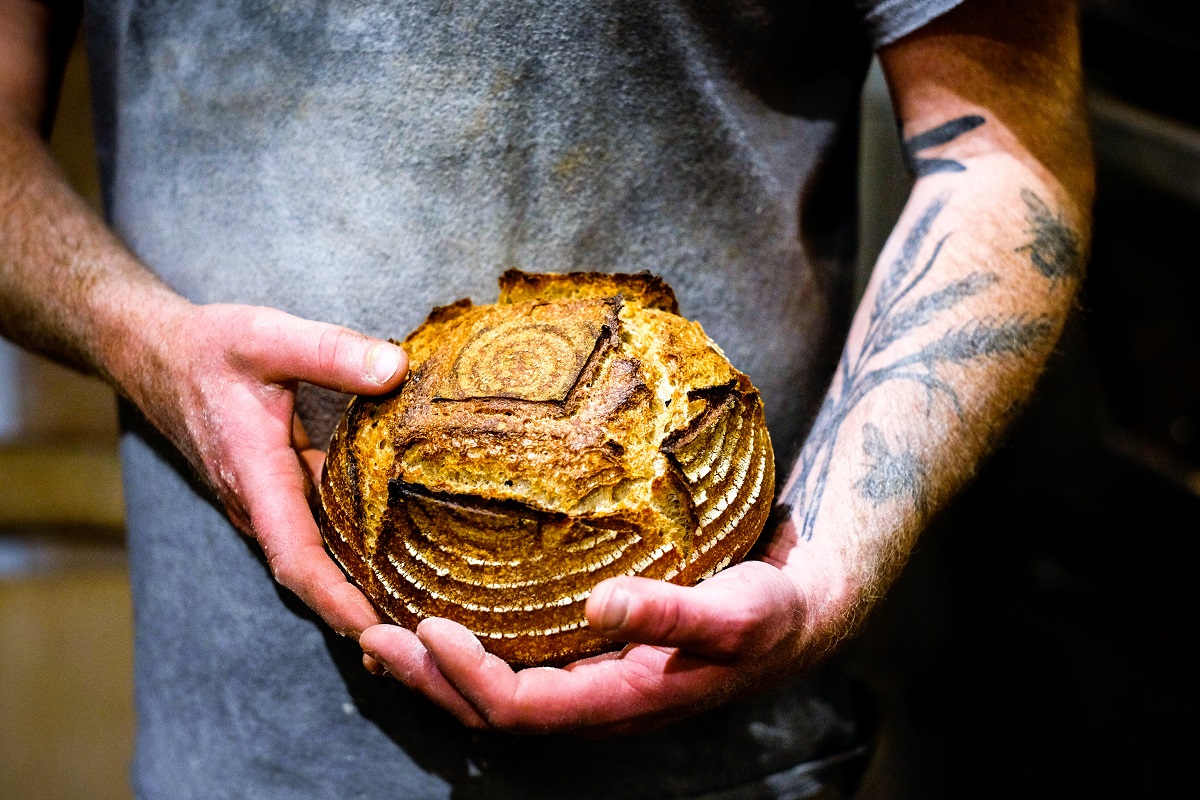 The famer and miller
Keeping a weather eye on the wheat at Hill Top Farm, in Spaunton, is Philip Trevelyan of Yorkshire Organic Millers. He has produced organic flour from wheat grown on the farm since 1975 and milled on the premises since 2005. Other wheat milled here comes from organic suppliers within a 30-mile radius.
It's milled traditionally, first going through a seed cleaner where the chaff and dust is taken out. The grain is then transported to three mills that employ granite stones quarried near Castres in France, home to the revered Astrié brothers, who developed their mills from a long-standing tradition of mill-making in Brittany. Philip says: "Our mills were the first of their kind to be imported and installed in this country. Before being allowed to buy a mill I had to present my organic farming credentials."
In 1976, he harvested his first crop of Maris Dove wheat and delivered it to the newly established Little Salkeld Watermill in Cumbria whose flour had interested Andrew Whitley, founder of the Village Bakery at Melmerby. These days flour from Spaunton makes a shorter journey of less than 30 miles to Haxby, on the outskirts of York.
The baker
Pass by Haxby Bakehouse in the early hours and you'll see a small team of bakers led by Phil Clayton working to produce handmade bread, sweet doughs and croissants. Phil started the bakery eight years ago after a career in retail management. "I started making bread at home once or twice a week, mainly for pack-ups for the children's school lunchbox," he says.
On discovering that a local health food shop with a small bakery at the back was up for sale, he took the plunge. He attended one of Andrew Whitley's courses and gradually moved the shop to a full-time bakehouse where all the bread is made using traditional methods of slow fermentation: low yeasted overnight sponges and natural sourdough leaven.
Phil believes that Real Bread "shouldn't be a special treat once a week on Saturday: we want to see people coming in for their daily loaf as they do on the continent."
"I first came across Yorkshire Organic Millers at York Food Festival six years ago," he says. "It made sense to use produce from a mill less than 30 miles away. All that goes into a Yorkshire Mill Sourdough is flour, water and salt." This loaf won first place in the 2013 World Bread Awards.
By 10am on Saturday mornings Phil's loaves are on the Haxby Bakehouse stall in Hovingham Market, with a label that says it all: '50% wholemeal, 50% white, 100% Yorkshire'.
---
First published in True Loaf magazine issue 30, January 2017
A version of this feature originally appeared in the YP Magazine
See also
Gilchesters Organics and Lovingly Artisan
Sharpham Park and Lievito Bakery
Sheepdrove Organic Farm and Aston's Bakehouse
---
SHARE