A review of the topsy turvy world of the regulations that are supposed to (but don't) protect children from online marketing of junk food.
Contents
Summary
Chapter 1
Introduction – The digital extension of the CAP Code
How food marketing influences children's diets
Weak regulation of food marketing
Extension of the digital remit
Review of the digital remit
How companies market junk food to children online
Ministerial challenge and our 'Super Complaint'
ASA's response to our 'Super Complaint'
Chapter 2
The Complaints – CAP Code deficiencies
Analysis of the complaints and the ASA's responses
TV adverts online
Brand characters
Advergames
Health Claims
Age restrictions
Chapter 3
The complaints process – Down the rabbit hole
Episode 1 – The Fanta Bounce
Episode 2 – Round the Twist(er)
Episode 3 – Doritos' superheroes
Episode 4 – Nesquik's bunny bites back
Episode 5 – The battle over the Battle of the Breakfasts
Chapter 4
Why is it going wrong? Times have changed but the ASA and the CAP Code have not
The medium has changed
How we use it has changed
Parental supervision and responsibility
The impact of online advertising
The regulator has barely changed
Chapter 5
Widespread concerns about the ASA
Breastmilk substitutes – ASA fails to protect babies and their families
Alcoholic drinks – ASA fails to apply the spirit of its Code
Weight loss miracles – ASA fails to curb false hope
Chapter 6
Conclusions and recommendations
Conclusions
Recommendations
Appendix
List of websites included in Children's Food Campaign 'Super Complaint' to the Advertising Standards Authority on 9 February 2012

References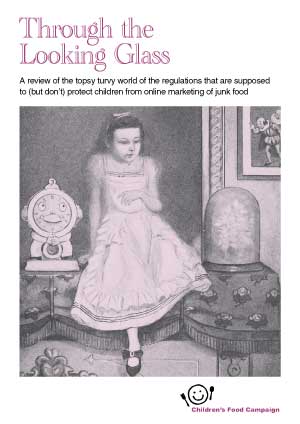 Through the Looking Glass: A review of topsy-turvy junk food marketing regulations
978 1 903060 56 8 - 48pp - 2013 | 4128Kb
Published 28 Apr 2013
Children's Food Campaign: Better food and food teaching for children in schools, and protection of children from junk food marketing are the aims of Sustain's high-profile Children's Food Campaign. We also want clear food labelling that can be understood by everyone, including children.