Good Food for Festivals Guide - celebrate the best of fresh, delicious and sustainable food
By adopting the simple, affordable and effective actions outlined in this guide, many of which are already being taken by some forward-thinking festival organisers, your event can play a part in improving the health and well-being of visitors, the livelihoods of farmers and producers, the welfare of farm animals, conservation of precious wildlife and fish stocks, and the long-term sustainability of our food system.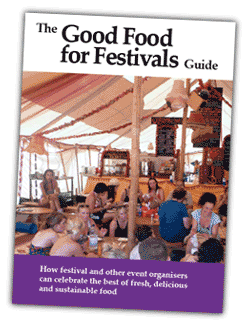 Food production and consumption has an enormous effect on the environment and on our health, so addressing the food served is a vital part of becoming a truly green festival.
The pages of this guide are full of reasons why being sustainable makes sense – for the health and welfare of people and animals, for the environment, and for society and culture. We also know councils and other landlords are
themselves increasingly interested in ensuring that the events they host meet certain sustainability expectations, so it makes good business sense too.
Making sure that the food and drink served is local can help to ensure that the festival is received positively by the local community. Food is also a great way of bringing people together. By involving local producers (and providing rural jobs in the process), festivals are more likely to receive ongoing support not only from the community, but also, crucially, from the councils who grant site permissions each year.
The pages of this guide, published by Sustain in partnership with A Greener Festival, highlight key food and drink, water and waste sustainability issues facing the festival community, and provide advice, contacts and motivation for tackling the issues in a practical way.
A template for an ethical and sustainable food checklist for traders can also be downloaded in Word format, for adaptation to your own needs.

The Good Food for Festivals Guide includes inspiring case studies of what can be achieved on good food, from leading annual events such as Glastonbury Festival, Latitude, Shambala and the Thames Festival. To accompany this publication, Sustain has also produced a Good Food Guide for Festival and Street-Food Caterers, which provides practical advice on how mobile caterers supplying festivals can make their eats more green and ethical. This also includes inspiring case studies from green street-food pioneers such as Sarah Moore, Street Kitchen and Squid & Pear.
"An ever-growing number of festivals in the UK and around the world have been at the forefront of promoting sustainability, whether by reducing greenhouse gas emissions, minimising waste, reducing their event's environmental impact or championing positive behaviour such as recycling. With often large numbers of people using shared catering, festivals provide an interesting and enjoyable space to engage with the audience and promote food sustainability. A Greener Festival has identified food sustainability as a priority for 2012 and we are actively looking for better and healthier food at festivals, and to support sustainable farming. This clear and relevant set of guidelines is a real and important step forward and will be a massive help to festival organisers and others involved with live events."
Ben Challis, Co-founder, A Greener Festival
---
Contents
Why sustainable food
Our top recommendations
Local, seasonal and organic food
Local alcoholic drinks
Sustainable fish and seafood
Fairtrade
Meat and dairy
Healthier food
Water
Waste
Making sure your sustainability efforts are… sustainable!
Communications
Appendices
Appendix 1: Food sustainability checklist for traders
Appendix 2: Useful contacts
Appendix 3: Food Legacy Pledge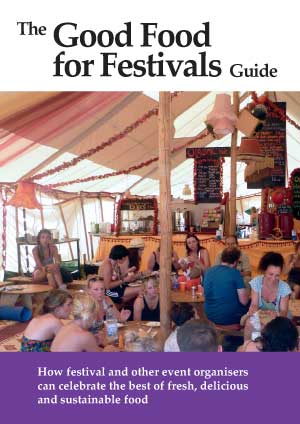 Good Food for Festivals Guide - celebrate the best of fresh, delicious and sustainable food
32pp - 2012 | 2018Kb
Published 15 Aug 2012
Ethical Eats: Ethical Eats ran a network of London restaurants and catering businesses that care about sustainability.