Policy Brief: Overview of the National Food Strategy Part Two
This briefing summarises key recommendations from Part Two of the National Food Strategy, with links to related responses and policy papers by Sustain and our alliance members.
Sustain welcomes the publication of the National Food Strategy (NFS) Part Two report. The NFS is the first comprehensive review of the food system in 75 years, and the UK Government's White Paper response to this offers a critical moment to drive systemic reform of the food system.
In the context of upcoming trade deals that could undermine our net zero ambitions, animal welfare values, farmers' livelihoods and public health policies, the National Food Strategy's recommendations are very much needed.
The strategy focuses primarily on escaping the junk food cycle, reducing diet-related inequality, making the best use of our land, and creating a long-term shift in our food culture.
This briefing directs parliamentarians to our NFS hub, which includes links to related publications, blogs and policy briefs.
This briefing focuses on
Sugar and salt reformulation tax (NFS recommendation 1)
Dietary inequalities (NFS recommendations 3-7)
Farming and land use (NFS recommendations 8 and 9)
Trade (NFS recommendation 10)
Healthy and sustainable diets
Procurement (NFS recommendation 13)
Governance (NFS recommendation 14)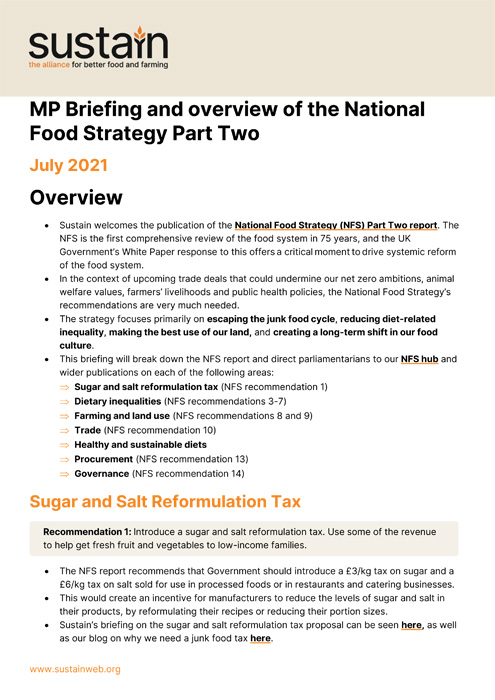 Policy Brief: Overview of the National Food Strategy Part Two
3pp - 2021 | 82Kb
Published 26 Aug 2021
Sustain: Sustain The alliance for better food and farming advocates food and agriculture policies and practices that enhance the health and welfare of people and animals, improve the working and living environment, enrich society and culture and promote equity.