Want a unique Real Bread knife?
Grab one of just fifteen being crafted for our fifteenth anniversary.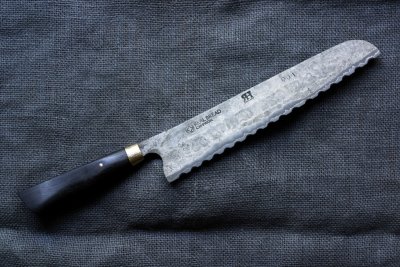 Will you be one of only 15 people to own one of these?. Copyright: Richard Harris
To mark the Campaign's 15th anniversary, bladesmith Richard Harris is hand-crafting a strictly-limited run of just 15 bread knives. Each will be embossed with our logo, Richard's monogram and the number of your knife.
We're doing this as a fundraiser, so a slice of each sale will go to Sustain, the food and farming charity that runs the Campaign.
Jamie Oliver called Richard a 'talented man and a true artisan,' saying the tool he'd created for him was a 'staggeringly beautiful handmade knife which is quite amazing.'
The blade
Your knife will be crafted with as much love, skill and care as you invest in your Real Bread. It will be 100% hand-forged by Richard in his Shropshire workshop from reclaimed steel with a mild steel jacket.
Richard will take it through a process of forging and a complete heat treatment cycle, including annealing, normalising, hardening and tempering. He'll then grind your knife freehand using ceramic belts and sharpen it on a series of waterstones, before honing the edge until razor-sharp.
Your blade will have a scalloped edge, perfect for slicing neatly through the crispest or softest of crusts and most dense or delicate of crumbs.
The handle
Your knife's handle will be made from a piece of oak from an English peat bog, where it lay for thousands of years, preserved by the anaerobic, acidic conditions. Richard will select and custom-fit a piece of the dark, seasoned wood for the full tang of your blade, then contour it to provide a secure, comfortable grip.
The batch
This bespoke run for the Real Bread Campaign is limited to a maximum of just 15, individually-numbered knives. They are available now for pre-order and Richard will crank up his forge after all 15 have been claimed, or 15 October 2023, whichever is sooner.
They will be sent out around 8-12 weeks after orders close.
The bottom line
Each knife costs £750, of which we'll receive £45.
Postage and packing for UK or international shipping will be calculated at the till.
Please note that to make the run viable at this price, Richard will need to receive orders for at least five of these knives by the closing date. In the unlikely event that he doesn't, all orders will be cancelled and your money refunded in full.
Your unique knife will be handmade from reclaimed materials, so won't look exactly like the one pictured.
We're doing this to raise money and fully recognise that this is a knife for just a handful of bread lovers who have everything, plus dough to spare.
What people have said
Praise from Richard's customers includes:
"Wow, wow, wow! What a beautiful work of art." Wayne Caddy, Sourdough Slingers
"Most beautiful knife ever." Jim Challenger, Challenger Breadware
"It's just so beautifully crafted." Vanessa Kimbell, The Sourdough School
"I have only one word, WOW!!! The knives are above and behind my wildest expectations. You sir are a true master." Daniel Wagner
"I am now the proud owner of a knife that is not only a unique work of art and craftsmanship, but designed to slice the crustiest of sourdough loaves without effort" Diana Mackay
The lowdown
Blade: vintage, high-carbon Sheffield tool steel, with mild steel jacket.
Handle: Ancient English bog oak.
Bolster and pin: Copper alloy.
Blade length 25.4cm (10" approx).
Blade height: typically 50-60mm.
Weight: around 270-300g.
Handle length: typically around 15cm (6").
See also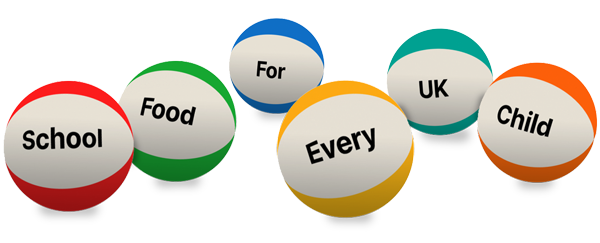 Ask your MP to end the school food postcode lottery now
Support our charity
Your donation will help support the spread of baking skills and access to real bread.