Bakery owners: do you feel the Knead for Change?
Sourdough x Organic September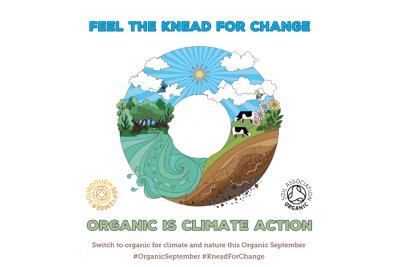 Do you feel it?. Credit: Soil Association
As well as our Sourdough September it's also Organic September, so the Real Bread Campaign has teamed up with Sustain alliance member organisation the Soil Association for a bit of cross-pollination.
It's time for bakers to shout about organic flour and genuine sourdough this Organic September to help bread buyers and home bakers make better choices! If you make Real Bread from organic flour, you can access information and assets to shout about the benefits of organic this September.*
Being social
Please mention @soilassociation and @realbreadcampaign in relevant social media posts and use the #OrganicSeptember and #KneadForChange hashtags. If the #RealBread you're making is genuine #sourdough, tag your posts with #SourdoughSeptember as well.
Why choose organic flour?
The Soil Association says: 'We live with intensive farming systems, which rely on agrochemical inputs that pollute the air we breathe, the water we swim in, and the soil in which we grow our food. The use of fossil-fuel-based nitrate fertilisers has a big part to play in the climate crisis. There can be no net zero without fixing fertilisers.
Every thump of dough made with flour from organically-grown wheat is an act of defiance in the face of the growing climate, nature and health crises.'
If you have any questions about the Organic September and Knead for Change campaigns, please email marketing support at the Soil Association.
If you use organic ingredients and would like to market your products using the word organic but your business is not certified, you can email Soil Association Certification for advice.
*Please note that the use of the Soil Association symbol is licensed by Soil Association Certification for the use of certified businesses. They have approved general use of the symbol as part of the Organic September and Knead for Change campaign assets. Any other use of the Soil Association symbol is only for Soil Association Certification licensees.
See also
Support our charity
Your donation will help support the spread of baking skills and access to real bread.