A new report published today by the Children's Food Campaign criticises food company health pledges as underwhelming and concludes that the Government's voluntary approach is likely to fail.
'The Irresponsibility Deal?', a new report published today by the Children's Food Campaign, concludes that the government's public health 'Responsibility Deal' is likely to fail because industry commitments are weak, voluntary and ignored by numerous big food companies.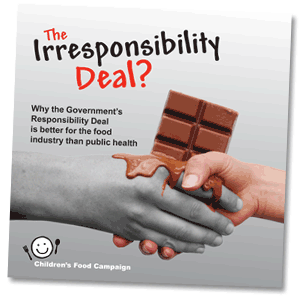 The report lists 33 national food companies that have failed to commit to one or more pledges on:
'out of home' calorie labelling (including Costa, Pizza Express and Subway)
salt reduction (including Burger King, KFC, McDonald's, Pizza Hut and Wimpy)
artificial trans fat removal (including Harvester, Wetherspoons and Sodexo)
It also lists 13 well known companies, including Birds Eye, Budgens, Domino's Pizza and Nandos, which have failed to sign up to any health pledges at all.
The Children's Food Campaign's Kawther Hashem, who researched and wrote the report, said:
"Our analysis shows that, unlike its name suggests, the 'Responsibility Deal' is an irresponsible and utterly inadequate response to the public health problems we face."
The report slams food company health pledges as underwhelming and little more than a continuation of schemes that were being developed anyway by the Food Standards Agency until the Government took away its remit to work on nutrition and public health.
Some companies are let off the hook because salt and trans fat reduction pledges are not relevant to their business, including soft drinks manufacturers A.G. Barr, Britvic, Coca-Cola and Nichols. Instead of being asked to reduce the health effects of the thousands of tonnes of sugar these companies collectively contribute to the British diet, these companies have pledged only to promote physical activity.
Meanwhile, some companies seem confused by the pledges. For example, Tesco has signed up to calorie labelling in its cafés – even though they are run as franchises, mostly by Costa Coffee, which has refused to introduce the labelling in its outlets.
"This initiative has failed to elicit the commitment needed from the food industry to improve the nation's diet and health, and instead is being abused by some companies as a marketing opportunity", said Kawther Hashem.
We need a genuinely responsible approach to public health, including regulations to protect children from junk food marketing, and colour-coded front-of-pack nutrition labelling to help consumers, including children, make healthier choices."
ENDS
For further information and interviews, please contact Christine Haigh or Kawther Hashem on 0203 5596 777 or christine@sustainweb.org / kawther@sustainweb.org
Notes to editors:
1) The Children's Food Campaign wants to improve children's health and well-being through better food - and food teaching - in schools, and protecting children from junk food marketing. We are supported by over 150 national organisations. The Children's Food Campaign is coordinated by Sustain: the alliance for better food and farming and funded by the British Heart Foundation. See: http://www.childrensfoodcampaign.org.uk

2) The full list of companies which have ignored food pledges, or the Responsibility Deal as a whole are listed in the report, The Irresponsibility Deal? Why the Government's Responsibility Deal is better for the food industry than public health, which is available on request and from Wednesday 7 September will be available at http://www.sustainweb.org/publications/?id=188

3) The Public Health Responsibility Deal is the centrepiece of the Coalition Government's public health strategy. According to the Department of Health, it is "about the set of voluntary actions that industry, the retail sector, the voluntary sector, NGOs, local government and other organisations will take to help the public to live healthier lives". More detail, including a list of the companies involved in the Responsibility Deal, are available at http://www.dh.gov.uk/en/Publichealth/Publichealthresponsibilitydeal/index.htm

4) Details of food company Responsibility Deal pledges are available at: http://responsibilitydeal.dh.gov.uk/

5) On 15 June, we rang Tesco to ask about its in-store cafés and told that they were run as franchises. The Tesco representative confirmed that the cafés are not run by Tesco, and that Costa Coffee was the main company that ran the cafés in Tesco stores. Details of Tesco's pledges are available at http://responsibilitydeal.dh.gov.uk/2011/03/10/tesco-plc/.

6) The report is published only two weeks after doctors called for tougher action to tackle the UK's obesity crisis. See: 'Global government must get tough on obesity' – without tougher action, predicted obesity rates are projected to rise from a quarter in the UK to about 40% by 2030. http://www.bbc.co.uk/news/health-14669203.


Sustain summit
12 Oct 2022
The summit will consider meat and dairy production and consumption in the context of the climate and nature emergency, where inspiring work and opportunities exist, and the assumptions and underlying values about meat which have shaped our policy to date.
Support our campaign
Your donation will help us champion children's rights, parent power and government action to improve the food environment children grow up in.