September said no to sourfaux
People in more than 50 countries join the 10th anniversary sourdough celebrations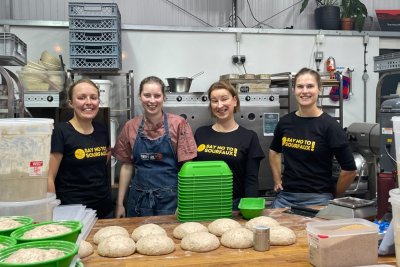 Bakery team. Copyright: KJ's Bothy Bakery
Bread lovers around the world once again rose together for the Real Bread Campaign's annual, international celebration of the oldest way of leavening a loaf.
On Instagram alone, our #SourdoughSeptember hashtag was used on more than 2000 posts from: Aruba, Australia, Argentina, Austria, Bahrain, Belgium, Brazil, Canada, Colombia, Croatia, Curacao, Czech Republic, Denmark, England, Estonia, Finland, France, Germany, Hungary, India, Indonesia, Ireland, Japan, Kenya, Korea, Latvia, Libya, Malaysia, Malta, Mexico, Namibia, Netherlands, New Zealand, Northern Ireland, Pakistan, Philippines, Poland, Romania, Russia, Saudi Arabia, Scotland, Serbia, Singapore, Slovenia, South Africa, Spain, Switzerland, Uganda, United Arab Emirates, USA, Vietnam and Wales.
A third of the people who responded to our call for Sourdough September feedback said that they'd benefitted by learning more about sourdough and sourfaux. Of the business owners, 60% told us they'd gained social media followers; while 40% took the opportunity to run a sales promotion.
Our awareness-raising initiative generated media coverage by outlets including: Addison Magazine (USA), American Reporter, Bakery and Snacks, Bharat Express (India), British Baker, Daily Express, Dorset Echo, East Anglian Daily Times, Express and Star, Food Heaven, Food Magazine, Food Navigator, Food Safety Africa, Good Web Guide, Grocer, Independent, Independent Arabia, International Bakery, Irish Examiner, LifeStyle World News, Neighbourhood Retailer, New Food, Platinum, Roaliment (Romania), Secrets of Your Supermarket Shop (Channel 5), Sun, Supermarket Perimeter, Telegraph, Teles Relay (France), The Dispatch (USA), Times, Waitrose Weekend, Wales Online and Yahoo! Life.
Save the date for Real Bread Week
Sourdough For All
The gap between the costs of producing Real Bread and running a small bakery business, and what people on lower incomes and/or hit hard by the cost-of-everything crisis, is growing. Our ongoing Real Bread For All initiative encourages bakeries to find ways to help to bridge that gap, enabling people to walk in to buy a cheaper loaf, while maintaining the bakery's income. This could involve asking customers who can afford to pay a little extra to help fund a more affordable loaf scheme.
As part of this, we suggested that bakers trial a Sourdough For All scheme in September. One who did was Jay Matic, whose Manila Artisan Breads microbakery in the West Midlands charged £2.50 for an 800g loaf, making up the shortfall by increasing the margin on some other products.
If you ran/run a discount scheme, please send the details to us!
What is more common is Real Bread (micro)bakers discounting surplus loaves at the end of / on the following day, or donating fresh loaves via foodbanks and other charitable means. As a variation on this, The Fat Batard Bakery invited customers to donate the price of a sourdough loaf to Peebleshire Foodbank. During the month, customers donated the equivalent of 110 loaves, raising more than £280, which the bakery topped up to £400. Bakery owner Rob Paton posted: "We were absolutely blown away with our customers' generosity. You should all be very proud of what you have achieved this month."
Raising dough to do good
The third of Sourdough September's three main aims is raising dough for the Real Bread Campaign, which is run by the food and farming charity Sustain. A notable mention goes to Balcony Shirts, whose limited-edition Say No To Sourfaux gear generated a doughnation of around £360.
In addition to it being an above-average number of new and renewing Campaign supporters, the month saw a number of our supporters collecting for us. They included Scotland the Bread, which took donations for their sourdough starter, and Wee Boulangerie in Edinburgh, which raised over £100.
If you raised money for the Campaign, please:
You said…
Here are some of the comments we received this year:
"I love that this has become a global event. It gives people all over the world the opportunity to connect with each other in the present, through a tradition from our past which will continue to nourish us in the future. Thank you!" Sibyl Leon, BREAD Encounters, USA
"I noticed that people are now taking interest in what is in their bread. Customers are telling me about articles they have read in newspapers etc about the Real Bread Campaign and Sourdough September. It's making an impact!" Sam Cornish, Bread of Haven, England
"A great excuse to promote real sourdough." Chris Latham, C H Latham the Baker, England
"Sourdough September is always well run and people tends to get behind it. This year I tried to show that sourdough is not just crusty loaves - I made sourdough babka, brownies, cinnamon buns and cookies." Tara Heron, Dainty Monkey Baking, Scotland
"Always eager to learn from you. Thank you! Gauri Pokhariyal, Gauri's ThoroughBreads, India
"It's a great campaign and I like being part of something wider." Debbie Ross, Highland Home Cook, Scotland
"Sourdough September is a great promotion for real and honest bread!" Jay Matic, Manila Artisan Breads, England
"I love the Campaign so much. I wish more people understood what it means to make Real Bread. Jeanine Hodge, One Punch Dough, USA
"Always an excellent chance to tell our customers that we bake genuine sourdough and watch out for the charlatans. Keep it going!" Peter Doughty-Cook, Peter Cooks Bread, England
"It's awesome to have a specific time window for raising awareness." Chris Cundill, Rosa's Bakery, Wales
"It's a great way to help raise awareness of real sourdough vs sourfaux!!" David Sargent, Sourdough Dave the Artisan Bread Man, England
"Good that you managed to highlight the issue of fake sourdough and put a pressure to get it labelled correctly. The importance of proper food needs to be highlighted at every opportunity and you managed to bring it to public attention." Dagmara Duncan, Scotland
"I thought I was pretty savvy about food production, but I hadn't realised the sourfaux con. So pleased I saw this campaign." Elizabeth Pfeuti, England
"Sourdough September was a great success. Lots of people asking about sourdough and wanting to know more about the process…" @thecoffkitchen

Sustain annual conference - 8 December

Book now
Published 10 Oct 2022
Real Bread Campaign: The Real Bread Campaign finds and shares ways to make bread better for us, better for our communities and better for the planet. Whether your interest is local food, community-focussed small enterprises, honest labelling, therapeutic baking, or simply tasty toast, everyone is invited to become a Campaign supporter.
Event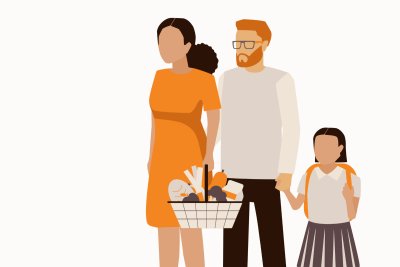 Sustain annual conference - 8 December
Support our charity
Your donation will help support the spread of baking skills and access to real bread.