Real Bread Campaign welcomes Pret labelling pledge
The sandwich retailer Pret a Manger has promised to display full ingredients lists, following the tragic death of teenager Natasha Ednan-Laperouse as the result of her allergic reaction after eating a Pret baguette that she did not know contained sesame.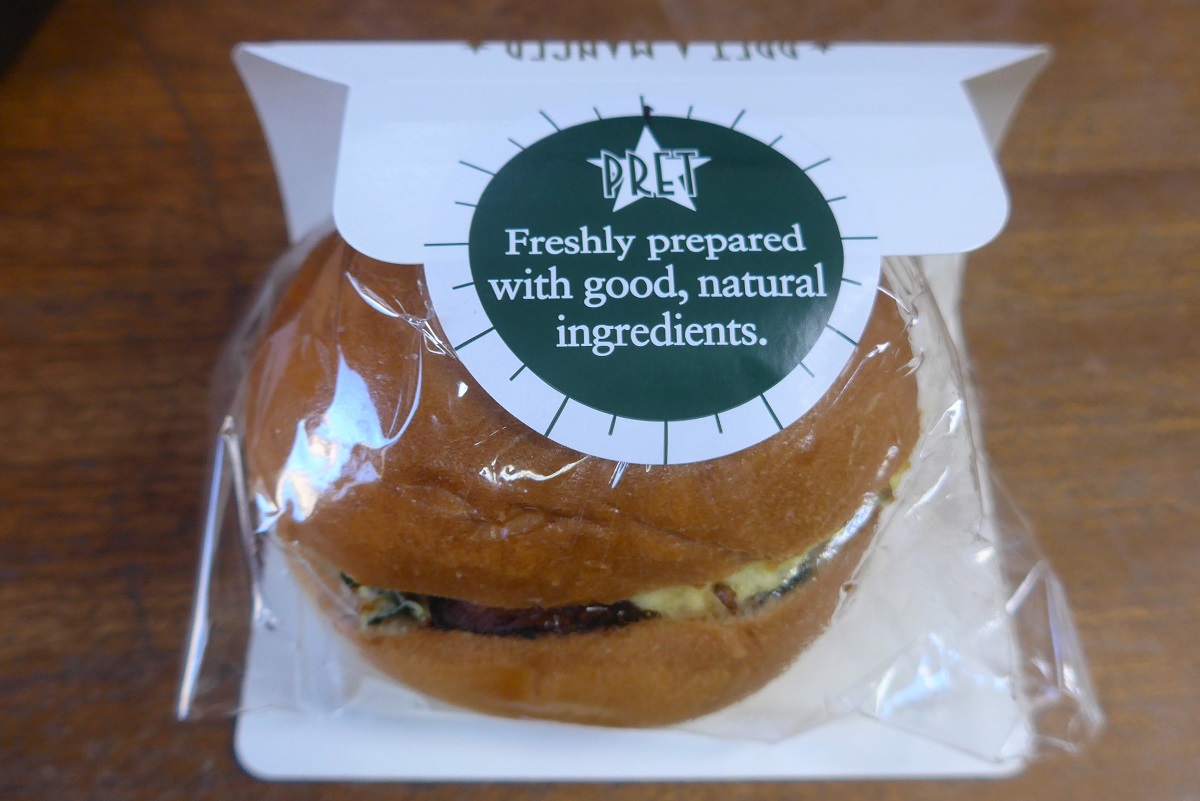 Subjective claims about ingredients, rather than a list of them. Photo by Chris Young
Full ingredient declarations on packaging and at point of sale are something that the Real Bread Campaign first urged Pret to adopt in 2015, with Sustain alliance colleagues such as the Allergy Alliance and Anaphylaxis Campaign calling for mandatory allergen labelling for many years.
According to Allergy UK, the UK has some of the highest prevalence rates of allergic conditions in the world, with over 20% of the population estimated to be affected by one or more allergic disorder. In the 20 years to 2012 there was a 615% increase in the UK in the rate of hospital admissions for anaphylaxis, a very serious allergic reaction to certain substances.
In a statement published on the company website on 3 October, Pret CEO Clive Schlee wrote: "We will start trialling new labels which show full ingredients, including allergens, on packaging from next month. This will be rolled out to all UK shops as quickly as possible."
Real Bread Campaign co-ordinator Chris Young said: "It is tragic that it has taken this family's terrible loss to highlight the woeful state of this country's clearly inadequate food labelling laws and practices. Everyone must be able to know what they are eating. We welcome this voluntary move by Pret and now renew our call to all shops and food outlets to follow suit.
He went on to say: "We also repeat our call to the Secretary of State for food and farming, Michael Gove, to improve food labelling law as soon as possible. We are dismayed that industry and government have so far not taken this issue seriously enough."
Long-standing calls for better food labelling
Since 2009, the Real Bread Campaign has been lobbying successive governments to introduce an Honest Crust Act. This would include the requirement for all retailers to display at point of sale full lists of all ingredients, including loaves, wraps, baguettes, sandwich bread and other baked products that often lack such information due to a loophole in the law. The Campaign has always called upon all shops and food outlets to do so voluntarily in the meantime.
Allergy UK has been in contact with Pret a Manger to express willingness to work with them and provide any advice and help to help them fulfil their commitment to full ingredients labelling. They would also welcome the opportunity to work with any other food chains willing to consider allergen labelling.
Previous reluctance
In 2008, the Real Bread Campaign began a long correspondence with Pret a Manger CEO Clive Schlee, encouraging Pret to become 'a Real Bread leader'. One of the five actions proposed by the Campaign in an email of 19 June 2015 was: "Being more honest and transparent than the current law requires by displaying clearly the full list of all ingredients, additives and any processing aids for each of these products on packaging, labelling or point of sale material such as posters or shelf labels."
On 22 January 2016, Schlee wrote: "I wish I could label every single ingredient on every sandwich and recipe we make in our shops but it would be completely impractical. We would have to keep almost a hundred different rolls of labels and we would struggle to fit them into our kitchens. As you know, we are under no legal obligation to list all the ingredients, as we make our sandwiches, wraps etc on site. People do not expect to see every ingredient they are eating when they go to a restaurant, and I think Pret is behaving legally and fairly here."
By December 2016, Pret had not made any of the five changes we advocated, and the Real Bread Campaign submitted complaints about the company's advertising and other marketing to the Advertising Standards Authority and Trading Standards.
In April 2018, the Advertising Standards Authority upheld the Campaign's complaint about Pret's misleading use of the word 'natural'. The Trading Standards case remains open.
Governmental (in)action
In August 2018, Secretary of State for food and farming Michael Gove replied to Caroline Lucas MP, in response to an email she had sent to him prompted by a constituent writing in support of the Campaign's most recent call for an Honest Crust Act.
Michael Gove replied: "I am satisfied that EU Regulation (EU) No 1169/2011 on the provision of food information to consumers and General Food Law Regulation (EC) 178/2002, together ensure that the labelling and advertising of food must be accurate and informative, and give consumers confidence in the food they buy. UK bread sold at the point of production is exempt from the requirement to display a full ingredient list as specified in EU Regulation (EU) No 1169/2011. This exemption is made for the sole purpose of reducing unnecessary regulatory burden on small businesses and bakeries, while retaining essential, relevant information for the consumer."
Since the tragic death of Natasha Ednan-Laperouse, it has been reported that both Michael Gove and Prime Minster Theresa May have instructed civil servants to begin an urgent review of food labelling law. The Real Bread Campaign has written to Michael Gove backing such a move and repeating its call for full lists of ingredients at point of sale.
Allergy UK is calling for changes to food labelling regulations as they apply to chains preparing high volumes of food on their individual sites. They explain that: "Currently the Food Information Regulations 2014 require food outlets preparing food on their own premises to give allergen information on signs, on shelves, or verbally, if the food is prepared on the same day in an onsite kitchen. Whilst this section of the Regulations may accommodate small and medium sized businesses, where, for example, sandwiches are made to order, we believe that it is totally inadequate for busy, large scale, fast turnover high street food businesses. We believe individual product labelling is the most effective way of communicating vital information for people with food allergies."
Support our charity
Your donation will help support the spread of baking skills and access to real bread.