Support your local veg growers and suppliers this festive season
Are you a veg grower who wants to highlight the hard work that goes into getting veg on our plates or a project that's trying to encourage healthier eating? Download and share the animation to get everyone to eat more locally grown vegetables this festive season.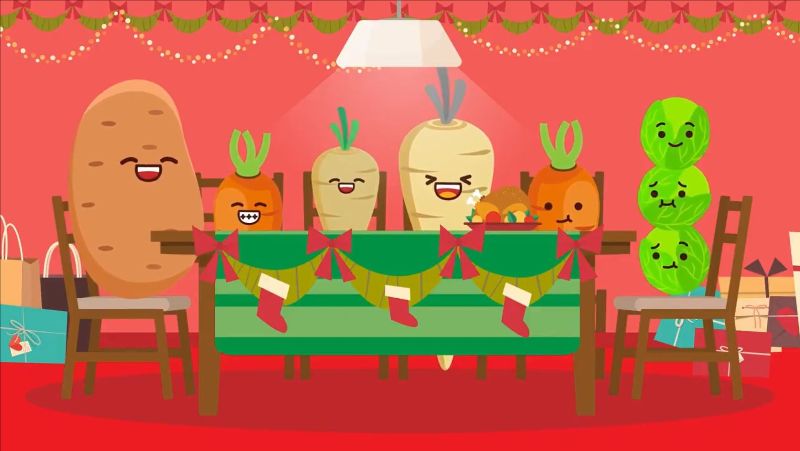 Remember a cute Christmas video created for Frith Farm, a community farm in East Yorkshire, after a supermarket produced an advert featuring an evil parsnip? The creative agency behind it is inviting everyone to upcycle the campaign by using the video for free on their own channels.
Frith Farm supplies veg to local residents in the Hull and Beverley area through a veg box scheme and supplies the local country house hotel Tickton Grange with quality salad greens and herbs enabling the hotel to produce exceptional food.
Hilary Hamer, Hull Food Partnership Coordinator added: "Local food brings people together. There is a vibrant network of growers and local food businesses in the Hull area and it was the desire to support what is locally grown and produced that brought people together round a coffee table back in 2013 and that discussion led to Food4Hull which is now the local food partnership."
John Pickles, Veg Cities Hull Coordinator summarises: "Eating locally grown food reduces food miles and shortens supply chains, making the system more transparent. By investing in local growers you put money into your local community, ensuring its sustainability, prosperity and resilience for years to come."
Download the animation
Loosely based on A Christmas Carol, the short film is freely available after the design agency behind it decided to 'upcycle' the award-nominated work.
Steven Jefferson, the animator who worked on the project, said: "Aldi's Christmas campaign last year featured evil parsnip Pascal who tries to ruin the festivities.
"This inspired us to create our own animation showing a parsnip who does good to support a local community farm.
"Now Aldi have made sprouts mean with their 'Leafy Blinders' campaign so we thought there was another opportunity to give people the chance to show their support for delicious veg.
"Our aim is to show people that vegetables are good for us and are a great addition to any meal, especially Christmas dinner.
"And taking on Aldi's depiction of evil vegetables is a creative way to help us get that message across."
The animation shows a Yuletide-hating parsnip who is visited by three spirit vegetables – a carrot, sprouts and a potato.
They show the grumpy parsnip the joy of eating together at Christmas and tell him that a dinner without veg all sharing the same plate just wouldn't be the same.
Finally, like all good stories, there is a happy ending as after witnessing a future Christmas where veg is banned, the parsnip decides to change his ways and enjoys a celebration with all his friends.
The video, created by Pace, was a finalist in the prestigious Drum Chip Shop Awards best video category and even gained an entry in the World Carrot Museum.
If you'd like to use the video to back veg this Christmas, download your copy here and use the hashtag #paceparsnips.
---
26/11/2019
Veg Cities
SHARE
---
Veg Cities: Veg Cities is a feature campaign of the Sustainable Food Cities led by food and farming charity Sustain in partnership with the wider Peas Please initiative led by the Food Foundation, Nourish Scotland, Food Cardiff and WWF.