Child-friendly food packaging: new survey of parents now open
Children's Food Campaign and Food Active have launched a new survey of parents to find out how the use of child-friendly imagery on packaging affects them and their children.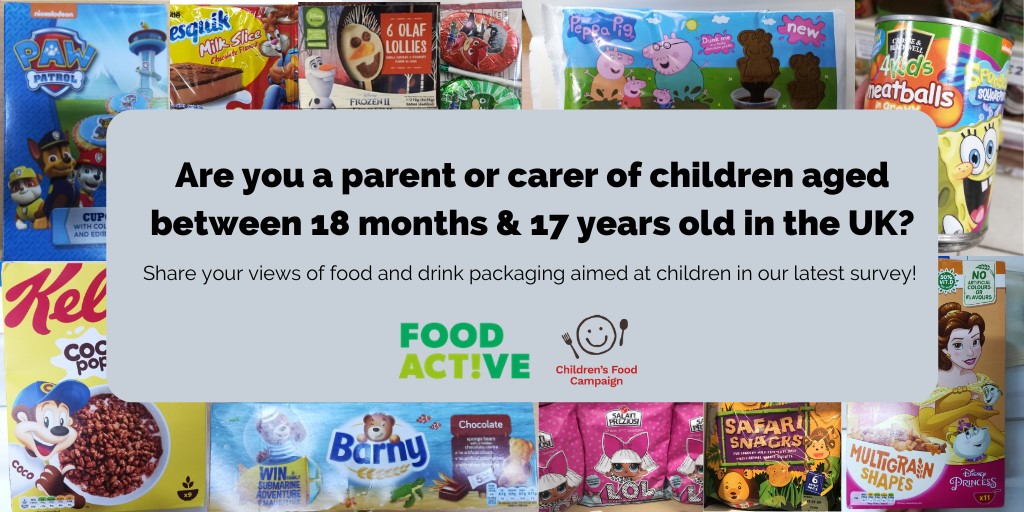 Food and drink companies use lots of devices and tricks on packaging to make parents of children notice their products - as well as to appeal directly to children themselves.
A report published with Action on Sugar in partnership with Children's Food Campaign recently revealed that many of the products endorsed by characters such as Peppa Pig, Paw Patrol and Disney characters are so high in fat, salt or sugar, they wouldn't even be allowed to be advertised on children's TV.
The Children's Food Campaign has teamed up with Food Active in a new survey to find out what parents and carers - especially those with younger children - think about how the design of food and drink packaging helps or hinders them to make healthy choices.
Should there be stricter rules for which products are allowed to carry child-friendly branding or cartoon characters? The parliamentary health and social care select committee and the former Chief Medical Officer, Dame Sally Davies, have both called for more action by Government on this type of marketing to parents and children, in order to tackle childhood obesity.
Do parents agree? This new research aims to find out. The survey is open to any UK-based parents or carers of children aged between 18 months and 17 years old - with a particular interest in those with nursery and primary aged children. The survey will close on Monday 23 December 2019.
For any further information about the survey, contact barbara@sustainweb.org or info@foodactive.org.uk
---
25/11/2019
Children's Food Campaign
SHARE
---
Children's Food Campaign: Better food and food teaching for children in schools, and protection of children from junk food marketing are the aims of Sustain's high-profile Children's Food Campaign. We also want clear food labelling that can be understood by everyone, including children.