Over 500 food and drink products with child-friendly cartoon animations on their packaging are shockingly high in fat, salt or sugar, according to new research conducted by Action on Sugar and Action on Salt in partnership with the Children's Food Campaign. Campaigners are calling on food manufacturers to ban their use on unhealthy foods and #MakeCartoonsHealthy instead.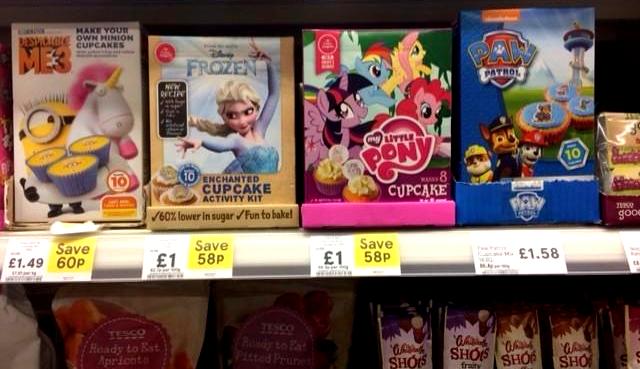 In the biggest survey of its kind, research by Children's Food Campaign member organisations Action on Sugar and Action on Salt has revealed that 51% of 526 products surveyed in UK supermarkets with cartoon animations on their packaging were high in either saturated fat, salt and/or sugar. Children's favourite cartoon characters such as Peppa Pig, Paw Patrol, Disney Frozen, Cars and more were found on a range of sugary confectionery, yoghurts, biscuits, cakes and snacks. The organisations are accusing manufacturers of using appealing characters on packaging to deliberately mislead parents and children into purchasing less healthy foods, encouraging pester power and consumption of too many calories.
The three organisations are calling for a complete ban on the use of child friendly characters on foods high in fat, salt and sugar, and for colour-coded traffic light labelling to be made compulsory for all packaged foods, to support parents in making healthier choices.
In the case of popular young children's TV characters Paw Patrol, more than half (54%) of products found on shelves had a red light rating for salt, fat or sugar. Half (50%) of products featuring Peppa Pig, popular with pre-school and primary children, also carried at least one red warning.
Barbara Crowther, co-ordinator of the Children's Food Campaign says, "Disney, Nickelodeon, Cartoon Network and all the food brands know how much power these cartoon characters have on children's preferences. That's why millions of pounds change hands in licensing deals each year. Parents tell us how their kids' favourite characters result in pestering for sweets, snacks and fast foods, and they overwhelmingly support the idea of a ban. The food industry has had every opportunity to act, but this research clearly shows it's not enough. It's time for the Government to step in, and underpin tighter advertising restrictions with similar rules for packaging and promotions."
In a Parents' Jury survey conducted in 2018 by the Children's Food Campaign, parents said that use of children's favourite TV and film characters on unhealthy food was the marketing tactic they were most concerned about, after TV advertising. More than 9 in 10 parents said they would support the Government bringing in new rules to restrict use of kids' characters on unhealthy foods. However, the Government has yet to address this marketing tactic as part of its Childhood Obesity Plans, and it was omitted from Chapter Two proposals published in June 2018.
Tom Watson MP, Deputy Leader of the Labour Party, who supports the call to ban cartoon characters on food, says, "This research reveals the scale of irresponsibility in the industry. We're in the midst of a child obesity crisis and companies are using cartoons to advertise their junk foods to kids. It's unacceptable. It's time we changed the rules to get these cartoons off our packs."
For more information:
Read the full press release from Action on Sugar, Action on Salt and Children's Food Campaign
Read our new briefing about the research on children's cartoon animations on food and drink
Read the Parents' Jury Survey on Junk Food Marketing, September 2018
Published 4 Jun 2019
Children's Food Campaign: Better food and food teaching for children in schools, and protection of children from junk food marketing are the aims of Sustain's high-profile Children's Food Campaign. We also want clear food labelling that can be understood by everyone, including children.
Support our campaign
Your donation will help us champion children's rights, parent power and government action to improve the food environment children grow up in.