Greater Manchester launches its sustainable food future
Feeding Manchester has published a detailed outline showing what needs to be done for everyone to be able to access sustainable food across the city. It is the culmination of 18 months work from a hundred community groups, small businesses and the public sector.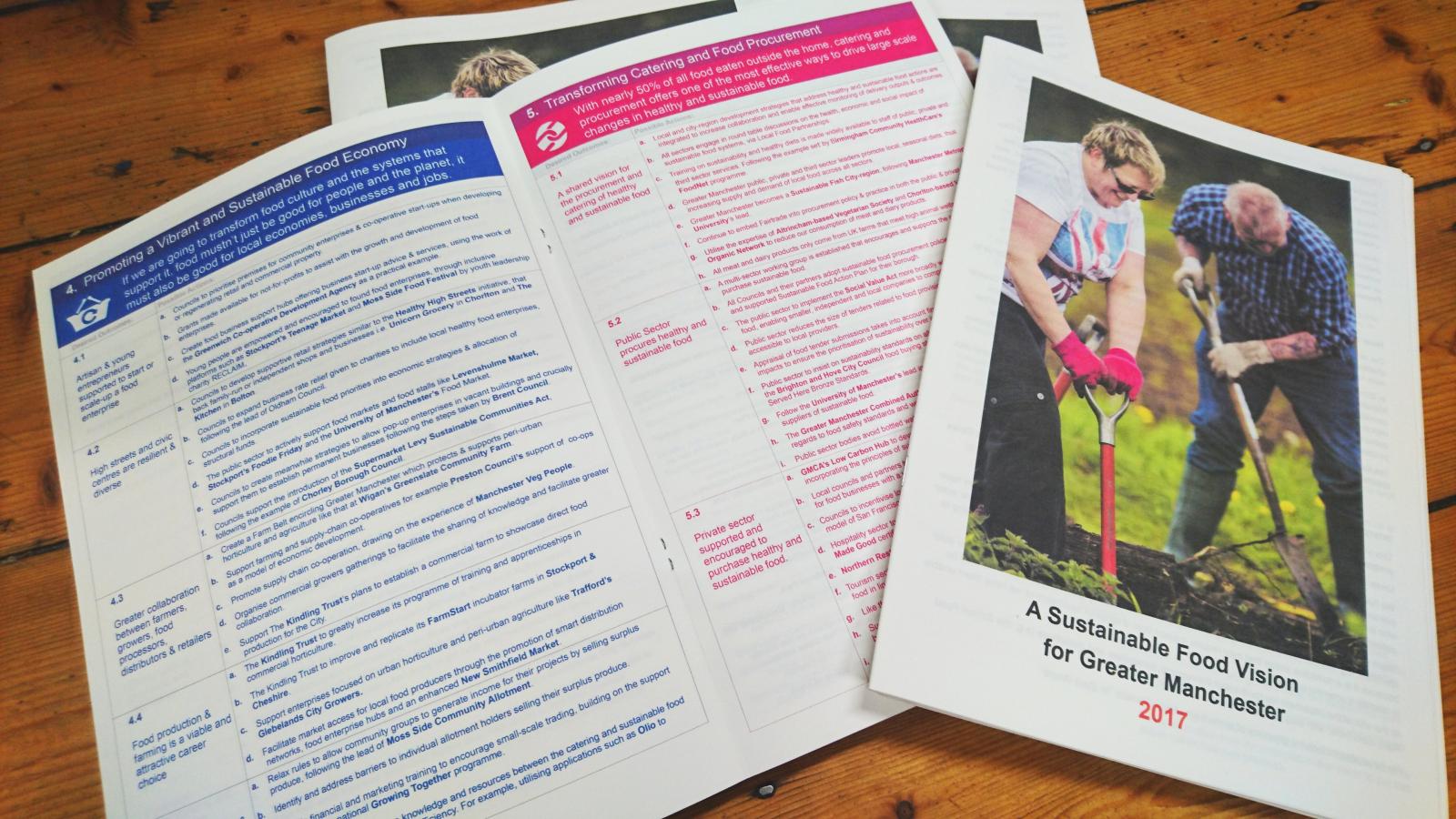 The inspirational Sustainable Food Vision for Greater Manchester is structured around the six elements of the Sustainable Food Cities programme:
1. Promoting healthy and sustainable food to the public
2. Tackling food poverty, diet-related ill health and access to affordable healthy food
3. Building community food knowledge, skills, resources and projects
4. Promoting a vibrant and diverse sustainable food economy
5. Transforming catering and food procurement
6. Reducing waste and the ecological footprint of the food system

The Vision outlines 161 possible actions to deliver environmental, health and economic benefits for Manchester. These include:
avoiding sponsorship deals and promotions of unsustainable and unhealthy food & drink, following Sustain's investigation into corporate sponsorship of the 2012 London Olympics
that healthy and sustainable food is served in all care homes & hospitals and via meals at home services following Sustain's Good Food on a Public Plate project in London.
working with Sustain to host an annual Urban Food Fortnight for Greater Manchester, building on the work of Growing Manchester and Get Oldham Growing
that Greater Manchester becomes a Sustainable Fish City-region,
The Kindling Trust, who are members of Sustain, were instrumental in writing this Vision. Chris Walsh, the co-founder of Kindling Trust, is very proud to be a part of this work alongside other grassroots organisations:
"We hope our political representatives and public servants can find their way to supporting this Vision and helping to make Greater Manchester the truly sustainable food city that it both needs and has the great potential to be."
You can find out more about Feeding Manchester's work on their website.
---
13/11/2017
Sustainable Food Cities
SHARE
---
Sustainable Food Cities: The Sustainable Food Cities Network helps people and places share challenges, explore practical solutions and develop best practice on key food issues, so if you are working to drive positive food change or are interested in developing a Sustainable Food City programme, please do get in touch.