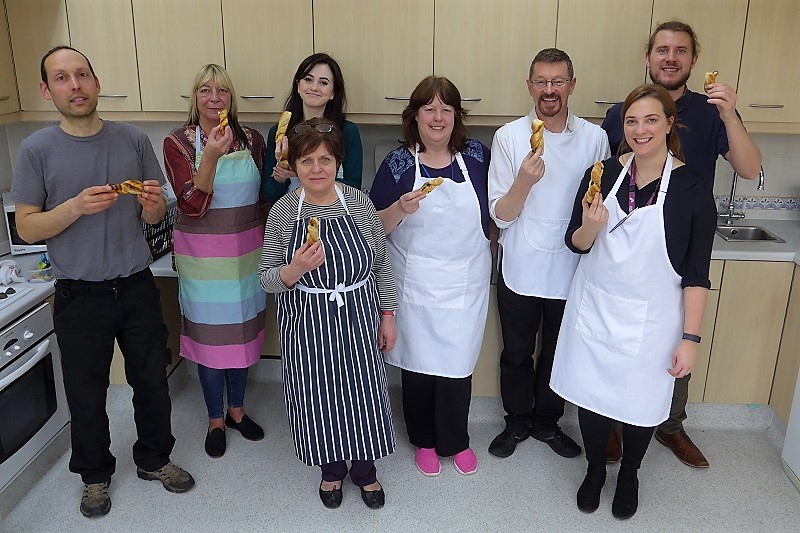 Bethlem Baking Buddies was a pilot series of six, two-hour Real Bread baking sessions for resident mental health care service users at Bethlem Royal Hospital in Kent. It was run from 21 April to 26 May 2017 as part of the Campaign's Together We Rise initiative, in association with Bethlem's Occupational Therapy department and Sticky Mitts.
100% of the five participants' responses to weekly evaluation questions were that baking that day made them feel happier, creative and a sense of achievement. In the majority of their responses, they also reported that baking had made them feel relaxed, a sense of purpose and less anxious.
These findings are in line with the evidence previously published by the Real Bread Campaign in Rising Up, its 2013 report on social and therapeutic baking.
Campaign co-ordinator Chris Young, who wrote both reports, said "What we found further supports the Campaign's belief that making Real Bread can offer therapeutic benefits to some people who are experiencing mental health problems, and that therapeutic baking deserves further study, funding and even made available through social prescription."
Peter O'Hare, Head Occupational Therapist at Bethlem added: "This wonderful project confirmed what we intrinsically believed: that bread baking has tremendous potential as a therapeutic activity which can also foster and enhance community engagement and cohesion."
Together We Rise: Bethlem Baking Buddies is in two parts: The first is a report of the results of the pilot programme, and the second looks in more practical detail at how it was run for the reference of occupational therapists and other health care professionals considering running therapeutic bread baking sessions. Together We Rise: Bethlem Baking Buddies and Rising Up are both available for PDF download at: www.realbreadcampaign.org
The Campaign is now working on a sequel to Rising Up and would like to receive stories and statistics from organisations that have run therapeutic or social baking projects, and from anyone who has taken part in one. People can email realbread at sustainweb.org
Read more about the Together We Rise intiative.
ENDS
Media contacts for queries about Together We Rise: Bethlem Baking Buddies and the Real Bread Campaign in general: Chris Young chris at sustainweb.org
For non-media queries, please email realbread at sustainweb.org
Notes
The sessions were facilitated by Gaye Fisher, a Real Bread Campaign supporter and Bread Angel, who runs the Sticky Mitts microbakery and baking school in Surrey. She worked alongside occupational therapist Jenny Shaieb, deputy head of Bethlem's OT department, who previously trained and worked as a chef.