Are you proud of your Real Bread Campaign?
Then please let the world know!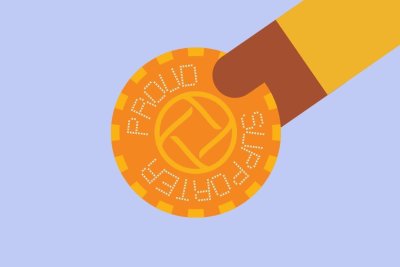 They've got their Campaign supporter badge. Credit: Chris Young / www.realbreadcampaign.org CC-BY-SA-4.0
If you're a Campaign supporter, YOU are one of the advocates of rise of Real Bread and of our charity's work. Many of you walk the walk (typically by making and buying the stuff) but we'd love more of you to talk the talk. We need more people to know what the Campaign is doing and why, and that this charitable work needs more dough.
Ways that you can do this include logging into your supporter record via our website to download:
The 'proud to support' version of our logo to use on websites, email footers etc.
Posters to print.
Logos to use during Sourdough September and Real Bread Week.
Media release templates.
Business owners
If you own/run a Real Bread bakery/microbakery, please also consider signing up to The Real Bread Loaf Mark / The Sourdough Loaf Mark scheme.
Channeling the Campaign
Many supporters have channels of communication (websites, blogs, social media accounts etc) with various-sized groups of people. Some of you send out press releases, give media interviews, have books published, do talks/demos at events, and sometimes appear on the radio and telly.
These are all opportunities to say loud and proud that you're a Real Bread Campaign supporter – please seize them!
Stay informed
Please keep visiting our website frequently to stay up to date with current work, so you can talk to people about what your Real Bread Campaign is doing, how and why.
While you're there, please visit the 'about' section to double check details of our aims, values, mission and definitions. Common misunderstandings we hear, even from Campaign supporters, include that all Real Bread has to be sourdough and, conversely, that soda loaves fall within our definition.
Local champions
To complement the activity of our official ambassadors, we're exploring the possibility of creating a network of diverse Real Bread Campaign champions, each with a local focus.
Do you want to help bring together people behind the rise of Real Bread (and other grassroots Campaign supporters) in your area? Might you help organise and/or host events? Are you in a position to encourage people to join the Campaign? Could you be a contact for local media interviews?
If you'd like to explore this idea, please drop us a line.
Not a supporter yet?
Read why and how to join the Campaign as a supporter of our charity's work.
Support our charity
Your donation will help support the spread of baking skills and access to real bread.