Real Bread Week raises awareness smiles and dough
With the likes of Jamie Oliver to Chris Evans helping spread the word, the ninth annual international celebration of bakeries that make additive-free loaves and encouraging people to bake Real Bread at home has been another success.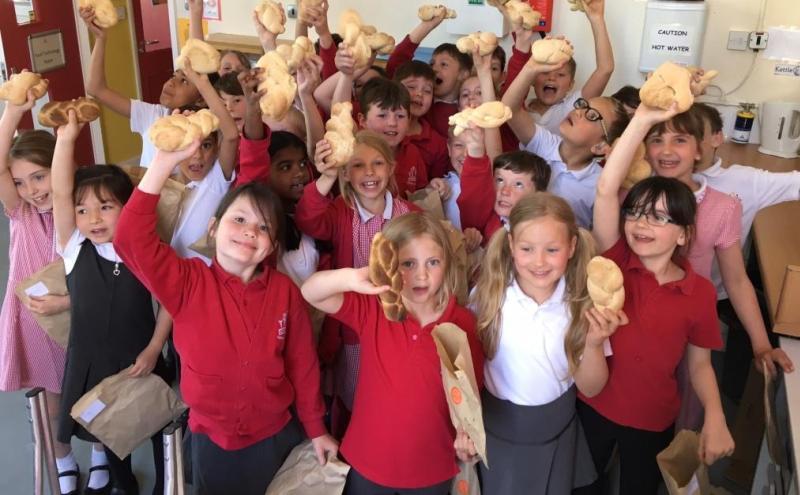 Real Bread Week classes, events and other activities took place far and wide.
Artisan Baking Community (ABC) ran a baking day with Bridge Engage project in Northumberland, as part of an initiative to integrate autistic volunteers at ABC's production bakery at their Earth Balance bakery near Bedlington. ABC also made fougasse at Dunston Drop in Centre in Gateshead with young dads and fathers to be as part of the Dad and Lads Project. Andy from ABC said it went "so well they are already developing ideas for a bakery!"
Roy Barker shared his baking skills with 15 girls and three leaders from his local 18th Liverpool Girls' Brigade. "The girls went home buzzing and excited, clutching their fougasse, and reports are that most were at least nibbled by the time they got home. Unsurprisingly, the first question they asked was 'When can we do it again?'!"
Marianne Bradley taught 30 nursery children aged 3-4 years old to make pizzas and 60 year 3 children aged 8-9 to make a basic white plait. "Best thing about it was… the fact that the children all loved it and some have even had another go at home!"
Roger and Sally from Red Dog Bakery celebrated Real Bread Week and National Mills Weekend at nearby Bridge Mill in Bridgerule, Devon, with wholemeal loaves made from flour ground at the mill from locally-grown wheat. Sally said "We sold out in an hour and a half..."
Microbaker and Bread Angel Liz Wilson (AKA Liz Wilson) said "All my classes were full and I picked up some new bread customers." One of her students reported "She made the process of breadmaking feel really accessible and explained the techniques of kneading and shaping so clearly that we made a decent go of it even as complete bread novices. A brilliant day!"
Between just eleven events for which organisers gave us numbers, more than 600 people enjoyed baking, tasting and learning about Real Bread during the week.
Coverage
As an awareness raising initiative Real Bread Week relies on traditional media to help spread the word. A highlight of the coverage was Chris Evans calling bakers around Britain on his BBC Radio 2 Breakfast Show. The week was also covered by Metro, Country Living, Yorkshire Post, British Baker, The Grocer and even a supermarket chain's magazine, plus many local publications bigging up their local bakers.
Social media indicates that the celebrations were much more widespread. Depending which hashtag counter you believe #RealBreadWeek was tweeted hundreds or thousands of times around the world from Alaska to Zambia. These were seen by anywhere from hundreds of thousands to millions of people…including the 6.6 million following Jamie Oliver. Demonstrating that the Campaign's initiative has taken on a life of its own, big brands were using our hashtag to flog everything from flour, through ovens and mixers, to toasters, knives and butter.
And we're confident that many more people were inspired by the initiative to visit a local bakery, or bake loaves at home, without feeling the need to tweet the fact…
Raising dough
During the week, more than 70 people joined the Campaign or renewed their support for it, a great boost for the charity Sustain, which receives no advertising, sponsorship, grants or other forms of funding to run the week or any of its other Real Bread work.
The week also saw an increase in doughnations to the Campaign, including £150 from Jock and Fiona at Woodlea Stables, nearly £60 from Paul at Rugby Real Bread, and a very generous £500 from an anonymous donor.
The Campaign's next annual awareness raising initiative will be the fifth Sourdough September later in 2017, followed by the 10th anniversary Real Bread Week, which runs from 24 February to 4 March 2018.
Sheep farmer. Credit: Cottonbro | Pexels
Published 25 May 2017
Real Bread Campaign: The Real Bread Campaign finds and shares ways to make bread better for us, better for our communities and better for the planet. Whether your interest is local food, community-focussed small enterprises, honest labelling, therapeutic baking, or simply tasty toast, everyone is invited to become a Campaign supporter.
Support our charity
Your donation will help support the spread of baking skills and access to real bread.