Signature waived on Healthy Start applications from 6 April 2020
Families can now apply for Healthy Start food vouchers without a health professional's signature on the form, as was previously required.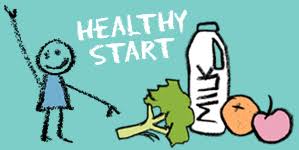 The Government have changed the Healthy Start regulations in preparation for the future digitisation of the voucher scheme. This means that as of 6 April 2020 the current paper Healthy Start application forms can be submitted without a health professional completing and signing Part B. Campaigners say these new regulations could not be more timely during the Covid-19 pandemic, as low-income families desperately need support to buy healthy food, and health professionals are already at capacity.
Find out more about Healthy Start vouchers and how to apply
Over the last year the Department of Health and Social Care and NHS Business Services Authority (BSA) have been working on a new digital version of the scheme, which will include an online application form and a smartcard to replace the paper vouchers. The new regulations lay the groundwork for these new changes, namely by removing the legal requirement for a health professional's signature on applications, as this will not be a part of the online application form.
As the British public has been advised against reaching out to NHS health services other than in the case of an emergency during the Covid-19 crisis, many local public health officers and campaigners have been increasingly concerned about families' ability to obtain a health professional's signature and apply for the vouchers.
"Low-income families need to be able to access all available support during this time of economic and social upheaval, so the timing of the new regulation is very welcomed as they will enable pregnant women, parents and carers to apply without having to seek out a health professional. Simplifying the application process is something that's been needed for years and we are so glad to see it happening now, when it is vital to improve food access for our most vulnerable families," says Maddie Guerlain of Sustain.
An updated timeline for the rollout of the full digital service has not yet been published by NHS BSA but we will update our Sustain members and networks as we learn more.
Join our Healthy Start email forum
A chance to ask questions, share resources and get support from others working on the scheme. Email healthy_start-subscribe@lists.riseup.net to join and once subscribed you can then send a message to everyone in the group by emailing healthy_start@lists.riseup.net.
Learn more about Healthy Start and Food Power's member alliances taking action.
Support our work
Your donation will help communities identify ways to alleviate food poverty.