FOI reveals thousands of tonnes of antibiotics still used in UK farming
A Freedom of Information request submitted by the Alliance to Save our Antibiotics has revealed that hundreds of tonnes of ionophore antibiotics are being used in British poultry production. BBC One's Countryfile has been investigating and will broadcast a piece about it on the evening of Sunday 31 March.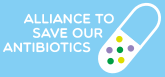 The figures obtained by the Alliance to Save Our Antibiotics (co-founded by Sustain, Compassion in World Farming and the Soil Association) show that the UK poultry industry's use of ionophores has increased by 33% in five years, from 212 tonnes in 2012 to a record 281 tonnes in 2017. During the same period, British Poultry Council farmers have cut their use of antibiotics also used in human medicine from 82 to 14 tonnes.
Ionophores are used to prevent the intestinal disease coccidiosis which affects chickens when they ingest chicken droppings. This can occur when chickens are kept in intensive conditions and have little space.
While ionophones are not currently used in human medicine due to potential toxicity, there is concern that they should not be widely used in farming as these medicines might still have the potential to be developed for tackling serious human disease in the future.
Cóilín Nunan, scientific advisor to the Alliance to Save Our Antibiotics, said: "Coccidiosis only occurs when chickens ingest chicken droppings, but that is unavoidable in intensive systems where tens of thousands of birds are kept permanently indoors in a single shed with a space allowance of less than an A4 sheet of paper per bird."
The Federation of Veterinarians of Europe (FVE) has already called for the drugs to be made prescription-only, as is the case for all other antibiotics used in European farming.
Cóilín Nunan said: "We fully support the call from European veterinarians for these drugs to be made prescription-only to limit indiscriminate use but, as they are suggesting, much more fundamental change is required. It should no longer be permitted to keep chickens and other birds in conditions that are so cramped and unhygienic that this disease is unavoidable. All farm animals should be kept in conditions which minimise stress, disease and the use of toxic drugs."
Vicki Hird, Sustainable Farming Co-ordinator at Sustain said:
"It's clear we need to change UK poultry production to reduce the need for these products. Furthermore, our attempts to reduce antibiotic use and introduce safer higher welfare systems that do not require routine antibiotics use, must not be undermined by new trade deals after Brexit."
To read the Alliance to Save Our Antibiotics full press release, please click here.
If you would like to read The Independent newspaper's story about it, please click here.
---
31/03/2019
Food and Farming Policy
SHARE
---
Food and Farming Policy: Sustain encourages integration of sustainable food and farming into local, regional and national government policies.