Praise for "the microbaker's bible"
Knead to Know...more "the definitive guide to starting a microbakery."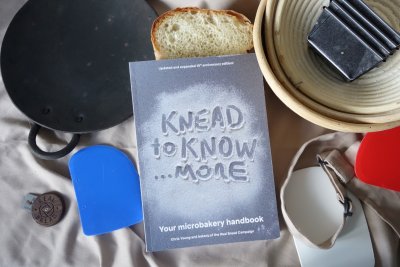 Kitted out. Credit: Chris Young / www.realbreadcampaign.org CC-BY-SA-4.0
Seven months after posting out the first copies of Knead to Know…more, in June 2022 the Real Bread Campaign asked readers how they were getting on.
92% of survey respondents who had read the book said they'd found the book useful.
42% of readers still planned to open a microbakery and 27% had expanded an existing once since reading the book.
48 hour flash sale
From 10am on 29 June to 10am on 1 July 2022, the Real Bread Campaign is offering a 25% discount on the book.
Bready businessfolk buzz
"My copy of Knead to Know more has been invaluable in setting up my business." Dave Stewart, Dr. Dough
"It's the definitive guide to starting a microbakery." Anon.
"I like the practical advice on different aspects of starting up and owning a microbakery. It's the microbaker's bible, I say!" Ilgin Beaton, Just Sourdough
"Super-practical. Full of sage advice and heart-warming values about good bread. Wholeheartedly recommended." Chris Cundill, Rosa's Bakery
"A really useful one stop shop to invest in your business. Fresh eyes that bring perspective and new ideas that encourage us to persevere." Sara Ward, Hen Corner
"Like its predecessor, this updated edition is a handy resource for anyone thinking of setting up a microbakery." Lee Dodge, Ammonite Sourdough
"The book is a really helpful, invaluable resource to someone in my position, starting up a microbakery. It means I don't have to hunt around for answers to some of the fundamental questions of where to start. It's an essential checklist of what I need to do to get up and running. Thank you for publishing it!!!" Martin Naish, Solaris Bakehouse
"Nicely laid out, very informative and an easy read." Martin, Flour Water Salt Time
"Practical, positive and packed with useful prompts." Catherine Paxton, Paindemain Bakehouse
"It's excellent in content and writing style. It's very thorough and carries additional useful information." Fari Wyman
"Inspirational and practical!" Hugh Simon
"The book is very helpful, fantastic!" Jay Matic, Manila Artisan Breads
"No aspiring microbaker should be without this book!" Simon Partridge
Published 30 Jun 2022
Real Bread Campaign: The Real Bread Campaign finds and shares ways to make bread better for us, better for our communities and better for the planet. Whether your interest is local food, community-focussed small enterprises, honest labelling, therapeutic baking, or simply tasty toast, everyone is invited to become a Campaign supporter.
Support our charity
Your donation will help support the spread of baking skills and access to real bread.