Guernsey and Alderney 'eat a rainbow' of fruit & veg during the Covid-19 crisis
Expanding healthy food access and education is more important than ever, given the emerging evidence on the link between obesity and Covid-19 mortality risk and the impact of lockdown on child obesity rates. As community spaces and support services have been physically shut, Sugar Smart partners have been responding innovatively to help inspire and encourage healthy choices and push out public health messaging. This week, we heard from the team at the Health Improvement Comission in Guernsey to see what they have been up to.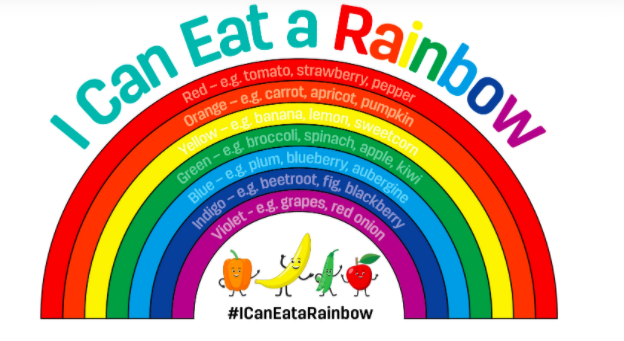 Credit: Health Improvement Team, Guernsey
The Health Improvement Commission for Guernsey and Alderney was developed two years ago as a third sector organisation to improve public health on the islands. They focus on four strands of work: Eat Well, Be Active, Healthier Weight and Substance Use and work across the life course in all settings, from schools and hospitals to private businesses. There are many goals across the strands, including increasing fruit and vegetable consumption, improving weight status and building up time spent being active.
The Health Improvement team linked in with Sugar Smart a year ago and have been building and creating Sugar Smart messaging and resources for across their networks. Since the crisis hit, the team have been extremely busy behind the scenes to make sure that Guernsey residents and the surrounding islands have access to resources to help support healthy food choices. Responses include developing the Eating Well at Home webpage, with cooking tips and recipes that have a focus on using store cupboard staples that might appeal to ages across the life course, printable resources and guides, and tips and tricks for supporting children to build healthy relationships with food. With parents and children stuck at home, the team took this as a potential opportunity to help families build up healthy eating patterns.
The 'I can eat a rainbow' campaign was inspired by the many rainbows that have popped up in windows, in chalk in the road and on boats, flags and stones around the island, aiming to be a fun way to get kids excited about what they're eating. Families have been encouraged to print off a blank rainbow (available for free on the Health Improvement Comission website) and colour in a stripe when they eat a fruit or vegetable in that colour category, along with the name of what they ate. Children and their families have been posting their rainbows on social media using the hashtag #ICanEatARainbow.
Prior to Covid, the team had also been working on a longer-term strategy with a local food bank to support healthy options and help with meal planning and lunch box ideas. The work quickly pivoted as the crisis hit to help ensure the increasing number of households using food banks had direct access to fruit and vegetables. The team was able to divert some Commission funds to supply fresh produce for the food parcels at the food bank, using a supplier who had normally supplied to restaurants and caterers. Within the parcels, the team also provided the 'I can eat a rainbow' printout to encourage children to try more veg. Since the lockdown, the team have been able to get 6,500 portions of fruit and veg to families using the food banks, and their resources have reached 200 households via the food parcels.
Now that the lockdown is starting to lift, the team are now looking at ways to keep up fruit and vegetable access by supporting the food bank team and its volunteers, and working on keeping up the momentum of the healthy eating habits developed during lockdown.
Published 11 Jun 2020
Sugar Smart UK: Want your local area to become Sugar Smart?
Support our campaign
Your donation will help communities and organisations to take action to reduce the sugar we all consume.