The winner of the True Loaf 40 (Jul-Sep 2019) competition will receive not one but two prizes...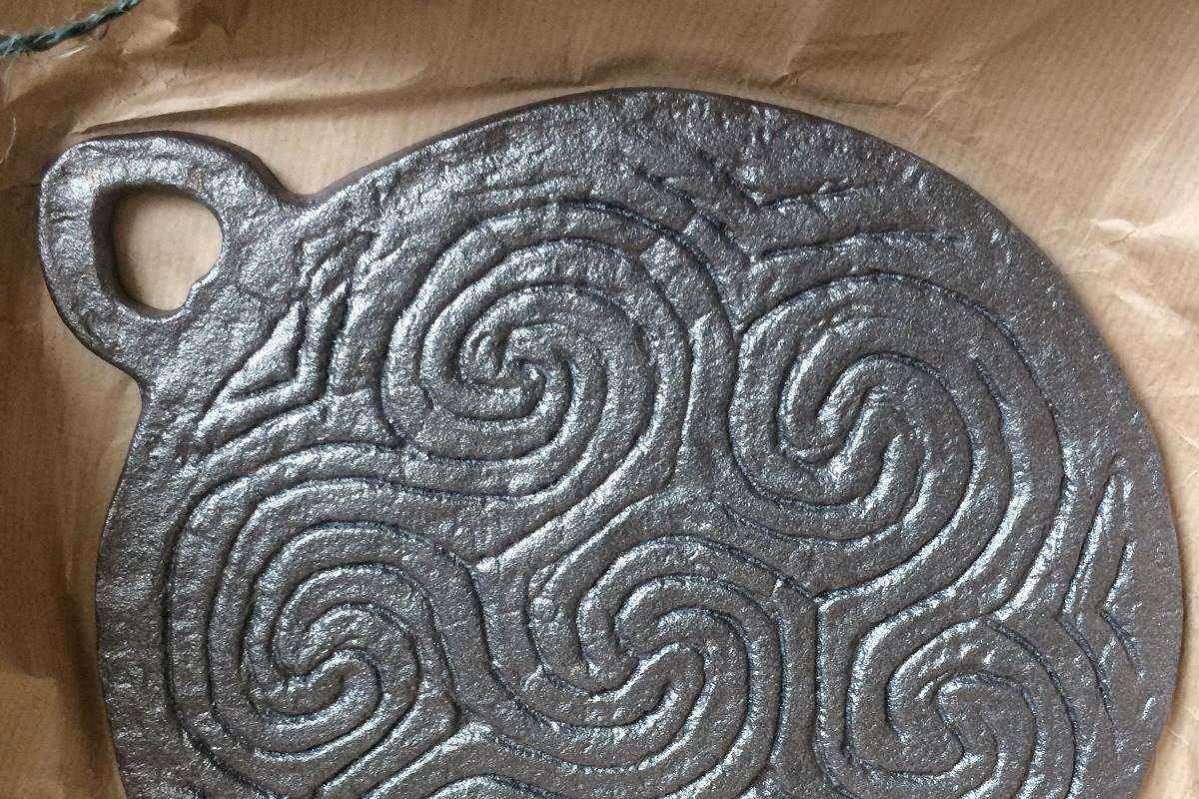 Photo © Megan Fitzoliver
Artist's proof Celtic griddle
A limited-edition design by artist Megan Fitzoliver, hand cast in iron with skill and passion at Taylormade Castings in Stoke-on-Trent. This heavyweight griddle, which turns a rich black as it seasons, works in the oven and on any hob. Prepare yourself for crusty triskelion-embossed loaves; super stylish Celtic griddle cakes; and simply fabulous toast.
RRP £75 plus delivery (£10 in the UK, ask for quote overseas).
Modern Sourdough: Sweet and Savoury Recipes from Margot Bakery
Real Bread Campaign supporter Michelle Eshkeri of Margot Bakery (see issue 34) shows you how to make more than 100 delicious breads, biscuits, buns, cakes, desserts and savoury bakes. They range from basic breads and bagels, through to classics with a twist, such as babka, rhubarb and custard danish, and challah and butter pudding. From starter to shaping, the secrets to achieving the perfect bake are broken down in an easy step-by-step guide.
White Lion Publishing, 10 September 2019, £22 / US$35 / CA$45
To enter
Full details can be found in issue 40 of True Loaf, the Real Bread Campaign supporters' magazine.
Join the Real Bread Campaign today.
Exclusive offer
For a £5 discount off the RRP and free delivery in the UK*, order your Celtic griddle by email, quoting your Campaign supporter number. Offer ends 1 October 2019.
For a reminder of your supporter number, login to our website.
* Overseas delivery arranged at cost - please use same email for a quote.
Prizes needed
Do you have something you'd like to offer up as a prize to Real Bread Campaign supporters and hopefully help our charity to gain new ones? We promote competitions to tens of thousands of passionate breadheads through our website, social media, magazine and enewsletter.
The small print…
By submitting your entry, you give permission for the Real Bread Campaign to quote you in any medium

The Campaign may publish any of the entries but reserves the right not to do so

You can enter from wherever in the world you are but the prizes will only be posted to an address in the UK

The draw is run and promoted by the Real Bread Campaign, with prizes donated by the publisher / artist

The prize cannot be exchanged for cash or an alternative prize

The decision about the winner is final and no correspondence will be entered into

We will pass only the winner's contact details on to the prize donors so they can arrange prize delivery
Support our charity
Your donation will help support the spread of baking skills and access to real bread.