Childhood Obesity Plan Chapter Two: What will the Government Score?
With the announcement of 'Chapter Two' of the UK Government's Childhood Obesity Plan now imminent, check out Children's Food Campaign's handy new Report Card. How well will the government score?
Speaking in May to the Health and Social Care Select Committee, Public Health Minister Steve Brine finally confirmed that the Government will be launching the so-called 'Chapter Two' of the Government's Childhood Obesity Plan 'shortly'. The Children's Food Campaign has pulled together it's own report card to score the Government's commitments when this is launched. Download this now to see what mesaures we're looking out for.
Originally launched in August 2016, the first Childhood Obesity Plan came under heavy criticism from health and children's organisations for lacking both teeth and bold ambition, with a number of measures from early drafts being omitted in the final version, particularly around addressing junk food marketing. Fiona Hill, the former chief of staff to Prime Minister Theresa May is rumoured to claimed she 'saved Tony the Tiger' from being banned on sugary cereals.
There has been some progress, most notably, the introduction of the Soft Drinks Industry Levy (also commonly known as the Sugary Drinks Tax) in April 2018. In May, Public Health England announced that companies had reduced sugar levels in soft drinks by 11%, compared to an average of just 2% reduction across other sugary foods, such as cereals, cakes, biscuits, milk and juice based products, for which there are currently only voluntary programmes.
However, with child obesity levels continuing to raise serious cause for concern, it's clear that Chapter Two has to take a much braver lead. For example:
Will the government introduce a 9pm watershed on advertising of junk food on all relevant channels?
Will the new plan explore ways to clamp down on excessive in-store promotional activity of products high in fat, sugar or salt? Or announce regulation to make junk-free checkouts the norm in all medium to large supermarkets?
Will the government seek to find ways to end the association of child-friendly film, TV or other cartoon characters with unhealthy foods, and encourage healthy food tie-ins instead?
What about the way junk food brands dominate sponsorship of sports and leisure activities?
What will happen to School Food Standards, which are currently not universally applied, poorly monitored, and still allow sugary puddings to be served to children? Could loopholes be closed, and policies to make all schools Healthy Food Zones be adopted instead?
Following the introduction of the Soft Drinks Industry Levy in 2018, what would be the next step to use fiscal measures such as levies or VAT, to make healthy food more accessible and affordable than unhealthy food?
Check out CFC's Childhood Obesity Plan Scorecard!
Here at the Children's Food Campaign, we've gathered together 20 of the best ideas for tackling childhood obesity from now until 2020 that we've been hearing from the many organisations that make up our diverse coalition, from health professionals, children's organisations, food and farming groups, nutritionists and academics.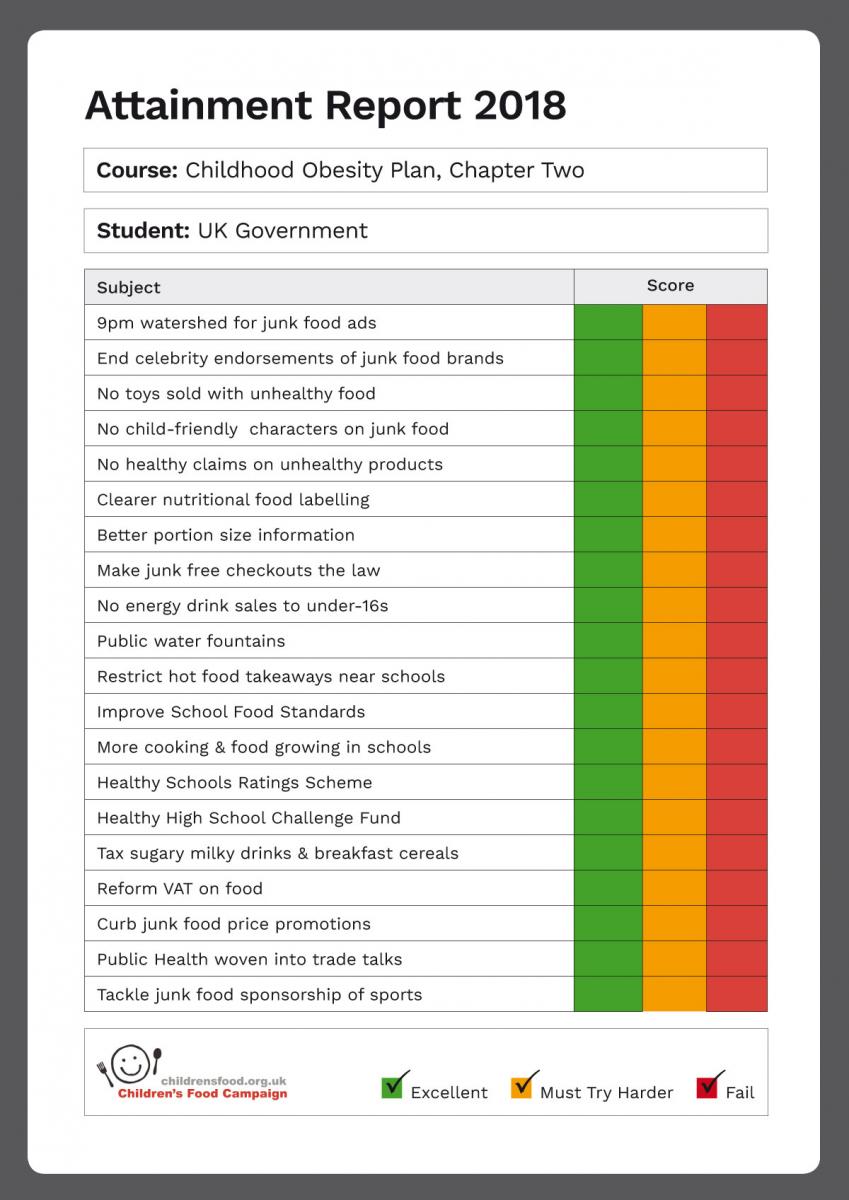 On the day the Government releases details of Chapter Two of the Childhood Obesity Plan, we will be checking to see how many of these ideas have made the cut, using a traffic-light style grading for each subject area. If we see that a solid commitment is in there, we'll be very happy to give a green 'excellent' score. If there is only a recommendation to 'explore, research or consult', we'll recognise progress is possible with more work, with an amber. Anything missing will remain a red light.
How well will the government score? Watch this space...
- Download and print a PDF of our Childhood Obesity Scorecard here - and use it to give the Government your own score!
---
19/06/2018
Children's Food Campaign
SHARE
---
Children's Food Campaign: Better food and food teaching for children in schools, and protection of children from junk food marketing are the aims of Sustain's high-profile Children's Food Campaign. We also want clear food labelling that can be understood by everyone, including children.