As the Government prepares the next stage of its Childhood Obesity Plan, is it time to end the love affair between children's favourite cartoon characters and junk food? asks Children's Food Campaign's Barbara Crowther.
"Once upon a time there were four little rabbits, and their names were Flopsy, Mopsy, Cotton Tail and Peter. They lived with their Mother in a sand bank under the root of a very big fir tree and guzzled chocolate. Lots of chocolate.
Wait, what? I don't remember that last bit of Beatrix Potter, do you? However Columbia Pictures, makers of the recently-opened Peter Rabbit movie (grossing £7.27 million in its first UK weekend alone), and Frederick Warne, the original book publishers, have seen fit to associate Beatrix Potter's most iconic character not with carrots, but with Cadbury Dairy Milk's Easter children's chocolate promotions instead. Lucky children can now get their very own cuddly Peter Rabbit with their eggs, and enter competitions to win family holidays, bunny ears and pens. Meanwhile, the same companies have licensed Peter to be used to promote McDonald's Happy Meals in the US, and likely the UK soon too. And not just for the kids that substitute their fries for carrots.
In the real story, of course, when Peter gets into Mr McGregor's garden, Beatrix tells us "first he ate some lettuces and some French beans; and then he ate some radishes." The author herself, who was a famous naturalist, farmer and co-founder of the National Trust, once said, "If I have done anything, even a little, to help small children enjoy honest, simple pleasures, I have done a bit of good."
Sadly, her beloved Peter, in helping to market high-sugar confectionery to children, rather than deploying him to champion the power of eating up your veg, is probably doing the opposite of good to the children she loved.
The childhood obesity crisis is still acute
Today, according to the most recent National Child Measurement Programme, more than one in three children aged 10-11 are classified as being obese or overweight, and one in four of children in reception classes.[1] Children with obesity are over five times more likely to be obese as adults.[2] Multiple dental extractions are now the most common reason for hospitalisation of our children – averaging 170 per day in just England and Wales. The estimated cost to the NHS last year is estimated to be £36m, for something that ought to be completely preventable. And yet, in this midst of this, we continue to unquestioningly allow the close association of children's characters almost exclusively with sugary, fatty junk foods, and even think they're cute.
Junk food companies like McDonalds and Ferrero (makers of Kinder) have long understood the power of children's characters and toys in marketing their products directly to young consumers. So much so that McDonald's is the biggest toy distributor in the world – selling an estimated 1.5 billion toys as part of their Happy Meals. Right now, a deal between the Cartoon Network's Amazing World of Gumball and Happy Meals includes toys in the food, along with online and app-based games based on the characters. Whilst advertising of high fat, salt or sugar (HFSS) products in children's media, or wherever the child-proportion of the audience is likely to exceed 25% is banned, there are no restrictions on advertising during those broadcast programmes most watched by children - family evening viewing. And by associating themselves with child-friendly characters, toys and games, companies continue to market directly to children very effectively, with in-store displays, packaging and promotions, none of which fall under the current Committee of Advertising Practice rules. Kinder's 'Magic Kinder' website and app, with games targeting children from age 3 upwards, hardly needs to mention chocolate when all the characters in the stories and activities are the toys only available by purchasing Kinder products.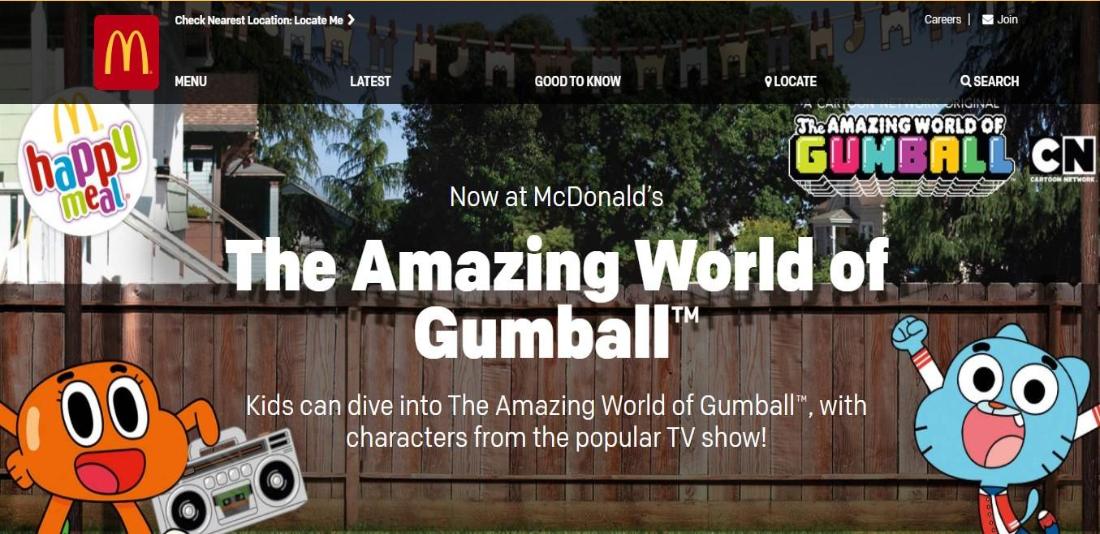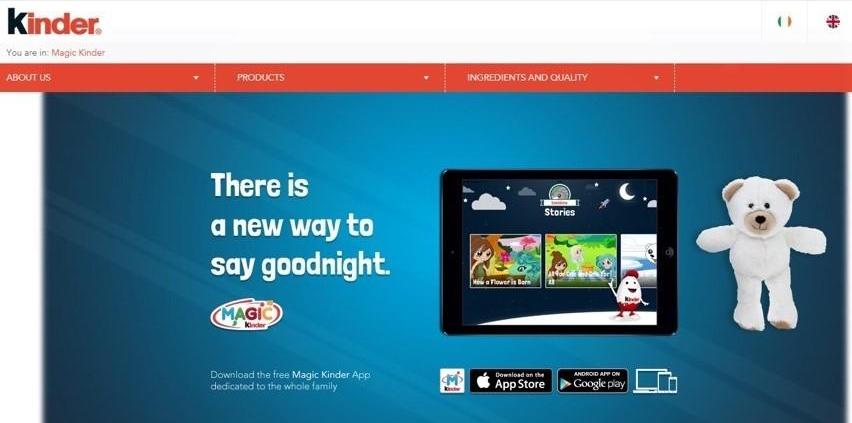 Marketers and advertisers have long understood this power of association in driving sales, as candidly stated by Mondelez' senior brand manager Hortense Rothenburger, talking about the Peter Rabbit Cadbury chocolate promotion, "Toys are the third biggest gift category after chocolate and flowers at Easter, so we believe we can drive more value to the category with our new NPD (New Product Development). Retailers should stock up on promotional packs and NPDs across the Easter season to capitalise on excitement around the film and promotional partnership."[3]
Chile's done it, why can't we?
There was a genuine ripple of shock in the advertising and junk food world recently when Chile recently decided that any product falling into any one of the high fat, salt or sugar categories would not longer be able to put child-friendly cartoon characters on packaging. "Chile slays Tony the Tiger", screamed one headline in the New York Times. The US government has been so incensed by this affront to Kelloggs and other US brands selling to Chile, and the cost of the packaging redesigns it has necessitated, that they are raising the case with the World Trade Organisation, claiming it is a barrier to free trade. They are also bitterly complaining about Chile's requirement to place clear black 'Stop' signs on any HFSS product.

In other countries, it is the industry itself that has made moves to end the association between some children's characters and junk foods. In 2016, the Dutch Food Industry Federation (FNLI) made a voluntary announcement to 'restrict media characters' as part of reducing food advertising directly to children. However, whilst it was a blow to the likes of Dora the Explorer, the Coco Pops Monkey escapes the new ban, which does not affect brand-owned characters, but only applies to licensed TV and film cartoons.
The Dutch ban would however have prevented the marketing sleight-of-hand by Kellogg's Coco Pops and the Emoji Movie in 2017, where the company placed adverts and sponsorship deals featuring Coco Pops Granola, which falls just outside the HFSS categorisation and therefore escapes the ad ban, whilst the promotion itself to win Emoji Movie prizes in fact ran across the whole Coco Pops brand, including the original sugary cereal.

The time to act is now
As the government prepares to launch what is being dubbed 'Chapter Two' of its childhood obesity strategy, with rumours suggesting a new 9pm watershed for all junk food advertising might be introduced, they would be well advised to look again at the relationship between child-friendly cartoon characters and junk food, and consider whether a new form of smart regulation could be introduced, in which the use of such characters is only allowed to heroise healthy brands and product ranges.
What would a world look like in which we have Emoji Movie eggs, rather than sugary cereals? Peter Rabbit carrot sticks instead of chocolate? Peppa Pigs peppers instead of pic 'n' mix? Frozen movie fish fingers instead of fairy cakes? Is it possible for marketers, advertisers and brand owners a world in which healthy foods are more fun and more appealing to children than junk foods? In which the makers and licence owners of Peter Rabbit (or of the Emoji Movie which has now grossed US$250 million worldwide), decide they will no longer accept the megabucks deals of the junk food manufacturers but want to put the power of their advertising at the service of children's health and wellbeing instead? 95.5% of our children don't eat enough fruit and veg, and yet only 1.2% of advertising expenditure is currently spent promoting it. Our humble carrots could definitely do with some superhero level support.
This is not a killjoy idea, in fact it's the opposite. Why should we want children's favourite and most joyful TV and film characters to be associated with the increasing numbers of children screaming with toothache in the night and facing multiple extractions by the age of 6, or facing much longer term health problems associated with poor nutrition, diet and obesity? If Disney, Pixar, Columbia Pictures and the wider children's film, TV and publishing industry want to be true friends of children, their characters could do tremendous good in championing play without association with junk food, and put their power at the service of healthy diets and lifestyles instead.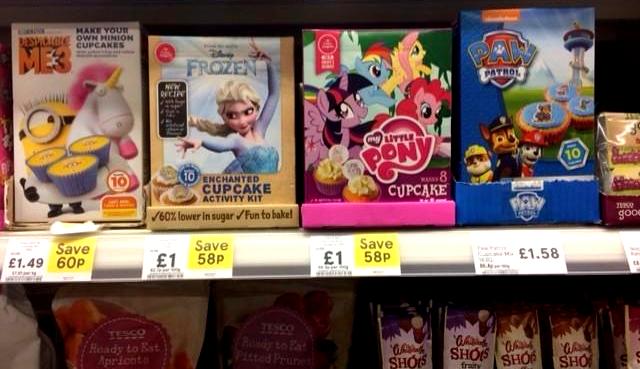 As Government officials and ministers plan out the next stage of the Obesity Strategy, it's clear that there is no silver bullet solution to the continued epidemic we face. From healthy school food to increasing exercise, product reformulation to public education, we need action on many levels. Junk food marketing is a critical part of this equation – ending the constant mood music that associates so many of our children's favourite fictional heroes with the most unhealthy foods on the market.
Perhaps those government officials and ministers looking for new ideas might be well served by asking themselves this one question. What would Beatrix Potter do?
---
[1] NHS Digital (2017). National Child Measurement Programme - England, 2016-17.
[2] Simmonds M et al. (2016) Predicting adult obesity from childhood obesity: a systematic review and metaanalysis. Obesity Reviews.
[3] https://www.talkingretail.com/products-news/confectionery/cadbury-dairy-milk-to-unveil-peter-rabbit-movie-partnership-15-12-2017/
Barbara joined Sustain in 2018 and manages the Children's Food Campaign, which champions children's rights, parent power and government action to improve the food environment children grow up in. This includes campaigning for tighter regulations of junk food marketing to children, better school food and reducing children's consumption of sugary or unhealthy food.
Barbara Crowther
Campaign Coordinator Children's Food Campaign
Support our campaign
Your donation will help us champion children's rights, parent power and government action to improve the food environment children grow up in.