Marking one year since the launch of the Government's Childhood Obesity Plan, Public Health England have published a short progress report and announced the next stages of the Plan. In response, the Children's Food Campaign have criticised the lack of cross-Government oversight of the Plan, and the Department for Education's failure to make any progress on its commitments.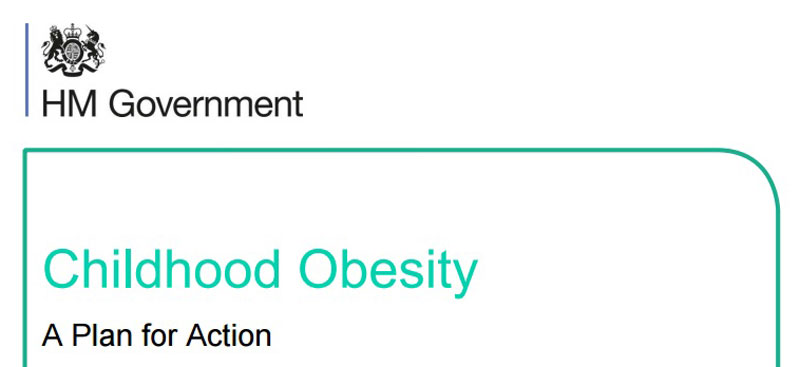 Malcolm Clark, co-ordinator of Children's Food Campaign, commenting on the first anniversary of the Government's publication of its Childhood Obesity Plan, said:
"Beyond passing a sugary drinks tax into law, the Government has so far provided thin gruel for parents and health professionals keen to see significant progress on tackling childhood obesity. The leadership on sugar reduction efforts shown this year by Public Health England and the NHS has not been matched by other Government departments, or from Number 10 itself. We remain to be convinced that the calorie reduction programme announced today, welcome in principle but short on detail, will change this leadership deficit."

"It is shocking that the Department for Education has been allowed to so neglect its obligations within the Childhood Obesity Plan. A search party may be needed to track down any signs of progress the Department has made. The Healthy Ratings Scheme for primary schools is yet to be drawn up, despite the promise to bring it in from this September. The Secretary of State for Education was tasked with leading a campaign encouraging all academies and free schools to meet the School Food Standards, but this has not happened. The Standards themselves have not been revised to meet new nutritional guidance and the revised early years menus have not been released either, despite assurances they would be. And the list of inaction goes on."

"Sadly the Department for Education has form in failing to deliver on its promises to support healthy school environments. Most recently, the funding for the Healthy Schools Capital Fund has been cut by three-quarters. And Ofsted has so far shown itself unwilling to step up to provide the necessary checks either. The Department's lackadaisical approach risks fatally undermining the progress made in recent years on food and health in schools."

"It is time for the Government to reclaim the brave and bold parts of the original Childhood Obesity Strategy which it discarded last summer before launch. That would mean proper Cabinet Office or Prime Ministerial leadership and oversight of the Plan, including cajoling recalcitrant Departments. That also would mean making real progress on reducing the marketing and promotion of less healthy food and drink. Simply conducting more research on marketing's effects isn't good enough: action is needed now."

"It would be fitting to celebrate the second anniversary of the Childhood Obesity Plan in 2018 with all of these improvements in place. Likewise, that would be the right moment for 'Plan B' to be outlined: the measures the Government would take in 2020 if companies hadn't reduced their sugar and calories sufficiently by then."
Media contact:
For interviews, and for further information, please contact Malcolm Clark, co-ordinator, Children's Food Campaign, on 07733322148 or 0203 5596 777, malcolm@sustainweb.org or via twitter @childrensfood
Notes:
1) Children's Food Campaign
The Campaign aims to improve children and young people's health by campaigning for policy changes in our schools, in our communities and throughout our society that would promote healthy and sustainable food environments. The Children's Food Campaign is supported by over 100 UK-wide and national organisations, including public health professional bodies, trade unions, school food experts, children's charities and environmental groups. We are a campaign of the charity Sustain: the alliance for better food and farming. www.childrensfood.org.uk
2) Childhood Obesity Plan
The Government launched its Childhood Obesity Plan in August 2016. Read our initial response to the Plan and also what parents made of it. In January 2017 we produced a briefing on 'Unfinished Business from the Government's Childhood Obesity Plan'
3) Soft Drinks Industry Levy
In April 2017, MPs approved the Finance Bill, which incorporates legislation enabling the introduction of the Soft Drinks Industry Levy in April 2018.
4) NHS sugar reduction efforts
Also in April 2017, NHS England announced cuts to its sugary drinks sales in hospitals, and other sugar reduction efforts.
5) School Food Plan
The School Food Plan was independent of Government, but when it published its recommendations in 2013 the Department for Education supported them. But the Department for Education never set up, collected the data for, or monitored the five tests it agreed to, as part of finding out whether the actions implemented under the School Food Plan were working.
Those tests (outlined on p143 of School Food Plan report) were: (i) Take-up of school meals (ii) Nutritional quality of the food (number of schools meeting the new standards) (iii) Proportion of sixteen year olds who can cook a repertoire of savoury dishes (iv) Morale of the workforce (v) Proportion of schools with a quality award (for example the Food for Life Partnership award or the Children's Food Trust award). The government was due to take the initial base-line measures in 2013.
6) Healthy Schools Capital Fund
'Government reduces its promised funding for health and well-being initiatives in schools' – Children's Food Campaign's response to the news of the changes to the Healthy Pupils Capital Fund, July 2017.
7) Obesity Health Alliance
Children's Food Campaign is also a member of the Obesity Health Alliance (OHA) - a coalition of over 40 organisations committed to share expertise and support Government to tackle the issue of overweight and obesity in the UK. The Obesity Health Alliance has issued a statement and scorecard on the first anniversary of the Childhood Obesity Plan, concluding: 'some good progress but must try harder'.
Support our campaign
Your donation will help us champion children's rights, parent power and government action to improve the food environment children grow up in.